Next-Generation Single-Beam Safety Switches
28th January 2021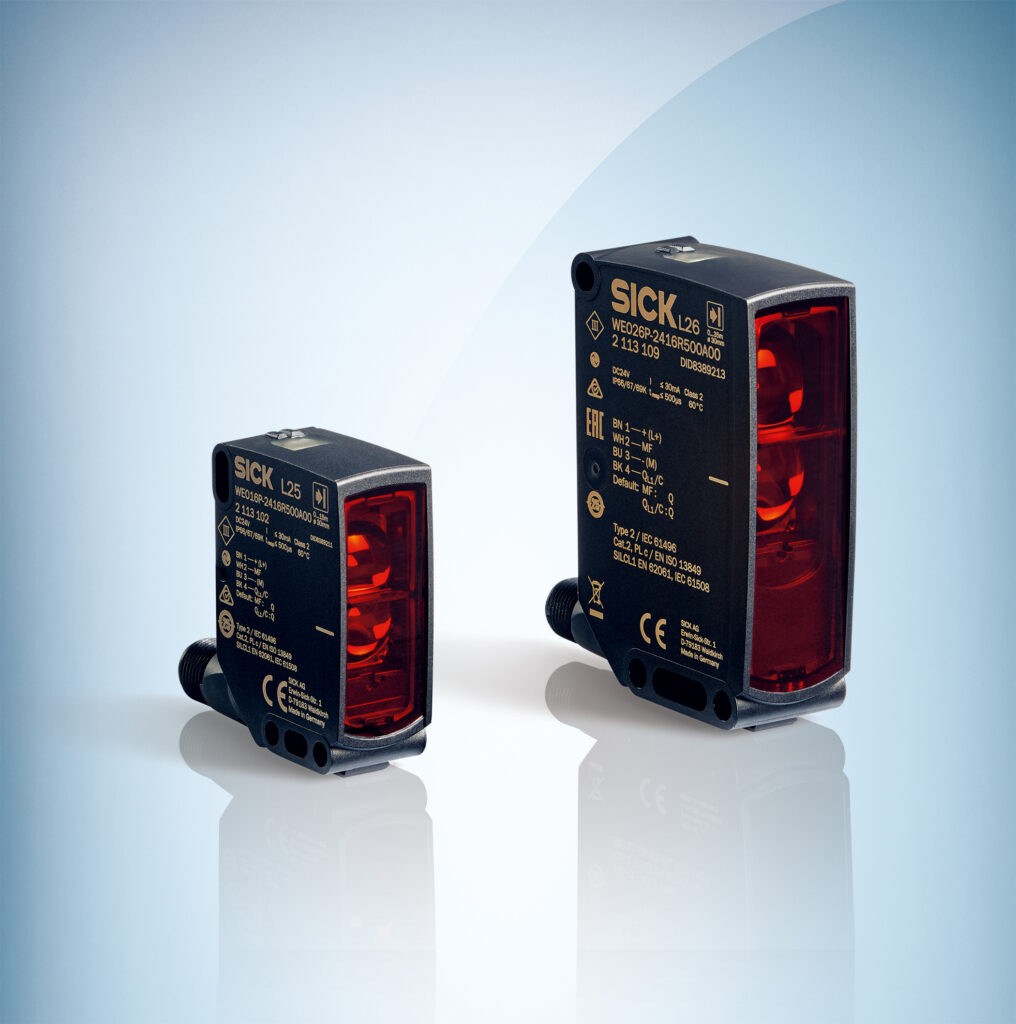 SICK has unveiled its next-generation L25 and L26 family of single-beam photoelectric safety switches, equipped with SICK's "BluePilot" alignment and IO-Link for smart, real-time communication, ensuring maximum machine uptime while protecting personnel from hazardous machinery in materials handling, logistics and warehousing centres.
With a long scanning range up to 50 metres, the SICK L25 and L26 are Type 2 devices available in visible red light and infra-red (IR) versions for wide versatility in safety applications up to PL c (SIL 1).  The IR and red-light versions could also be used together to avoid the potential for signal interference and introduce redundancy for applications requiring a higher level of safety.
Rugged and robust, the SICK L25 and L26 single-beam safety sensors are ideal for collision- or access protection of barriers, gates, doors or racking systems, including over multiple access points at longer scanning distances.  With the ability to cascade up to four pairs of sensors, the versatile L25 and L26 can also be combined to achieve effective perimeter guarding and access protection of loading/unloading areas, including robotic palletising/depalletizing.
"SICK's new generation of smart safety switches are set to become the reliable workhorses of many common protective applications in materials handling and logistics even in the most challenging industrial environments," explains Dr Martin Kidman, safety specialist with SICK UK.
"The newly-incorporated IO-Link connection means operators can know the condition of each single safety sensor in real-time, so productivity is not compromised by unplanned stoppages.  Timely alerts are sent if safe operation is at risk, for example, due to contamination on the sensor or vibration. Equally importantly, the reasons for any safety stops can be quickly identified so that production is resumed without delay."
The SICK L25 has a scanning range up to 20m, and the L26 up to 50 metres. Both use SICK's PinPoint LED technology to achieve an accurate, intense, eye-safe light-spot which makes set-up and commissioning of the sensor straightforward.  With added guidance SICK's BluePilot on-sensor alignment, sensors and reflectors can be set up quickly and precisely and time-consuming adjustments are avoided.
With an ultra-rugged, IP66, IP67 and IP69K-rated VISTAL® housing, the SICK L25 and L26 sensors have an operating temperature range of -40 °C to +60 °.  Capable of withstanding even extreme chemical, thermal and mechanical conditions, the safety sensors therefore offer the assurance of maximum availability and a reliable, long service life.
The SICK L25 and L26 smart safety sensors are easily incorporated into common protective applications, supported by a standardised range of flexible mounting options, reflectors and M12, 4-pin connectors.  An easy-to-fit adaptor is available for SICK customers wishing to upgrade from SICK's L27 L28 safety switches.
In November last year SICK announced that its  deTem 4 A/P safety light beam system range had been extended by 8 metres.