Improved dock utilisation with Ancra Systems
26th May 2021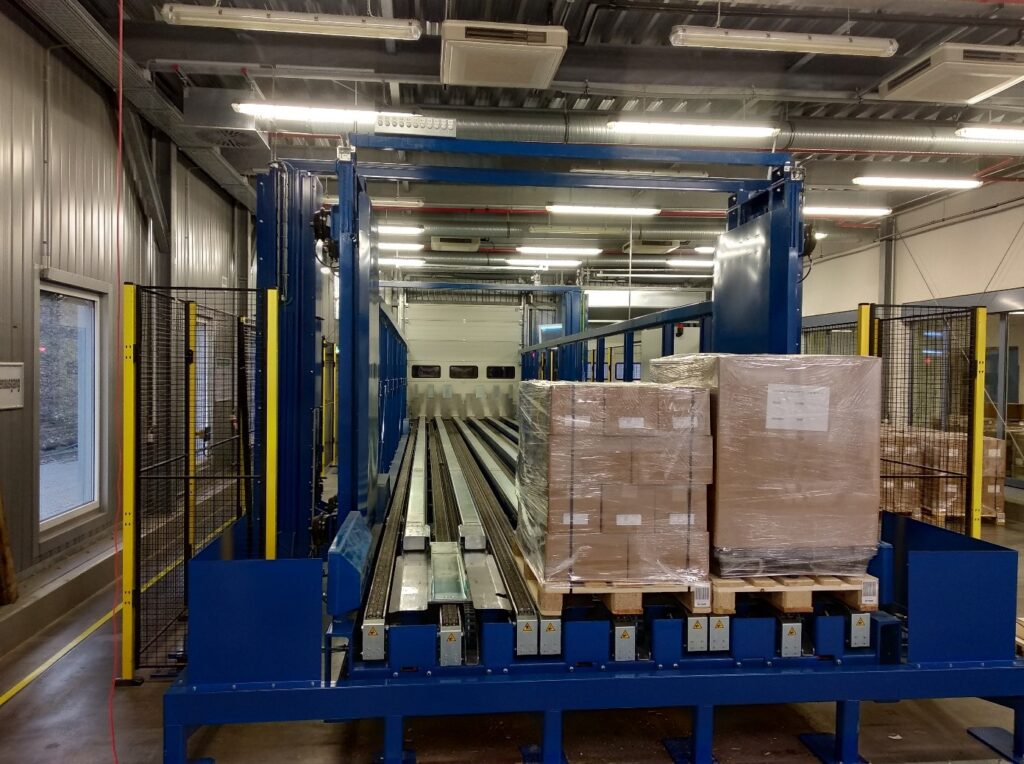 Automatic loading and unloading goods into standard trailers without modifications is becoming the new standard within logistics, as it greatly improves dock utilisation. Ancra Systems is in a leading position to offer the most comprehensive package for standard and  customisable ATLS solutions (Automatic Truck/Trailer/Container One-shot Loading & Unloading Solutions). With 30 years of experience, Ancra Systems has successfully installed more than one thousand ATLS systems in a wide range of industries in the past 10 years.
If you have high-volume inbound or outbound, standard palletised goods, slip-sheeted or Euro palletised goods, and need to reduce the inefficiencies, speed up truck turnaround time at the dock, save labour and equipment cost, improve worker ergonomics and avoid goods damage, , that can all be achieved with Ancra Systems. With its Non-Modified ATLS solution, the overall loading or unloading cycle can be reduced from ± 30 minutes to just 7-8 minutes enabling a single dock door to handles up to four full trailers per hour.
Ancra Systems offers two types of Non-Modified ATLS solutions – Skateloader and Loadrunner Plus.
Skateloader system for loading palletised or slip-sheeted goods
The Skateloader system was developed and engineered for the automated loading of non-modified trailers/trucks/containers. When no trailer modifications are required, the Skateloader is the ultimate solution for one-shot loading of standard palletised goods or slip-sheeted goods for outbound transport. It's an ideal solution for a busy production facility or a distribution centre shipping to multiple end-users.
The total loading process only takes approximately 7-8 minutes (depending on the required height adjustment and alignment). Because there is no corresponding system in the trailer, the Skateloader has special functionality for loading. It is equipped with a scanning system controlled by dedicated software to ensure the correct alignment of the loading system with the trailer.
It is able to follow the trailer's height which changes continuously while moving weight from the dock into the trailer, thus ensuring a flawless loading process. The system deposits the pallets on the floor of the trailer in a controlled way, without any friction to the pallets and its cargo.
The Skateloader can be seamlessly integrated into any automated production or warehouse system. The Skateloader system increases efficiency by 400%, compared to traditional forklift truck loading. The shorter truck turnaround time at the dock is accomplished while creating a safer work environment, for employees and product.
Loadrunner Plus System for loading & unloading Euro palletised goods
The LoadRunner Plus was developed and engineered for automated one-shot loading and even unloading of Euro pallets, consistent pallets or racks with no bottom boards into non-modified standard truck/trailer/container.  It's a refined solution for one-shot loading and unloading goods for inbound or outbound transport.
The LoadRunner Plus can load (and even unload) 33 euro pallets (short side leading, three pallets side-by-side) in one-shot automatically. Even partial loading is possible with all Ancra's Non-Modified ATLS Solutions. And as there is no queue pressure between the individual pallets, product damages during the loading (or unloading) cycle are also avoided.
It can easily be applied at existing sites, whether you have docks or without docks.
All Ancra's Non-Modified ATLS solutions can be pre-loaded by the buffer stations as well as by AGV or forklift trucks.