Everything. Except Emissions
15th December 2020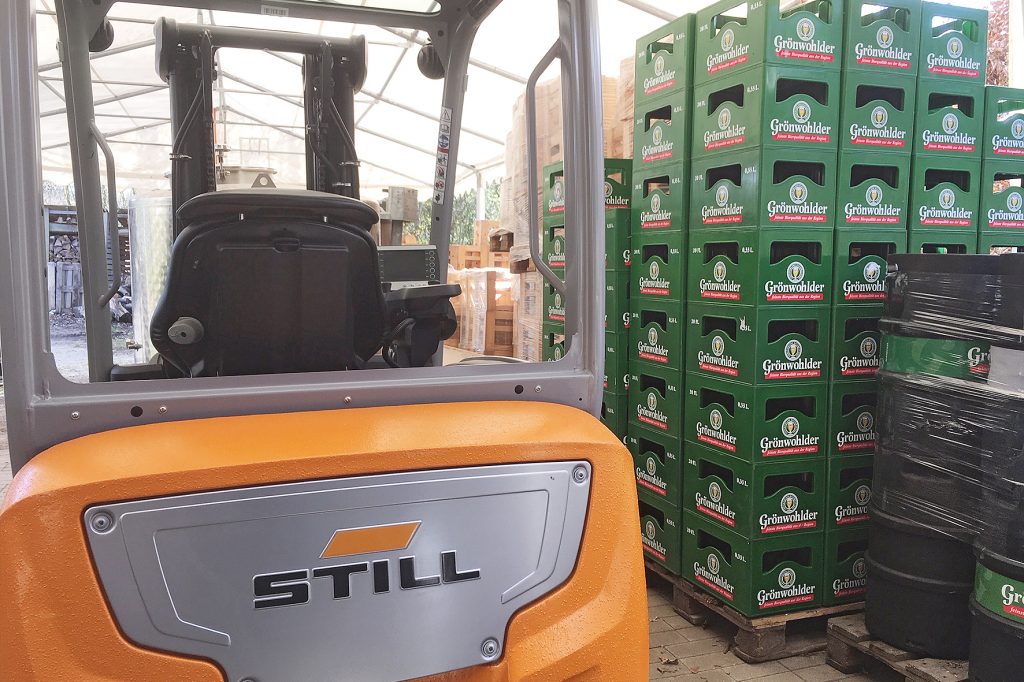 A new electric truck in the 3.5 to 5-tonne sector promises efficient results both indoors and outdoors. Paul Hamblin hears about it.
"A bit of colour in your workplace routine, which can sometimes be autumnal grey," said Gerald Strugg, STILL GmbH Product Manager, E-trucks. Via a slick online press conference, he was referring to the latest model of the STILL RX 60 electric forklift, an eye-catching all-rounder which offers what has been a tricky deliverable in the electric space, a truck marketed to be effective
both indoors and outdoors. "It offers everything except exhaust gases," he quipped.
The 3.5 to 5-tonne model aims to build on the RX 60 series' achievements in agility, manoeuvrability and high driving comfort. The compact 80 Volt electric forklift truck offers, says the company, outstanding handling performance and high availability. STILL says it is opening up a new perspective for even more companies when it comes to designing their truck fleet, whether in terms of performance, cost, environmental compatibility or efficiency of use.
This year is a special one for the Hamburg-based company founded in 1920 by Hans Still and it is making much of the switch to electric power. Using resources optimally and efficiently is inherent to its DNA. Ever since the company was founded 100 years ago everything has revolved around the innovative combination of electrical energy and mobility – as well as a pioneering spirit and
passion for progress with a clear eye for current market requirements. In the post-war period it was the lack of fuel combined with the growing mobility of the economy that brought great success – first in 1946 with the electric cart EK 2000 and only a few years later with the first STILL electric forklift, the EGS 1000. Numerous successful forklift truck series later, it is still the clear focus on customer and industry needs that is at the centre of this latest product development: powerful performance and ergonomics combined with high energy efficiency and the possibility of implementing zero emissions in internal logistics. It's a logic that makes the power pack the very heart of the RX 60-35/50.
Power for any application
Seven different vehicle variants are available to customers with a load centre of 500 mm as standard, or 600 mm upon request. A high-performance variant is available in all weight classes,
which excels in demanding application profiles with even more handling capacity, more power and acceleration. CSO/Member Management Board at STILL GmbH, Thomas A Fischer told
me that the truck will be marketed to multiple sectors. "We have a wide range – automotive, chemical, beverage, retail, indeed anywhere with a need to lift heavy loads."
Crucially, both lead acid batteries and lithium-ion technology are available, and STILL says it has firm evidence of their effectiveness. As early as 2019, an independent test certified that the
smaller version of the new series, the RX 60-25 (carrying 2.5 tonnes), ranked among the best in direct electric forklift truck competition, offering handling performance and gradeability on a par
with a comparable diesel forklift truck. STILL engineers have now transferred this successful drive concept to the 5-tonne model. This is made possible by two powerful encapsulated three-phase
drive motors with active cooling in the front axle. In the high performance version, the two 11 kW motors provide even more power. They increase the drive motor output by 46 percent compared to the predecessor. As both motors are driven even at full steering angle, the truck is particularly manoeuvrable. Demand-driven active cooling ensures high thermal stability even at maximum handling performance. Robust and maintenance-free fans cool the encapsulated components of the power electronics as well as the lift and drive motors via temperature control, all without filters.
Thanks to its low consumption and a battery capacity of 930 Ah (59.5 kWh), or up to 118.4 kWh in the Li-Ion version of the RX 60-50, STILL says the power pack can easily cope with two shifts
in a row without interim charging. To change the battery, the now proven lateral battery door opens up new perspectives – quite literally. The 4 mm thick steel door of the RX 60-35/50 can now also be easily opened 180 degrees to the rear, and the battery can be changed by just one person using an electric pallet truck, saving space, time, energy and resources. Optionally, an integrated built-in charger provides even more flexibility for quick and easy interim charging during work.
It's important to offer choice to customers, says Thomas Fischer. "We have a good portfolio and we offer both lead-acid and lithium options. We see a clear customer trend towards li-ion, though," he points out. He predicts that market-share of electric trucks will be "over 50% in 5-10 years". Does he see a similar success curve for hydrogen-based fuel cell technology? "Fuel cell is not as economic, and particularly so if it is not subsidised. There are some big political discussions needed, as it could be impossible to develop more fully without Brussels subsidies," he says.
Speed and ergonomics
Speed and stamina are also features. The RX 60 can hit a nippy 20 km/h, while time is saved (and safety preserved) with the quick start mode and an automatic spring-loaded parking brake if the driver steps out of the cab. Meanwhile, the intuitive on-board computer enables clear and convenient overview of all relevant performance functions and truck information. STILL designers have recognised the role of both ergonomics and enjoyment in maintaining employee engagement. The RX 60 stands out with its low front body and easy-access placement of controls and displays. The mast profiles designed for optimum visibility create an extra large field of vision around transported goods and past the mast.
The driver's cab not only has 16 mm more headroom than its predecessor, its footwell is also particularly spacious. For a fatigue-free leg position for the driver, it is about one hand's width wider than the predecessor and also offers sufficient freedom of movement for feet up to huge shoe sizes. For greater safety and comfort when getting on and off the vehicle, the enlarged step has an additional nonslip edge. The ergonomically shaped battery cover also provides comfort: even with the seat adjusted to the maximum rearward position, the calves do not touch it. The pedal position alleviates strain on the legs and allows an unimpeded movement between the accelerator and brake pedals.
On the wider business front, Chairman of Management Board, Henry Puhl suggests that the company has coped well with the unexpected rigours of 2020. "We created a safe working environment, we've stayed fully functional and we're working with customers to feel secure in what we do." Indeed, he strikes a note of optimism, which is a rare commodity in Europe as the much-feared second wave of the pandemic unfolds. "I want to spark some confidence," he suggests. "We know a lot more about COVID now, we a know a lot more about how to handle it and we feel
connected to our customers – all of us have to work together to get through it."
He admits to a double-digit percentage drop in orders caused by COVID, but counters that STILL will reap the benefits sown by the pandemic's 'winners' within its customer sectors – led by intralogistics, driven by fast-growing ecommerce transactions. STILL's message is that choosing the right forklift is nowadays about much more than brand and tonnage. Internal logistics systems matter, and the right energy choice plays a vital role. This can vary depending on the application profile and individual perspective – e.g. total operating costs, sustainability, digitalisation or service.