STILL OPX iGo Neo Triumphs
21st September 2020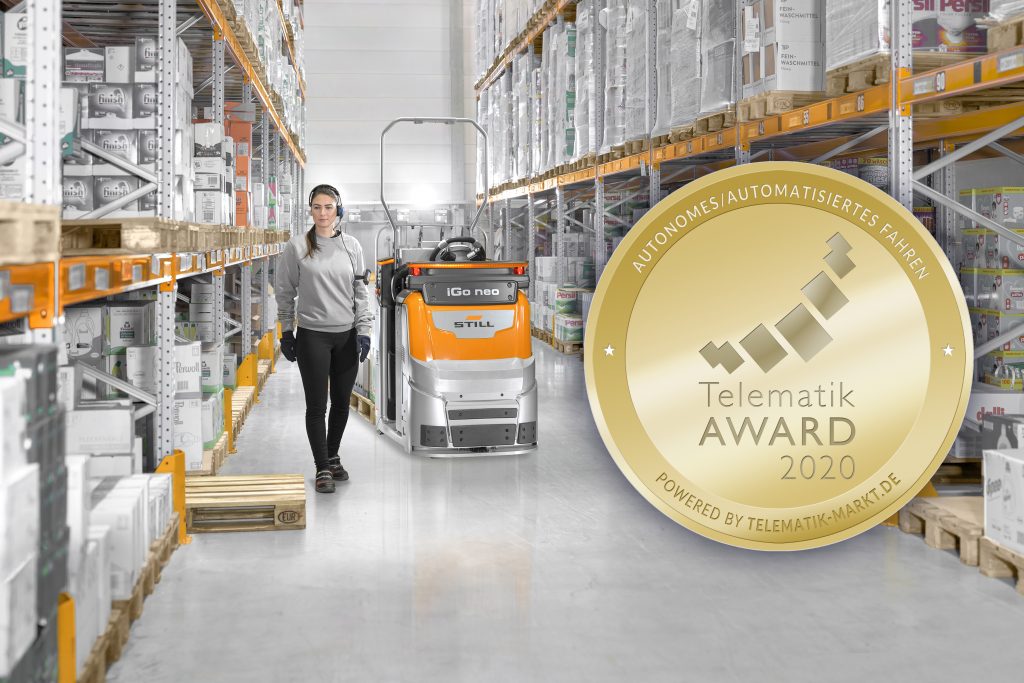 More than 190 applications, 33 nominees and 10 categories – this is the summary of this year's Telematik Award. STILL came first in the category 'Automated/Autonomous Driving' and excelled with their OPX iGo neo autonomous order picker. This year's winners found out only a few weeks before the online presentation of the award which company had been nominated in which category and who would be the respective winner. In the run-up to the event, the nominees had to submit themselves to the independent evaluation procedure of a jury of experts from the fields of business, science, trade journalists, users and experts. Every two years, the most outstanding development achievements and solutions in the field of telematics and future trends are thus awarded on the basis of best practice examples.
Having the STILL iGo neo achieve the top rating in its winning category and thereby claim the Telematics Award trophy makes Volker Viereck, head of intelligent autonomous software development, at KION mobile automation, very proud: "The Award is a great success. As a robotics developer, I am particularly pleased that with OPX iGo neo, we have succeeded in developing an autonomous order picker based on artificial intelligence (AI) that fulfils apparently contradictory requirements: on the one hand, it significantly increases performance and, on the other, increases productivity and improves ergonomics. The employee's work load is thus reduced and at the same time he or she is provided with a high-performance vehicle."
The ergonomically enhanced OPX iGo neo features high performance, intuitive operation and a modern design geared towards maximum safety. The artificial intelligence incorporated into the vehicle ensures that the route and speed are always adapted to the respective conditions. Acting independently, the OPX iGo neo follows its operator autonomously and always stops at the optimum picking position. In addition, by stopping the assistant automatically in the optimum picking position, up to 75% of the time and energy consuming mounting and dismounting is eliminated and walking distances with loads are greatly reduced. An overall concept that convinced the Telematics Award jury in its 10th anniversary edition and awarded STILL as winner in their very own centenary anniversary year. The OPX iGo neo is already the second generation of the autonomous order picker and the development continues – the history of autonomous trucks at STILL remains a success story.