24/7 Endurance Doors
16th December 2020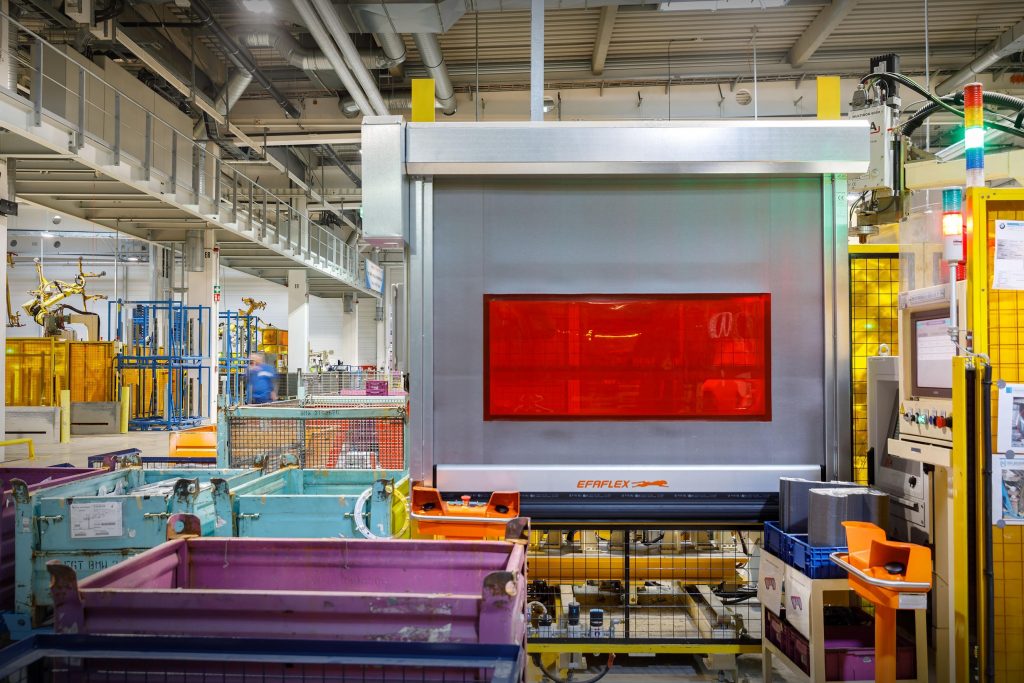 A Bavarian body component manufacturer has installed doors which close at 1.8m per second, every 30 seconds, 24 hours a day, 7 days a week.
The EFA-SRT® MS machine protection doors from Efaflex open and close at a speed of up to 1.8 metres per second every 30 seconds, 24 hours a day, seven days a week at the new WMU
Bavaria GmbH plant in the town of Niederaichbach, Bavaria, to be fully reorganised under robotic lines by 2022.
Efaflex, the world market leader in the field of industrial high-speed doors, has developed door systems that are not only equipped with all conceivable safety features but can also be used as
EC type-examined safety components as per Machinery Directive 2006 / 42 / EC. Automotive component specialist WMU Bavaria benefited from this development when setting up the new plant. With 18 doors having successfully passed their two-month continuous load test, WMU Bavaria ordered 22 more machine protection doors. A total of 40 door systems have now been in operation to protect employees since the beginning of April. Many of the EFA-SRT® MS are equipped with a flame-retardant door hanging and an optional UV protection window for special application in front of the welding cabins.
Due to their space-saving, self-contained design, the machine protection doors from Efaflex can be adapted perfectly to the required protective devices. They stand out due to their extraordinary resilience and stability. The standard EFA-SRT® MS door leaf is fully transparent and equipped with warning strips as standard. Coloured, highly tear-resistant and transversely stable curtains are also available without any problems. All curtain versions are free from substances that interfere with the lacquering process.
The interplay between a high performance frequency inverter controller and a functionally adapted drive makes the high cycle rate of up to seven cycles per minute possible in production processes. Because of the lack of a weight counter-balance mechanism, the side frames are very slim; thus, the maintenance work and spare parts required are reduced significantly. The doors are designed for 250,000 load cycles per year.
A transparent cover provides a clear view of the integrated safety end-limit switch of cat. 4 / Pl »e« according to DIN EN ISO 13849-1. Thanks to optional floor supports, the safety devices can be installed as a stand-alone system. Uneven ground is compensated by levelling screws. Like almost all products from the world market leader, these door systems can also be perfectly integrated into fully automated processes and highly intelligent systems, which does, however, also require great flexibility on the part of the manufacturer for assembly: the machine protection doors were installed between Friday evening and Sunday, i.e. outside production times, to ensure that production could run smoothly during the week.
Efaflex designs, manufactures, installs and services high-speed doors for industrial and commercial applications. Founded in 1974, the company supplies to clients including food processing, manufacturing, clean room, cold store and the chemical, pharmaceutical sectors. As the only manufacturer of high-speed industrial doors, Efaflex has been entered into the world market leader index and is one of the 461 top companies in Germany, Austria and Switzerland. The privately-owned company has more than 1,200 employees worldwide.