State-of-the-art Omnichannel Solution for Dutch Retailer
17th November 2020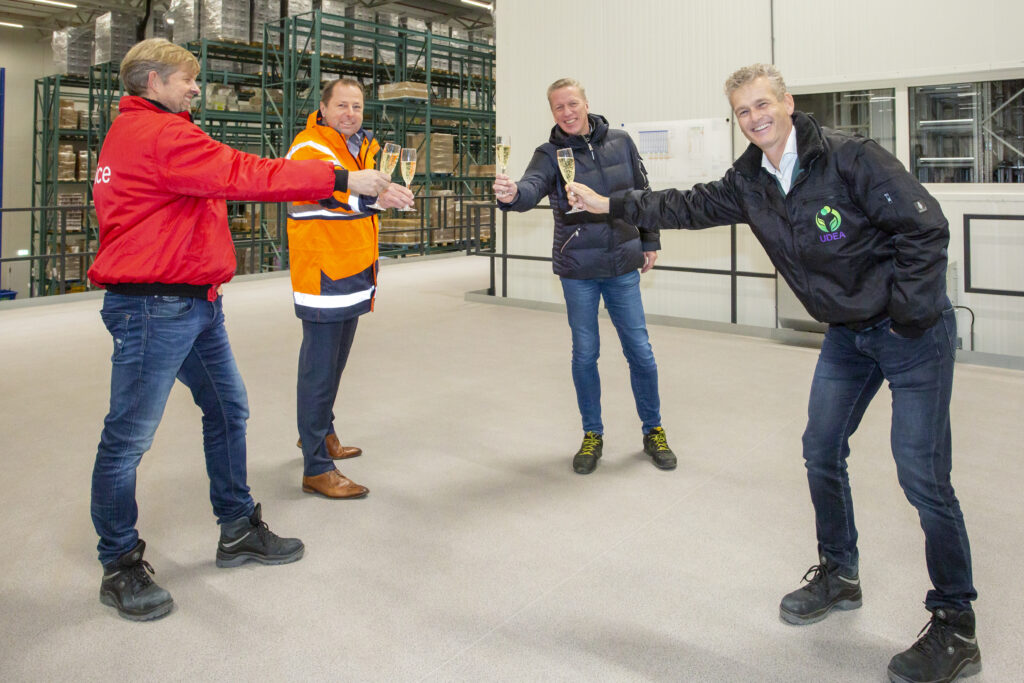 Vanderlande has delivered an advanced automated storage and retrieval system (AS/RS) to the Dutch organic food retailer Udea, one of the most unique of its kind that Vanderlande has supplied to date. The innovative solution is housed in Udea's new distribution centre (DC) in Veghel, The Netherlands, and has this week processed its first orders. It consists of a goods-to-person ADAPTO system, omnichannel picking stations and smart item robot (SIR) technology.
Udea is a wholesaler of organic foods, natural personal care products and sustainable non-food items. The company is also the franchiser of the Ekoplaza chain of organic supermarkets and online grocery shops. For its new centralised DC, Udea needed a state-of-the-art automated solution that provided the necessary levels of availability, performance and reliability to match its omni-channel needs.
Other criteria had to be considered, including capacity, user-friendliness, ease of maintenance and energy consumption. A goods-to-person system was also required that featured ergonomic workstations. Udea was looking to combine the activities of its existing DCs into one facility, and as such, the new DC in Veghel will house all of the company's dry, ambient, chilled and frozen products.
Vanderlande's ADAPTO system enables efficient and fast delivery to stores (B2B) and consumers (B2C). At 12-metres high, ADAPTO contains three temperature zones that can handle a wide range of products – a first for the market. ADAPTO uses double-deep storage for the optimum use of space and provides a high throughput of fast-moving goods. Alongside eight ergonomic decanting stations, there are 12 picking stations, all of which have raised platforms to facilitate ergonomic order picking.
A continuous flow of orders is assigned to the goods-to-person workstations. Operators can pick the instructed quantity for both consumer and store orders, with SIR technology automatically picking part of the order. This results in Udea processing 10,000 SKUs and picking 120,000 items per day. This is supported by a warehouse management system from partner Consafe Logistics with whom Vanderlande collaborated strongly during the development and testing phases.
"We are more than happy to collaborate with Vanderlande – it's been a joint effort for success," says Udea's General Manager Erik Does. "They helped us successfully with the technological challenge to create an automated warehouse with multiple temperature zones."
Vanderlande's Executive Vice President Warehousing and Parcel, Terry Verkuijlen adds: "We have been especially proud to have partnered with Udea on this project. The installation – for one of our neighbours in Veghel – has created a unique opportunity to demonstrate our technology around the corner in a fully operational omnichannel DC. Udea has a clear vision on creating a more sustainable food chain, and we are happy that our solutions have been selected as an intrinsic part of their food retail ecosystem."
Pictured: From left to right: Erik-Jan van den Brink, Director, Udea
Karel Hoogenboom, Sales Manager Warehousing, Vanderlande
Terry Verkuijlen, Executive Vice President Warehousing and Parcel
Erik Does, General Manager, Udea