Netto Selects Vanderlande to Supply Cutting-Edge Food Retail Automation
20th July 2020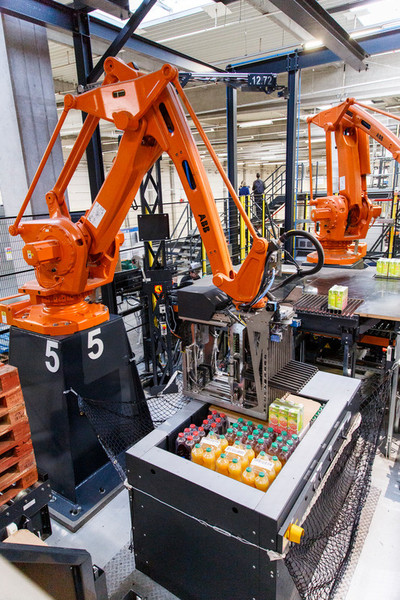 Vanderlande has signed a contract with Salling Group A/S – the largest food retailer in Denmark and also the owner of Netto – to deliver STOREPICK, a robotised, end-to-end warehouse solution for the food retail market. The system is designed to support future growth and will supply up to 600 stores in Denmark with dry goods.
Netto is the largest store format of its kind in the country and, due to continued growth, needed to further optimise its supply chain with further automation. The company has chosen to implement Vanderlande's STOREPICK (automated case picking) solution at its distribution centre (DC) in Køge, with the installation set to commence in January 2021.
STOREPICK uses state-of-the-art and proven technology, which can be easily integrated with any existing setup and expanded due to its modular design. The system, built from so-called 'functional modules', includes robotic and manual depalletising stations, six robotic palletisers, and Vanderlande's ADAPTO AS/RS. Within ADAPTO, 60 shuttles will cover over 30 levels, allowing quick access to approximately 43,000 storage locations.
"By using Vanderlande's STOREPICK solution, we are looking to improve the ergonomic flows at the Køge DC," says Netto's Head of Logistics & Supply Chain Brian Svaerke. "STOREPICK will sit perfectly alongside a third-party high-bay system, a combination we see as the optimum overall solution for our needs. With its proven track record, Vanderlande will provide a world-class automated palletising robot system that will unlock new benefits for Netto."
Vanderlande's Managing Director Warehousing & Parcel James Cotton adds: "We are delighted to be embarking on this new partnership with Netto, who stand to benefit greatly from STOREPICK – a key part of our next generation of scalable solutions. In the competitive food retail environment, STOREPICK offers Netto a streamlined logistics process, maximum flexibility, and the ability to adapt to their changing business requirements long into the future."