WMS: what comes first – hardware or software?
25th October 2021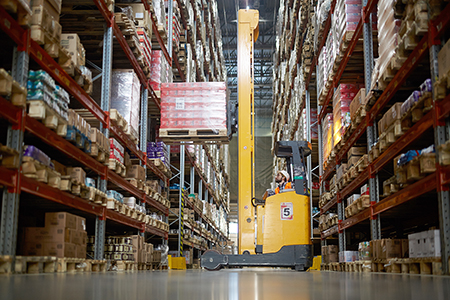 As the world still grapples with supply-chain issues brought on by the pandemic, companies are increasingly looking for ways to streamline their operations. One area that is increasingly receiving more attention is Warehouse Management Solutions (WMS). Andrey Kazachkov, Head of Warehouse Automation at premiere custom software development provider First Line Software, takes a look at some warehousing situations that determine whether to first invest in hardware or software when beginning the process of warehouse automation, and some notable exceptions to either case.
In my recent article, Should My Warehouse Be Automated? we reviewed the basics of WMS and looked at the differences between a manually operated warehouse with people as the primary resource moving goods, as opposed to a fully or partially automated warehouse scenario. Once you've determined that your warehouse requires some level of automation, the next question is whether to initiate the conversion with hardware or software.
Not surprisingly, your company's own business process will determine which comes first.
Most organisations looking to implement a WMS solution will likely have some existing hardware and equipment in place and wish to integrate this infrastructure with software to run it more efficiently, and we'll take a look at that situation in a moment. But let's start with a couple of scenarios where software takes precedence.
Where software comes first
Let's begin with the premise that you're creating an automated warehouse from the ground up. This includes raising a brand-new building or starting out with an existing empty shell.
Here, you may initially think that the answer is to first purchase the hardware needed for your particular needs and the software will likely come integrated with it or be added afterward. Normally this would be the preferred route to take when starting from scratch as we'll see in a moment. However, exceptional, non-standard conditions are a great example of where the correct choice of software has to come first, primarily because software is easier to customise than hardware.
Situations include, but are not limited to:
Highly secure tracking requirements for products such as narcotics, controlled substances, hazardous materials, or extremely high-value goods.
When specific features need to be integrated such as Augmented Reality glasses, Pick By Voice commands, or highly specialised robotics.
Another common situation where software is the predecessor to hardware is when pre-existing hardware exists, and new hardware must be integrated into the system. This is often the case when speed and productivity need to be increased. Here, new software is the bridge to compatibility between the existing and new hardware.
Where hardware comes first
One of the main drivers in the decision to choose hardware before software is… you guessed it, cost. The price of warehouse management software in a common warehouse system is approximately 20% of the total budget. This is primarily driven by the fact that hardware is less flexible in terms of customisation. You buy the hardware knowing it can do the job required, while software can be continuously modified and updated to fit your equipment needs.
As I stated before, if you are building or starting a warehouse from scratch, initiating the construction with hardware would be the preferred route. There can be myriad reasons for this, but here are some of the main factors to highlight:
Knowing your hardware and equipment in advance allows you to most efficiently plan the layout of your warehouse, allocate workplaces, and choose hardware suppliers taking into account licensing agreements.
You can de-bug your process at an earlier stage before you implement the automation aspect of the software.
The type of hardware and equipment you purchase will be the determining factor in calculating the speed of your warehouse. Software created by experienced providers allows you to modulate your equipment's load based on needs, but there is usually a speed-limit to most hardware.
The old adage, "Time is Money" is most applicable here since your warehouse will be up-and-running much faster if you start with the hardware and equipment first.
When hardware already exists
As mentioned earlier, most organisations looking to implement a WMS solution will likely have some existing hardware and equipment in place, and wish to integrate this infrastructure with software to either enhance or create some level of automation. As it turns out, this route can ultimately be far more expensive for a customer if they are not aware of some of the pitfalls when trying to merge existing equipment with new hardware and/or software.
There are more points here, but some are also applicable to the hardware vs. software question above:
The operational system of the new WMS needs to connect to operational system of the rest of the company as well. This is typically not a low-level integration.
You need to know the equipment standards that are applicable in your area or country. Equipment from the same manufacturer can be location specific, and in some cases may not be compatible with your existing hardware.
When choosing one equipment vendor over another, evaluate not only the initial cost of integration, but also the cost of future technical support and maintenance.
Integration with so-called basic equipment such as scales, scanners, or computer monitors, (not enough monitor resolution is an example) etc. should be a focus of attention. Overlooking the small stuff can get very expensive quickly.
When combining older or existing hardware with new hardware and software, simulators are usually created that imitate the legacy systems before they are deemed fully compatible with the new. This can cost tens of thousands of dollars or Euros.
There are off-the-shelf simulator solutions for the customer to DIY, however the process of getting system approvals and making them work can be time consuming.
When hardware and software both come first
Of course, as in all aspects of life, there are exceptions to every situation. Warehousing facilities that have extremely specific requirements and very demanding environmental situations will necessitate acquiring, and integrating hardware and software at the same time. This requires sourcing equipment that can handle such environmental extremes and concurrently developing the software that can integrate with the equipment to do the work that's required.
Here's a couple of examples:
A temperature-controlled warehouse for goods that need either extreme cold or hot storage and subsequent movement within, and in and out of the facility.
Special climate conditions such as reduced oxygen environments where the protection of assets from fire, moisture, and pests is paramount.
A real-world example of this last point is First Line Software's partnership with viastore that automated the Archive and Logistics Centre of one of the largest banks in Europe which occupies 53,000 sq m. It was the largest warehousing automation project in Eastern Europe. The challenging fact is that the ALC employees have no physical access to the storage areas due to the reduced oxygen supply needed to protect the contents from fire, moisture, and pests.
This scenario necessitated that the entire process of archive operations be fully automated. Here the client's process requirements dictated that the solution needs to have software, and the specialised hardware sourced together to execute the facilities demands.
Where does your WMS begin?
Amid all the pitfalls addressed above (and others not addressed for lack of space), do not despair! The good news is that it's possible to integrate and update your existing warehouse at a reasonable cost, even using equipment from different manufacturers. The first step to achieving that goal is the responsibility of the customer.
Do your best to eliminate – or at least minimalise – the "middle man". It is important for you to control the development process at all stages and review your requirements as early as possible. From there, you should expect to uphold a direct line of communication to your software and hardware implementer. Project Management should be kept in-house if possible.
The most critical decision you're likely to make is choosing that all-important implementer. Not every developer or supplier can understand complex WMS processes. Here you should employ the "one vendor" concept: First Line Software's partner, viastore can supply not only its own hardware, but equipment from other manufacturers as well; in addition to providing their state-of-the-art WMS software solutions.
Having a single vendor to work with and communicate directly has an obvious advantage aside from ease of further hardware servicing, and updating software systems; you are establishing an evolving partnership that will help fuel your company's future successes.
Come meet us at the free online event of First Line Software on 18th November – How to assemble the WMS/MES/ERP puzzle to increase production efficiency.