Should My Warehouse Be Automated?
6th May 2021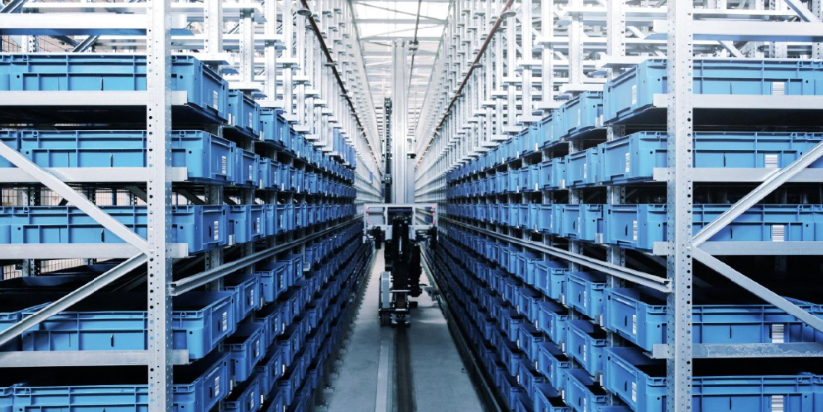 With the pandemic causing a swing away from the high street towards online, businesses looking to keep their operations viable during these challenging trading conditions are investing increasingly in an automated warehouse. Andrey Kazachkov, Head of Warehouse Automation at premier custom software development provider First Line Software, reveals what questions you need to ask before taking the plunge.
A couple of years ago this question might have been a little easier to answer when looking at today's challenges and what the repercussions of a global health crisis has done to impact the supply chain around the world. But before we tackle the question of automating vs. a manually operated warehouse system, let's understand some basics about Warehouse Management Systems (WMS) and some of the technologies required to make it work.
WMS – An Overview
A WMS usually begins as a software application that is specifically designed to optimise and support distribution centre and warehouse functionality. The software works in concert with hardware to execute the constant shifts in resources across planning, directing, staffing, and organising any kind of materials that move into, within, or are shipped out of a facility.
The not-too-distant past may have seen people with spreadsheets on clipboards manually checking off items as they move in and out of their purview. Today, technologies such as big data analytics, plug and play automation, mobile communications, sensors, wearables, IoT, and robotics have transformed warehouse management operations and systems for the better.
It's possible that the movement of goods through a particular facility may seem to be working just fine with the employees and infrastructure that's been there for some time.
However, almost every company that moves materials in, within, and out of a building has some degree of automation even if they don't consider themselves as "automated".  The various ranges of warehouse automation fall along a spectrum from a 100% automatic facility to a manager who recently upgraded from their clipboard, spreadsheet, and pencil to an iPad.  Let's look at some key differences between a manual and automated facility.
Advantages of a manual warehouse with WMS integration:
People can be more flexible in dynamic situations, provided they are highly skilled.
People are easier to re-allocate and can be more versatile and interchangeable when modifying processes.
Full automation requires standardisation; the configuration of a warehouse with human resources can be changed dynamically (from pallet to carton storage to unit storage, with the ease of resizing packages and storage containers).
The business is saving on equipment costs in the moment.
Overall scalability either up or down is easier.
Advantages of a fully automated warehouse:
Performance, accuracy, and speed improve with no human error.
A smaller warehouse footprint is achieved at an increased level of productivity (for example, the area can be reduced by as much as 80%, which can be important in the absence of space or the high cost of land). Automatic pallet warehouses are available as a rack-supported building or as a free-standing system within a building and can be built up to 150 feet high.
Fewer people = easier and lower-cost human resource management.
Fewer people = less contact with equipment, less injuries, and illnesses – particularly during a pandemic.
Easier implementation of special conditions such as: oxygen-free storage, freezers, ultra-clean environments, etc.
Some challenges of automation:
The selection of suppliers and planning is key.  The optimal selection of a supplier is one that can supply both the software and hardware (conveyors, robots, cranes, etc.).
Building a realistic project timeline taking into account a wide variety of suppliers.
Integration as a separate area of focus – WMS and your existing system's infrastructure.
Other areas of active troubleshooting will include the deployment launch and your "go-live" timeline that requires coordinated actions between software (WMS) teams, hardware teams, and ancillary equipment teams. Once automation is underway, there is maintenance of equipment that includes adjustments and repairs.  However, there are asset control tools as software platforms that make these tasks easier, if not automated themselves, such as Visualization Module, a product from viastore for visualising warehouse equipment status.
Trends of the global warehouse automation market
LogisticsIQ's latest market research study is based on an analysis of 400+ companies with more than 100 in-depth interviews.  They concluded that the Global Warehousing Automation Market will have more than doubled from US$13 billion in 2018 to US$27 billion by 2025, at a Compound Annual Growth Rate (CAGR) of 11.7% between 2019 and 2025.
Even though automated warehouse systems can resolve various challenges in warehouse management, research shows that 80% of current warehouses are still manually operated with little to no supporting automation. Just 5% of existing warehouses are fully automated, and comprehensive updates of smart technologies are necessary for companies to remain competitive.
The reality today is that even fully automated warehouses with highly mechanised environments still employ people in key functions. With all the advanced technology, employees still spend their time loading and unloading trucks, handling parcel containers, manually sorting odd-sized items, and servicing the hardware.
Determining the level of automation you need
There is no simple answer to the question "Should my warehouse be automated?", but it's not impossible if you're asking the right questions to determine the level of automation you require.  It all begins with the ever-difficult task of looking within your company to define your business processes. After that, choosing an experienced Warehouse Management Systems partner such as First Line Software will pay off with prioritising the tasks needed to be solved.  This happens with an analysis of your current situation based on the pros and cons of a WMS with people in the mix or a completely automatic solution.
A comprehensive front-end business introspection and partner selection will help determine the optimal configuration of your space and the necessary equipment to make it work.  The correctly chosen balance allows you to get maximum efficiency from the team of employees while reaping the benefits from your chosen level of automation.
First Line Software provides a wide range of services for the development, testing, implementation and maintenance of custom and specialised software solutions for the European and world markets. FLS has a Certified Solution Development Department and a Certified Implementation Department.  Since 2003, FLS has maintained a strategic partnership with viastore – a leading international provider of solutions in the field of warehouse intralogistics.  Together they have completed more than 30 WMS projects in Europe and the USA.
First Line Software is hosting a free English-language webinar on Wednesday 12th May aimed at warehouse managers, owners and operators looking to optimise their existing systems and distribution centre operations. Click here for further details.