Packaging company launches automated e-Commerce system
26th August 2022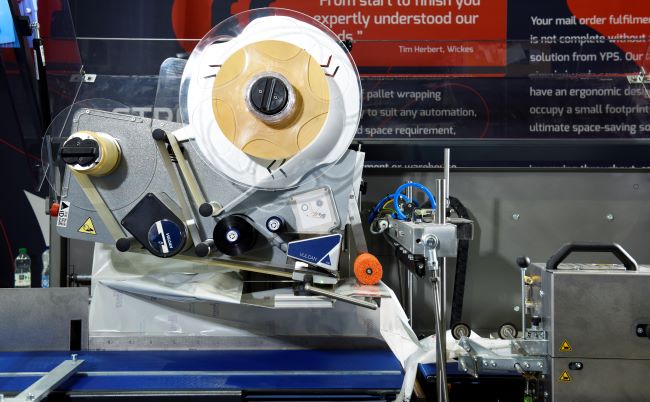 Partnering with shrink and stretch wrapping specialist Yorkshire Packaging Systems, Clearmark Solutions has launched its latest innovative and labour-saving automated e-Commerce system.
Mounted within the innovative bagging unit, Clearmark's Direct Print & Apply ICE Vulcan labelling machine integrates seamlessly with the Hugo Beck Flexo e-Comm range of bagging machines. Processing more than 1,200 packages per hour, the labour-saving system prints and applies address labels with precision directly onto the film as the product is enveloped into a shipment bag.
Fulfilling e-Commerce GDPR compliance rules and guaranteeing accurate labelling for problem-free delivery, the ICE Vulcan receives real-time address delivery data and can communicate in a range of protocols including ZPL and SATO.
This fast, uninterrupted one-in-one-out process delivers faultless labelling precision. By interfacing seamlessly with a company's Order or Warehouse Management System, it safeguards sensitive customer data and helps to eliminate any potential operator error.
Streamlined, failsafe and labour-saving
Citing the labour and cost saving benefits on high volume e-Commerce packing lines, Clearmark's Steve Hancock estimates that to achieve the same level of hourly throughput manually would require between eight and 10 bench packers: "As well as being labour intensive, the repetitive nature of this work means that it's more prone to human error.
"By further developing our unique Direct Apply application for the e-Commerce market, we are able to remove the complexities of the traditional pneumatic tamp application seen in other systems. By applying directly onto the moving film, it allows a smoother, quicker, more reliable label application, which is essentially maintenance free."
Jonny Braithwaite, Director at Yorkshire Packaging Systems, concurs: "This seamless e-Commerce bagging and labelling process eliminates errors and ensures absolute reliability and data security as well as 100% compliance with GDPR laws."
Efficiency in the bag
Designed for any bagged e-Commerce consumable application, ranging from fashion apparel, household furnishings, stationery, white good spares, the Flexo e-Comm measures the length of the product for the bag length and adapts accordingly. It adjusts to the product dimensions sealing the front and side edge and squeezing the air out to form a tightly-fitted bag.
The machine is compatible with all fully recyclable centre-folded films (LDPE 04). This includes biofilms and up to 70% recycled content films. Optional open bag perforations and bag resealing adhesive strips are available.
Aligned to these sustainability efforts, the fully integrated ICE Vulcan direct print and apply labeller with its unique non-pneumatic 'air-less' design, accurately places every label on demand, without the need for an applicator. Height adjustable, the Clearmark printer system boasts Intelligent Motion technology. This unique feature enables precise automatic control of components and an 80%  reduction of wear parts that traditionally cause unexpected downtime and additional cost.
"Direct Apply is far more reliable and faster than traditional tamp label printing," reaffirms Hancock. For e-Commerce operations, where throughput is key to ROI, even the slightest hesitation between the data transfer and application of a label will have an effect on throughput.
"The ICE Vulcan prints three times faster than traditional applicators on the market, using a solid-state printhead mechanism and no compressed air. As a totally integrated e-Commerce bagging and labelling solution, there should be no stops and starts. Just a fluid process maintaining a consistent line speed.
"No other label supplier comes close to the speed and reliability of the ICE Vulcan for e-Commerce operations," states Braithwaite. The innovative concept is clearly not lost on e-Commerce warehouse and logistics operations. Serious discussions are already underway to install the Flexo-500 with ICE Vulcan at one of the UK's top-10 online and click-and-collect soft furnishing businesses."