Imperial Establishes Joint Venture in Ghana
9th February 2017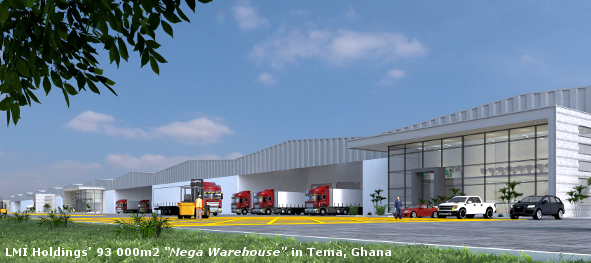 Imperial Logistics in Africa has established a joint venture with the Ghanaian conglomerate LMI Holdings. Imperial LMI Logistics Limited (60 percent Imperial, 40 percent LMI) will market the logistics expertise of Imperial Logistics and the logistics facilities and infrastructure operated by LMI Holdings within the new joint enterprise.
The companies say that while LMI Holdings is relying on Imperial's technical and operational experience and making better use of its own facilities, Imperial Logistics can expand its business model in Africa with the help of the infrastructure provided by LMI Holdings without having to acquire or maintain its own fixed assets. This principle, known as "asset light", characterises the future business model, which Imperial has outlined in Africa in the "Imperial Managed Solutions" product area: this entails no Imperial logistics facilities and vehicles, but cooperation with local partners. Thanks to complementing each other, both partners can offer a greater range of services and also strengthen Ghana's position as a West African trading centre. If the three major African trading blocs were to merge to form one continental free trade zone, Ghana's significance as a hub for inner-African trade would increase.
The services, which the joint company wishes to offer during the initial phase, include freight traffic, national and cross-border distribution logistics, warehousing for break bulk cargo and bulk commodities (including temperature-controlled and bonded storage) and additional services like stuffing and destuffing containers, incoming and outgoing container transportation, packaging and light assembly work. As far as possible, most employees should be Ghanaians, who will be trained appropriately by Imperial.
LMI Holdings, which was founded in 1992, specialises in building construction and civil engineering, energy supplies, telecommunications and logistics. The company operates a logistics warehouse measuring 93,000 square metres in the Ghanaian port city of Tema and it will play a central role in the portfolio of services provided by the new joint venture. The LMI Group is also investing in transport infrastructure projects. They include a container terminal at the port of Tema (scheduled for completion in 2018) and railways from the port of Tema to the Dawa Business Park situated to the east. Imperial has been working in Ghana for seven years through its subsidiary Imperial Health Science GH LTD – a pharmaceutical logistics company.