Cimcorp Robotic Handling for Maximum Food Freshness on Show at LogiMAT 2019
29th January 2019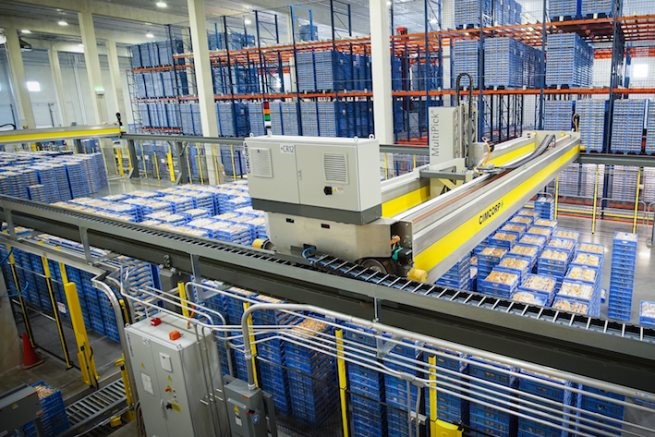 Finland-based intralogistics automation supplier Cimcorp will present its robotic handling technology at LogiMAT 2019 (Hall 2, booth B05). Using robots operating from overhead gantries, Cimcorp's modular solutions provide food producers and retailers with instant access to every SKU, ultra-fast handling and total picking accuracy.
"These benefits contribute to freshness for food products," says Kai Tuomisaari, Vice President of Sales for Cimcorp. "They help maximize shelf life and secure vital competitive advantage for our clients in the fresh produce, bakery and dairy sectors. Brands such as Colruyt, Mercadona and Fazer are all reaping the rewards of investing in our robotic automation."
Faced with the challenges of an increasing variety of store formats, more frequent deliveries and smaller order lines, grocery retailers must minimize the time it takes to get fresh products from the supplier to the store. Controlled by Cimcorp's warehouse control system (WCS), the robots effortlessly manage the entire material flow from receiving to dispatch. "What is unique about Cimcorp's solutions," says Tuomisaari, "is that they combine buffer storage and order picking in one efficient, flexible and scalable operation."
It is not only perishable products that benefit from robotic handling. For companies challenged by seasonal peaks – such as breweries and beverage suppliers – gantry robot solutions provide the speed, capacity and flexibility required to cope with spikes in volume. Where automation of the entire DC is not feasible, Cimcorp can supply what it calls an 'island' of automation – such as a system handling solely fresh produce – that is fully integrated with the surrounding manual operations.