Cabify launches logistics brand
14th October 2022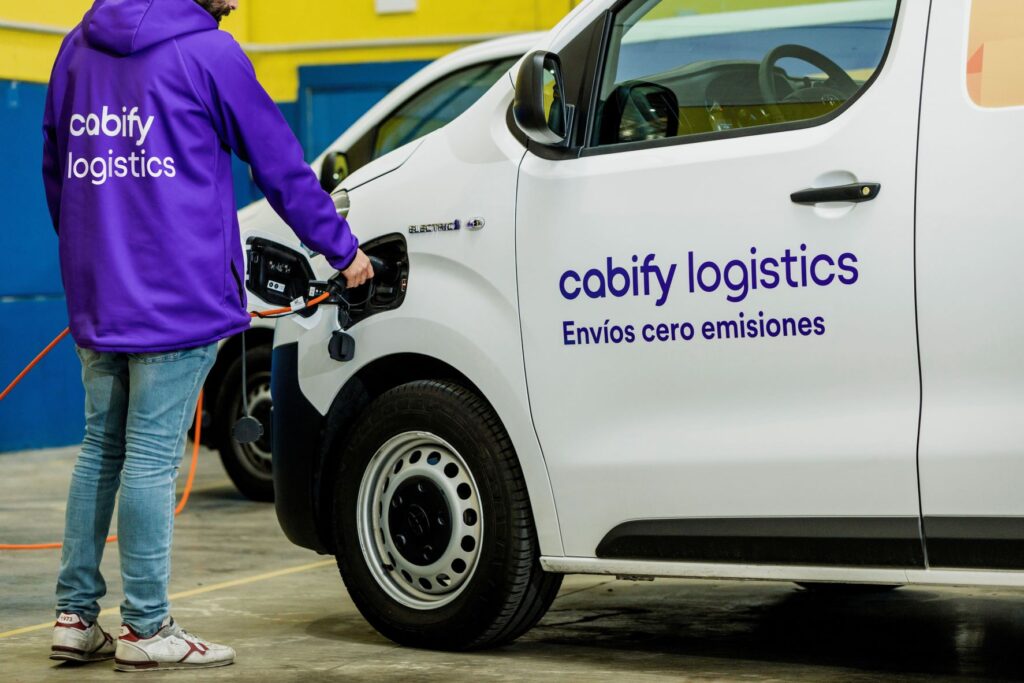 Cabify, the international multi-mobility platform, has opened a new chapter in its diversification of mobility solutions, this time aimed at the storage and transfer of goods, with the launch of the new Cabify Logistics brand in Spain and Latin America. With this new line of business, the company seeks to continue to grow and consolidate its position as an ally of mobility in cities, offering a safe, efficient, and sustainable quality service, taking advantage of the potential of technology.
During the Covid-19 pandemic, Cabify made an ambitious commitment to the delivery service to make it easier for individuals and companies to distribute parcels in cities. Over time, the company began to gain relevance with its B2B2C service and, today, is positioned in the logistics market as a full-service technology provider, an ally of companies with online sales that seek to deliver their products in the best conditions and with multiple options. Proof of this is the accelerated evolution of this line of the company: from January to June this year, this business grew more than 2.5x, with a portfolio of more than 5,000 customers globally, among which are large companies such as Mercado Libre, among others. In addition, the platform has successfully developed strategic integrations with Shopify and Mercado Envíos Flex.
"Last year we focused on reinforcing the personalisation of the service, adapting new functionalities according to the needs of our customers. Our strong safety and quality strategy, reinforced by our high-efficiency level and delivery times of less than 30 minutes, opened the door to this new market," said Vicente Pascual, Vice President of Cabify Logistics. "Being a service offered by Cabify has allowed us to gain the trust of thousands of companies that already know us for our ride-hailing service, which has been an important trigger for our growth. Cabify is a consolidated brand in the multi-mobility market with more than 10 years of presence in Europe and Latin America. That strength has allowed us to exceed 500,000 deliveries within eight months of launching the service in 2020, five times faster than the time it took us in our beginnings to make the first 500,000 trips," he added.
Given the growth in demand for logistics-related services, Cabify has identified an opportunity to continue growing in this sector and expand its portfolio of mobility-related solutions. Logistics has become a new market for Cabify, which poses a new challenge for the brand as well. This line of business comprises a different type of service. It is aimed at a different audience with specific needs, which requires a new way of identifying and relating to the one that Cabify has been using until now. The new Cabify Logistics brand will accompany all logistics services aimed at companies.
New challenges: restaurants and technology
The company aims to close the year growing five times more than last year in this new line of business. To this end, Cabify expects to invest $20m in Cabify Logistics. The main focus of Cabify Logistics will continue to be the urban last-mile logistic service in Spain, Colombia, Argentina, Peru, and Chile for companies in sectors such as e-commerce, retail or pharma.
Specifically, in the Latin American market, the strategy will focus on offering immediate deliveries to supermarkets and retailers. Also, in this region, the company has started offering last-mile logistics services for restaurants that already have their own delivery order channel or use online ordering systems such as Chile's Mercat. Chains such as Wendy's and KFC in Argentina already use Cabify Logistics as a logistics provider. In the case of Chile, Mercat's partner restaurants can find Cabify as a delivery option directly from the marketplace platform.
The company plans to continue advancing the cross-dock service in the Spanish market in its warehouses. This service consists of receiving a high volume of packages from one or several customers in the central warehouse to separate the goods by delivery city and routes. In addition, Cabify Logistics will continue to progress in the parcel service with solutions based on its own warehouses and key agreements that allow improving the capillarity of the service throughout the territory. In this regard, for example, Cabify already offers a storage and delivery service for products that require refrigeration in Madrid. Its clients include companies such as Colvin, flowers and plants e-commerce, and Cervezas La Virgen.
In the coming months, Cabify Logistics will continue to work on strengthening the technology that supports the operation to remain a leader in routing, real-time tracking, and warehouse management. The customisation of Cabify Logistics' service is based on the constant development and adaptation of its technology according to the needs of its customers and on offering a user-friendly experience. In that sense, the company is looking to add new integrations with e-commerce and logistics platforms to offer a more agile way to customers who wish to start using the service.
"We are betting heavily on Cabify Logistics and will invest in strengthening our technology and team. This line of business started with five people, and to date, there are already more than 50 of us, in addition to Cabify's central resources. We are reinforcing the team in the countries where we operate to scale the service we provide to our customers, and we will invest in strengthening our customer service centre and its technology to accelerate our 24/7 multichannel service," Pascual said.
In terms of fleet, the company will continue to offer motorbike and car services in Latin America, where it is already the leader. As a novelty, it plans to introduce one tonne or more cargo vehicles soon and to continue increasing the electric and zero-emission fleet by including bicycles and electric scooters. In the case of Spain, 100% of Cabify Logistics' own fleet are electric vans dedicated exclusively to the parcel service.