Tool Enhances Ukraine-EU Rail Visibility
12th June 2023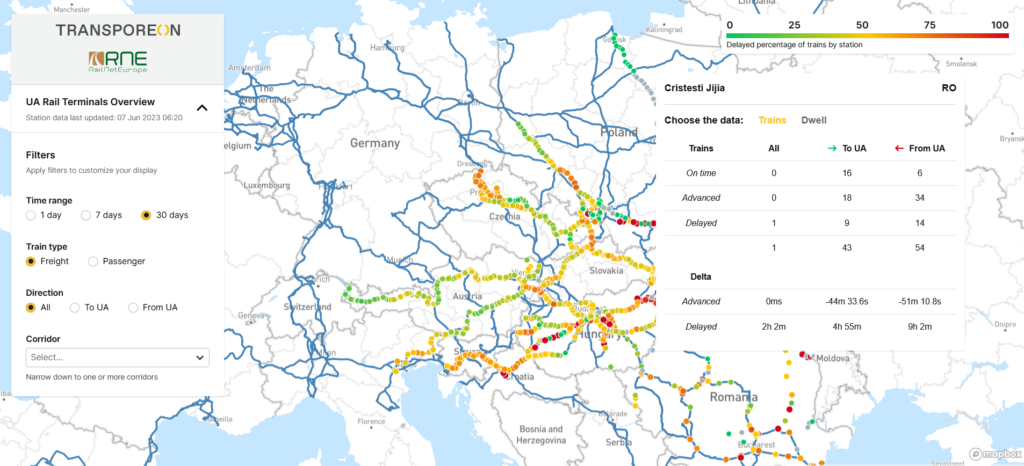 Transporeon, a leading transportation management platform and a Trimble Company, in collaboration with RailNetEurope today announced the launch of the EU Ukraine Visibility Map. The Visibility Map is the first large-scale European-wide tool that provides an end-to-end view of key rail corridors in and out of Ukraine.
This launch builds on the European Commission's EU Ukraine Solidarity Lanes Initiative, which Transporeon is supporting by providing its technology platform. Thanks to the initiative, millions of tonnes of grain have been moved from Ukraine by rail and intermodal transport to ports and inland destinations throughout Europe. The Solidarity Lanes also allows Ukraine to import the products they need, including humanitarian aid.
Based on data provided by RailNetEurope (RNE), Europe´s leading association of rail infrastructure managers, Transporeon created the EU Ukraine Visibility Map that enables supply chain stakeholders and public authorities to plan with precision, address bottlenecks and optimise future infrastructure investments. The Visibility Map utilises data made available by rail infrastructure managers who are RNE association members. It displays first insights into the activity on key rail corridors from Ukrainian border locations, the terminals on these corridors and the in-transit location of freight and passenger trains. The following data is available:
• Train dwell-times
• Delays in days, hours and minutes
• The % share of delays
While the current data allows first insights into some of the key corridors, data from more rail terminals is needed for operators and authorities to gain access to even more information to plan their routes accordingly and remove remaining bottlenecks. Public authorities, infrastructure managers and transport companies from across Europe are invited to join the Solidarity Lanes Initiative and share their respective data – in solidarity with Ukraine and to gain valuable insights to optimise their own transport operations.
The map updates approximately every six hours. Users can also access terminal data (the number of trains at a particular station) for the last 24 hours, week and month.
Stephan Sieber, CEO of Transporeon, commented: "Creating the first large-scale European rail transport visibility solution is an immense source of pride for the Transporeon team, particularly as it will play a key role in helping Ukraine maintain vital economic ties with the rest of the continent. The Visibility Map allows all stakeholders to see congestion and transit times, enabling them to optimise transportation activity and resource deployment."
Joachim Kroll, Secretary General of RailNetEurope, added: "Together with our association members, we are delighted to contribute to the accomplishment of this important project with data from RNE's IT systems. The EU Ukraine Visibility Map shows rail's ability to deliver solutions to newly emerging challenges."
Due to the ongoing war, access to the map is closely protected. Companies wishing to join the initiative and learn more about the EU Ukraine Visibility Map can go to this website: https://www.transporeon.com/solidaritylanes
RailNetEurope (RNE) is an association of European Rail Infrastructure Managers working together under the RNE umbrella to coordinate their international processes in the areas of Capacity Management, Traffic Management, Corridor Management, and IT, with a focus on digitalisation solutions to support operational processes linked to international rail traffic.
Transporeon, a Trimble Company, our mission is to bring transportation in sync with the world. We power the largest global freight network of more than 1,400 shippers and retailers and more than 150,000 carriers and logistics service providers. Every day they execute more than 110,000 transports on our platform and book more than 100,000 dock-appointments for loading and unloading. In the course of one year, roughly €55bn in freight is being processed on our platform.