Swissterminal connects Ottmarsheim and Antwerp by rail
29th November 2021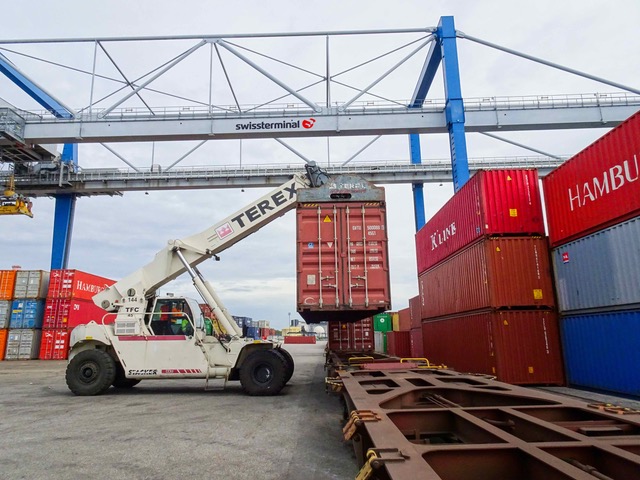 Swissterminal AG, a leading Swiss integrated logistics provider, is expanding its Schweizerzug rail product portfolio with a new rail connection between Antwerp and Ottmarsheim starting 1st January 2022. This transport service will begin with three direct roundtrips per week, each with the fastest overnight connection between the seaport and the Alsace region.
This new product allows 540 TEU per week to be transported by eco-friendly rail, providing an efficient and economical alternative to more polluting transport modes. Furthermore, by adding these rail capacities, Swissterminal expects to offer relief for supply chain congestion across the region and build greater resilience into its network.
Handling will take place at Ottmarsheim every Monday, Wednesday and Friday. In Antwerp, the handling days are Tuesday, Thursday and Saturday. Customers utilising the service will benefit from convenient pick-up and delivery times as well as a range of Swissterminal ancillary container services, such as maintenance/repair and reefer services.
"With this addition to our rail network, we will bring new opportunities to the border triangle of France, Switzerland and Germany," explained Roman Mayer, Swissterminal CEO. "Positioned on the river Rhine, Ottmarsheim is an important location for a wide range of shipping lines, freight forwarders and beneficial cargo owners. By rolling out this new rail service, we are not only meeting market demand with sustainable connections to one of Europe's most import ports, but we are also taking a step toward our goal of transforming Ottmarsheim into a rail hub catering to the entire tri-border region."
After being awarded the concession to operate the French ports of Mulhouse in Ottmarsheim, Ile Napoleon and Huningue-Village-Neuf on 1st July 2021, Swissterminal announced its intentions to improve transport connections to key locations across Europe for the forwarding industry in Alsace, Southern Germany and Switzerland. The introduction of this new rail product is the first in a series of progressive developments planned over the next months and years.
"The Alsace region has strong logistics potential, and we have ambitious plans for the future here," concluded Mayer. "With our intermodal know-how – as well as our wide range of services, innovations and warehousing – Swissterminal is fully committed to supporting the growth of the region and meeting demanding market requirements."