Simple solution for loading bay bottlenecks
27th October 2021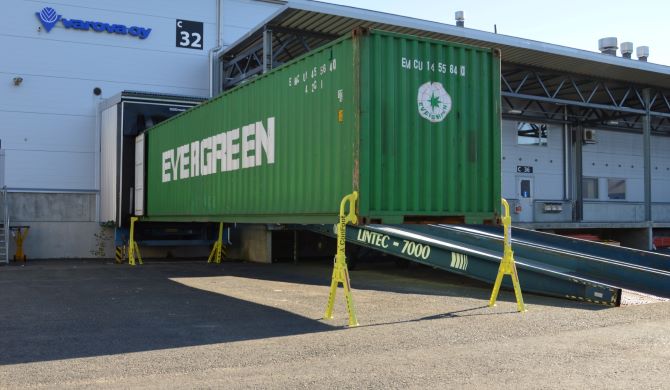 There is a Europe-wide HGV driver shortage, which is very acutely felt in the UK. Part of this is caused by the pandemic. Essential goods continued to move during the lockdown, but as non-essential goods were out of circulation, many hauliers went bust and the drivers sought employment elsewhere.
As the economy is reopening, demand is skyrocketing, and with hauliers struggling to cope they are forced to turn down work owing to lack of capacity. If the loading or unloading time is several hours, it is better to opt for shorter runs so in the same time more jobs can be completed.
Of course, turning down jobs means turning down money and risking the future of some client relationships, with these contracts going to other operators in the future.
ConFoot, a Finnish manufacturer of legs for shipping containers, believes it has the solution to solve these loading bay bottlenecks. Using ConFoot container legs the container can be left on the legs at the loading bay for loading and unloading, freeing the truck and the driver to continue with other jobs in the meantime.
The hauliers will have a bigger time window for collecting the containers in most cases, making it easier to manage. This allows for the hauliers to plan more effective routes, maximising revenue and client satisfaction.
Retaining drivers is also easier, as many drivers are paid by the mile, not by the hour, so delays means loss of income for them.
ConFoot says its container legs require no maintenance, and have a lifespan of up to 20 years, providing a very ample return on the investment. The air suspension chassis and dump valve of the trucks trailer is used to lift and lower the container, and only one person is required to attach the legs, which means the driver can do it alone with no help required from the personnel at the site.
The loading bay model has the maximum capacity of 30 tonnes (container + content).