Suretank expands cryogenic tank range with 20ft model
30th June 2015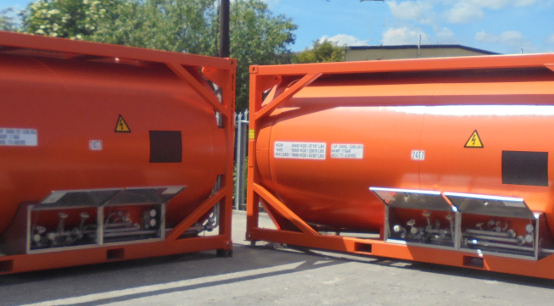 Suretank, the world's leading provider of engineered solutions to the offshore oil and gas industry, is delighted to announce the addition of a 20ft T75 Cryogenic tank for transporting liquefied gases at very low temperatures. The 20ft tanks are the latest and largest addition to Suretank's current cryogenic range, which also includes 10ft and 13ft tanks, with capacities up to 20,000L.
This shipment of 20ft tanks are destined for the Middle East, to a well-known provider within the oil and gas industry, where they will be used to carry liquid nitrogen. The CSC rated tanks, with a working pressure of 17 Bar, are suitable for both onshore and offshore storage and are approved for road, rail and sea transportation.
John Fitzgerland, Suretank CEO commented: "Our engineers worked in partnership with the customer throughout the design and manufacturing process, to develop these custom, large capacity tanks to meet their specific needs. They are delighted with the results, which will allow them to fulfil their storage and transportation requirements for many years to come.
"One of the key benefits of working with Suretank is that we don't just produce a standard range of products, we create engineered solutions to meet our customers' needs exactly. We enjoy the challenge of producing something that is new and innovative and are constantly looking for new opportunities to grow and diversify our offer."

The Suretank range covers 10ft, 13ft and 20ft cryogenic tanks designed to hold liquid argon, liquid oxygen, liquid carbon dioxide and liquid natural gas. All are suitable for both onshore and offshore usage and are built in accordance with DNV2.7-1, EN12079 standards. The working pressures range from 3Bar to 24Bar.
Suretank is the world's largest manufacturer of tanks and cargo-carrying units for the offshore oil and gas industry and all of its products are produced to DNV 2.7-1 certification as standard.
Suretank products are found worldwide, including the North Sea, West Africa, Gulf of Mexico, Brazil, Canada, Caspian, Sakhalin, India, Australia, Middle East and the Far East. Its product range includes chemical and acid tanks, helifuel tanks, offshore containers, baskets, mudskips and cryogenic tanks.
For more information, visit www.suretank.com.