Scottish Transport Firm In Crane First
29th January 2016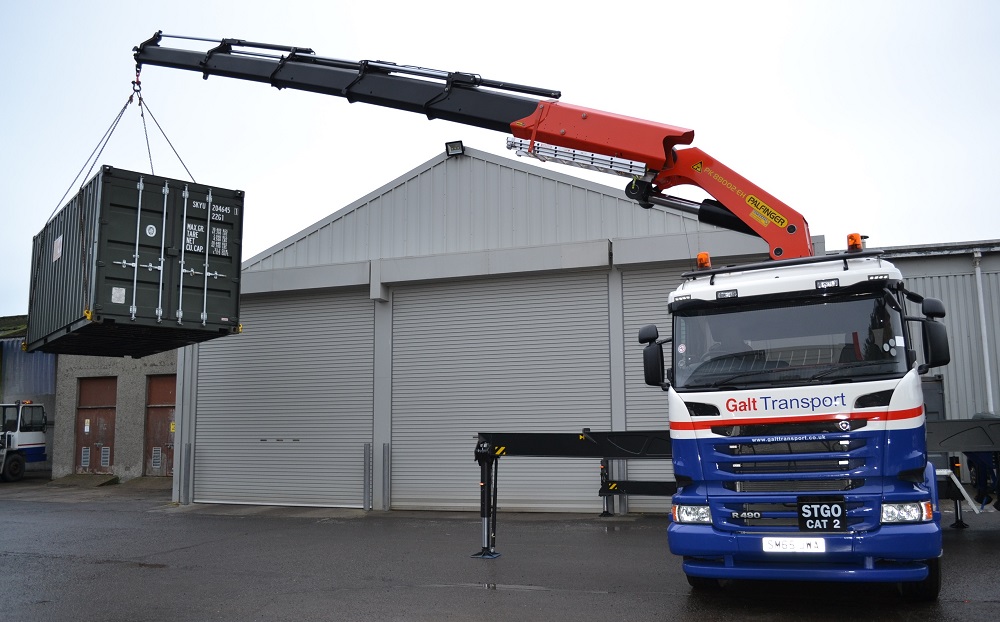 Galt Transport has taken delivery of 2 Scania R490 6×4 tractor units, both equipped with Palfinger PK88002EH cranes. These latest additions to Galt's fleet are the first of their type to be installed and operated in the UK.
Fitted by Outreach in Falkirk, the cranes offer a powerful weight to distance ratio performance. Utilising 5 boom extensions they can provide a maximum lift and reach capacity of 15t at 5m and 5.4t at 13.3m.
Operations Director Andrew Galt said, 'These trucks join our existing fleet of 24 vehicle mounted cranes, mixed between Artic and Rigid variants. These new additions are now the highest capacity cranes in our fleet, which extends our offering of flexible loading and delivery options to our customers.'
The cranes have been installed on Scania R490 6×4 tractor units with air suspension. These have a 3.5m wheelbase, 490 horsepower and the 3 pedal versions of Scania's Opticruise automatic gearbox.
The vehicles are plated at 80t gross weight but will primarily be operating at 44t under construction and use regulations. Both trucks were supplied by Reliable Vehicles, Renfrew (Scania Truck and Bus).
Andrew Galt added 'This gearbox option gives us the fuel efficiency of an automatic while giving our operators the low speed manoeuvring control of a manual transmission. This drive train has proven its worth already with 9 of our current fleet being equipped with it.'
Galt Transport have been operating a diverse transport and haulage fleet since 1947. The family run business operates throughout the UK, Ireland and the EU from 4 operating centres in Central Scotland. The company has a modern fleet of 53 trucks and over 100 trailers from varying manufacturers in an effort to maintain a truly flexible fleet. The company also offers storage facilities and driver training school.