Abu Dhabi Ambition
20th November 2020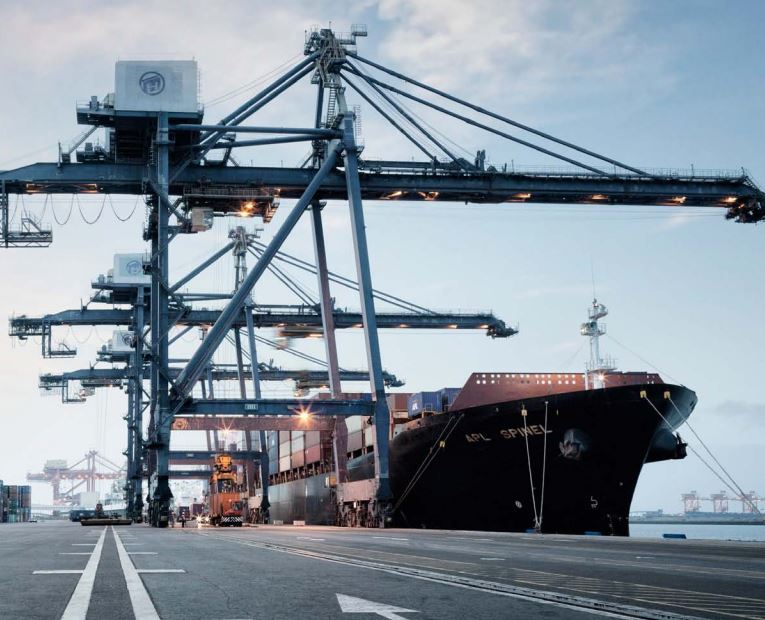 Logistics Business talks to Robert Sutton of Abu Dhabi Ports, which is expanding fast and strengthening its logistics capabilities courtesy of an important acquisition.
Abu Dhabi Ports, which itself is part of ADQ, one of the largest holding companies in the Middle East, has taken another step towards establishing the Emirate as a global hub for trade and logistics with the acquisition of Micco Logistics. Micco was one of the first freight forwarders to set up in Abu Dhabi over 40 years ago and built a strong base in the Oil and Gas sector on its way to being one of the most diverse multimodal operators in the region.
Robert Sutton, Head of Abu Dhabi Ports' Logistics Cluster, explains that the move is a natural progression for Abu Dhabi Ports. "First of all, we are more than a ports business. Abu Dhabi Ports has been enabling trade since its inception and this acquisition further strengthens its logistics capabilities. We're enhancing the value we can add to our customers, so the acquisition is allowing us to strengthen and extend the value chain across our broad customer base. It will allow us to diversify our service portfolio.
Historically, we were focused on Oil and Gas, Polymers, and some industrial sectors. This allows us to look at our speed of diversification into retail, Pharma, healthcare and other sectors." Where does he see that value being seen most visibly at the outset? "Micco are strong in all modes. They're one of the major freight forwarders for import and export in the Emirates, with a very strong on-road presence of over 350 branded vehicles fitted with the latest technology. So an immediate benefit is access to a much larger captive fleet of commercial vehicles with the ability to extend freight forwarding services."
Customer requirements are, of course, at the forefront. "The underlying requirements remain the same – customers want an all inclusive holistic service, where possible, from an integrated provider and they want it at the lowest cost or the best value available. They want to measure that against the value delivered." Does he see those requirements changing, particularly given the global disruption we've experienced? "I guess the changes now are in the buying decisions, based on looking at risk management and how you mitigate risk in the supply chain. Some of the dynamics are changing in the customer's decision criteria, with the customers now requiring very strong built-in supply chain resilience."
It's fair to say that at this point Abu Dhabi Ports is not an immediately familiar name to many logistics professionals based in Europe. How would we characterise the company's ethos?
"Customer First," he replies promptly. "We say it and we truly mean it. We spend a lot of time trying to pre-empt customer requirements and ensure that we meet them through development of
solutions." That's a familiar refrain, though, I point out, and ask for a specific example to illustrate his claim.
"We don't look at a solution within four walls, we look at a customer's entire supply chain. We will then try to identify parts of the supply chain where we believe we can create some value for
the customer. And it might be an area that's outside our immediate influence or control. We don't let that prevent us from having a discussion with the customer." He provides an example from the
COVID-related push to online solutions from retailers. "The way Abu Dhabi Ports responded to that was by working with retailers to mobilise additional in-store support services. We trained those individuals, who had come from the food and beverage sector, to be familiar with piece picking in the retail environment and thus be able to match the surge in demand from the retailers when required. This allowed us to re-use and repurpose facilities within Abu Dhabi Port Logistics for the betterment of the community by being served via online retail. Speed of thought and action were
crucial.
"We started mobilising within one week of the requirement being known to us. We repurposed the Abu Dhabi Cruise Terminal and turned it into a training centre, then deploying the teams to the stores in line with their needs." Transparency and visibility are now vital components of supply chain management. What will the acquisition of Micco add to the company's capability?
"One of the criteria when we look at a potential business partner, acquisition or collaboration is the value it can bring. The goal of any supply chain company is to extend the visibility in the supply chain as far upstream and downstream as possible. Micco have very good underlying systems which enhance the visibility of the supply chain. We also work with external parties, such as JDA Blue Yonder to provide additional levels of visibility."
Serious multinational logistics players these days have to think globally, and Micco can help Abu Dhabi Ports achieve that. "One of the reasons why we acquired Micco was because of their international reach. They've been working in the industry for over 40 years and have built up an extensive network of international partners and trade related experience with their customers. So it provides us with an opportunity to connect that ability to our ports' capabilities."
Does that mean Abu Dhabi Ports has ambitions as a serious global player, to be spoken of in the same breath as, to quote an obvious example, DP World? "We respect the competition, their strategies and strengths. Abu Dhabi Ports doesn't aspire to replicate the competition, we aspire to be competitive, and to do so, we work with multiple partners. I wouldn't say we've set out an aspirational goal of matching any particular logistics or supply chain company, that's not what we're about. We know our own direction and what our customers are looking for, and that's our focus."
How would he crystallise those aims?
"Our long term goal is to continue to grow, expand and make sure that we're ahead of our requirements, through partnerships and acquisitions, and to make sure that we're providing the type of logistics and supply chain requirements that are appropriate for the conditions." Does that mean there are further big acquisitions to come? He is guarded. "We remain open to growth enablers,
whether that's through partnership acquisition, mergers, or collaborations. We're a very ambitious business, we look at the opportunities as they come, evaluate them, and move on accordingly."
As a veteran of the global logistics industry, how does Robert Sutton view the wider sector's future? "It's a time of both opportunity and risk. The winners will be those who use the data and technology and are able to leverage their investments in making sure they have resilient and long-range supply chains. So that's where the focus will be. I also think we'll see more of a balance in the supply base – long range, near-term and maybe onshore sourcing for certain products, which historically may have been outsourced. Companies might procure from two or three suppliers, where they might once have used one premium supplier."
Are we heading towards an end-to-end autonomous supply chain? "I see that as a far away development," he reflects. "There's a long distance to travel before we reach that goal. But certainly, parts of the supply chain are now fully autonomous, and there are opportunities to extend beyond. We already see it within the four walls of a warehouse on a pretty regular basis, and we see automation extending to commercial vehicles as well."