P&O Maritime Logistics Aids Offshore Wind Farms
21st February 2023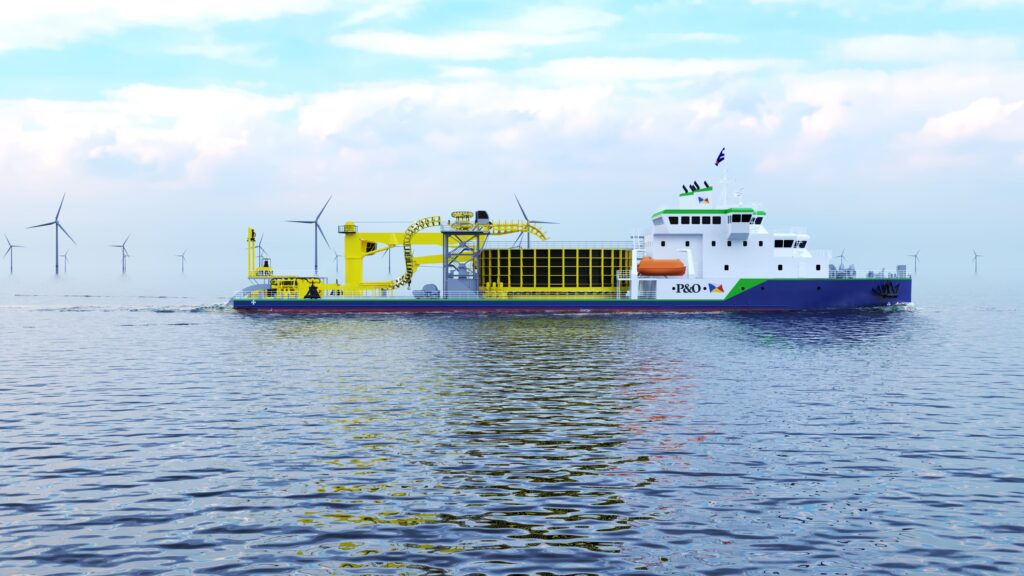 P&O Maritime Logistics, a leading provider of maritime services globally, today announced plans to convert one of its Multi-Carrying Vessels (MCV's) into a Cable-Laying Vessel (CLV). Powered by alternative energy, the vessel will be the first-of-its-kind within the company's fast-expanding portfolio of specialised offshore products and services.
Set to start operations in the third quarter of 2024, the conversion aligns with P&O Maritime Logistics' commitment to decarbonising the industry by progressively moving towards zero-carbon operations. To achieve these ambitious goals, the company's newly converted vessel will be equipped with a state-of-the-art battery system, as well as a low fuel consumption propulsion layout for green methanol fuel.
Supporting P&O Maritime Logistics' global expansion plans and product offering, the new CLV will give P&O Maritime Logistics' customers the ability to connect offshore structures and bring offshore energy onshore by installing export and inner array cables across vast distances. The company anticipates that one of the main use of the vessel will be to connect offshore wind farms with the mainland, marking yet another contribution in the company's effort to enable the Green Energy Shift.
Martin Helweg, CEO of P&O Maritime Logistics said:
"The conversion of our vessel is a real step change. It means, apart from expanding our existing services and products into a more specialised offering, that we can also make a positive contribution to the decarbonisation of our industry. One way of doing this is by using alternative energy to power the converted vessel. The other important contribution is that the Cable Laying Vessel will predominately support the construction, development, and maintenance of existing and prospective wind farms. Lastly, and by repurposing an existing vessel, we are able to extend the lifetime of this particular product quite significantly to keep up with the increasing demand in the sector."
Speaking about the conversion, Marc van der Zwaluw, Project Manager at C-Job Naval Architects, said:
"We are pleased to support P&O Maritime Logistics with the design of a cable-laying vessel by repurposing an existing module carrier vessel. With the increasing demand in the offshore wind sector, this vessel will be able to meet the operational demands for the installation of next-generation windmill infrastructure thanks to its optimised deck layout.
"Furthermore, in close cooperation with P&O Maritime Logistics, we were able to create a design that was best suited to their operational profile. The design focused on optimised vessel performance and features a DP-2 positioning system and a low fuel consumption propulsion layout that is ready for green methanol fuel and zero emission operations."
The conversion by P&O Maritime Logistics builds on the company's recent success in Taiwan with the Topaz Installer. The newly converted vessel will have the ability to host up to 64 seafarers and features a single basket cable carousel with an outside diameter of 24 meters. With this astounding span, a core height of 5.5, as well as a 30 tons SWL AHC subsea crane, the newly converted vessel is a testament to P&O Maritime Logistics commitment to adapt its portfolio for future energy needs.
P&O Maritime Logistics, a DP World company, last completed a study calculating the Scope 3 emissions footprint using a spend-based methodology. The study will be verified through an external auditor and reported in DP World's 2022 Annual and ESG Reports. Following the establishment of the methodology and baseline, DP World is developing a strategy to reduce Scope 3 emissions which focuses on top emission hotspots. In 2023, DP World intends to work with key suppliers in those categories to understand their footprint and set out decarbonisation targets and strategies, jointly moving towards emission reductions.