New Quay Cranes at Antwerp Gateway
12th April 2023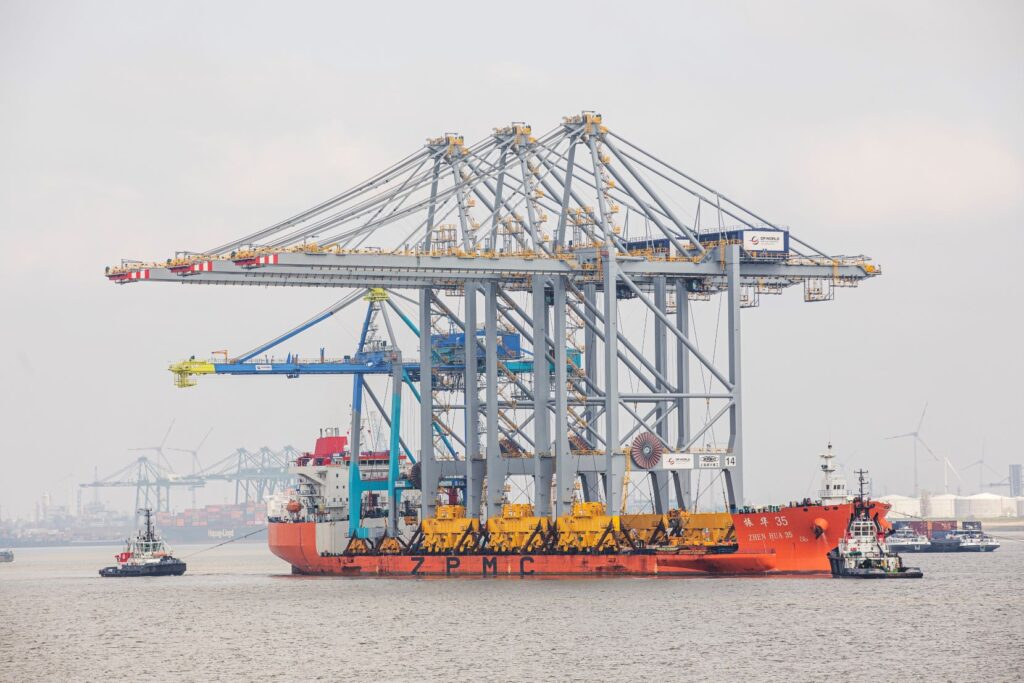 Three new quay cranes have arrived at DP World Antwerp Gateway, signifying the latest milestone in the terminal's ambitious expansion and modernisation plan.
The cranes, which can handle up to a width of 26 container rows on a ship, were constructed by crane builder ZPMC and join a strong network of 10 cranes at the DP World terminal on the eastern side of the Deurganck dock.
The new cranes are part of DP World's €200m investment plan for the modernisation, greening and capacity expansion of the terminal, initiated in 2019 and supported by the European Commission. The ultimate goal is to offer customers industry leading efficient, resilient and sustainable solutions.
Dirk Van den Bosch, CEO, DP World Antwerp Gateway, said: "DP World strongly believes in Antwerp's position as a global trade hub and gateway to Europe. With our worldwide network and ever-expanding logistics services, our aim is to strengthen the competitiveness of the port and make it the engine of the Belgian economy.
"These cranes will enable us to handle our projected volume growth in the years ahead. With each new milestone we reach, we consolidate our place as one of Europe's top ports and strengthen our position as a driver of positive change and economic growth."
Jef Lambregts, Expansion Project Manager, DP World Antwerp Gateway, said: "Since the start of our investment programme in 2019, a new operational building and two automatic stacker crane modules have been delivered and become part of the improved operations at the terminal. In addition to the three new cranes, we will be commissioning three new automatic modules this year. Next year, we plan to add two more quay cranes to take us to a total of 15 STS (ship-to-shore) cranes.
"We are constantly investing in the most advanced equipment to increase our capacity for enhanced international trade flows."
Rolling one crane from the ship to the rail tracks on the dock side is done via a special footbridge and takes approximately four to six hours. "Unloading these giants is a precarious job. All conditions such as weather, visibility, wind and water level must be perfect," added Lambregts. "The whole operation takes about a week. After this, we will connect the cranes to the high voltage grid adjust the movements and install the container registration system to be able to commission the cranes by the summer."
The crane park can simultaneously handle the largest container ships in the world, which can transport up to 24,000 containers (TEU). The latest cranes can handle up to a width of 26 container rows on a ship, which is one row more than on the current generation of container vessels.
Annick De Ridder, Vice-Mayor of the City of Antwerp and President of the board of directors of Port of Antwerp-Bruges, concluded: "Port of Antwerp-Bruges is the economic engine of Flanders. That engine keeps running, thanks to the substantial investments made by companies such as DP World. These three gigantic container cranes at the Antwerp Gateway terminal nicely illustrate the growth of the terminal. At the same time, these container cranes, large as they are, also fit nicely with the world port that we are."