Long term airport run in Jersey for Isuzu trucks
20th March 2015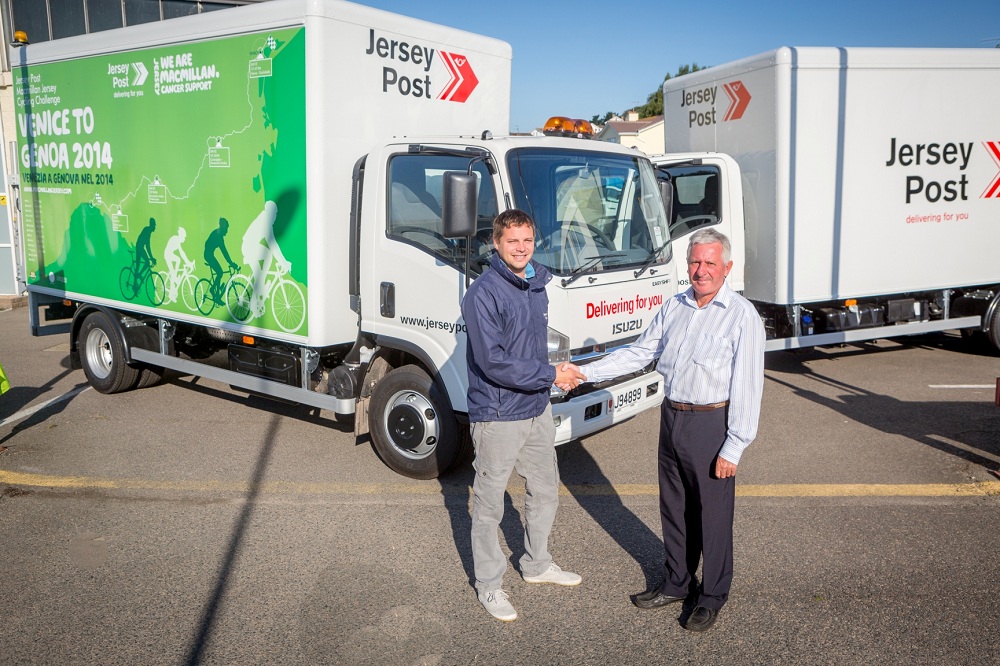 Following a visit to the launch of the new Euro VI Urban range of 7.5t Isuzu rigids on the Isuzu Truck stand at the CV Show last year, Channel Islands organisation The Jersey Post Group has subsequently purchased two new Euro VI 7.5 tonne Isuzu Urban delivery vehicles. The trucks have been specifically adapted to enable them to be used airside for collections and deliveries at Jersey Airport.
Supplied by Isuzu's Channel Islands dealer Rabeys Group Ltd, the two new Euro VI Isuzu Urban N75.150 trucks are being used to transfer parcels and packages from the airport back to the main Jersey Post sorting depot in Jersey. As part of this daily operation, the vehicles are required to go airside to load and unload, directly from planes on the runway.
According to Nick Perchard-Rees, transport manager at Jersey Post; "We bought our first Isuzu trucks over four years ago and these too were 7.5 tonne rigids. Over those past four years, we have been very impressed by the proactive customer care approach from both Isuzu Trucks and its local dealer here on the island. When we were at the CV Show last year, we had a really close look at the new Isuzu Urban and felt that it would have great potential for regular use here in Jersey."

Both of the new Isuzu Urban N75.150 4 x 2 rigids have been custom-built for Jersey Post with 1.5 tonne capacity rear-column tail-lifts and feature Isuzu's popular Easyshift semi-automated transmission. Both vehicles have been modified to include extra roof lights and feature rigid box bodies that fully comply with all airport regulations. Replacing two existing 7.5 tonne vehicles, the new Isuzu rigids will have a working life of between seven and nine years on the island.

"With its small overall footprint and industry-leading payload, the Isuzu Urban 7.5 tonne truck is ideally suited to the road network experienced on the island of Jersey. Together with the proven experience of having run the Isuzu marque for the past four years, Jersey Post will now have a further two hard-working Isuzus in its delivery fleet for many years to come," said Keith Child, marketing director at Isuzu Truck UK.
The Isuzu 'Urban' 7.5 tonners feature Isuzu's turbocharged four-cylinder 3.0 litre 150 PS engine. The lighter weight 3.0 litre engine means that it is about 200kgs lighter than its 5.2 litre 190 PS Isuzu N75.190 'Forward' partner. The 7.5t Isuzu 'Forward' is ideal for more arduous, longer and faster average-speed journeys but the new 'Urban' is perfect for the payload critical, stop-start, local distribution operations such as those found on Jersey in the Channel islands.
In 2014, Jersey Post was the main sponsor of the Jersey Post Macmillan Jersey Cycle Challenge that ran from Venice to Genoa. This event took place in September last year and one of the new Isuzus, which featured a special Macmillan livery promoting the challenge, was used as a support vehicle for the event. With a total of 23 cyclists involved, the Jersey Post Macmillan cycle challenge raised in excess of ?70,000 for the Macmillan Cancer Support charity in Jersey.