Hackling's narrow option
24th July 2015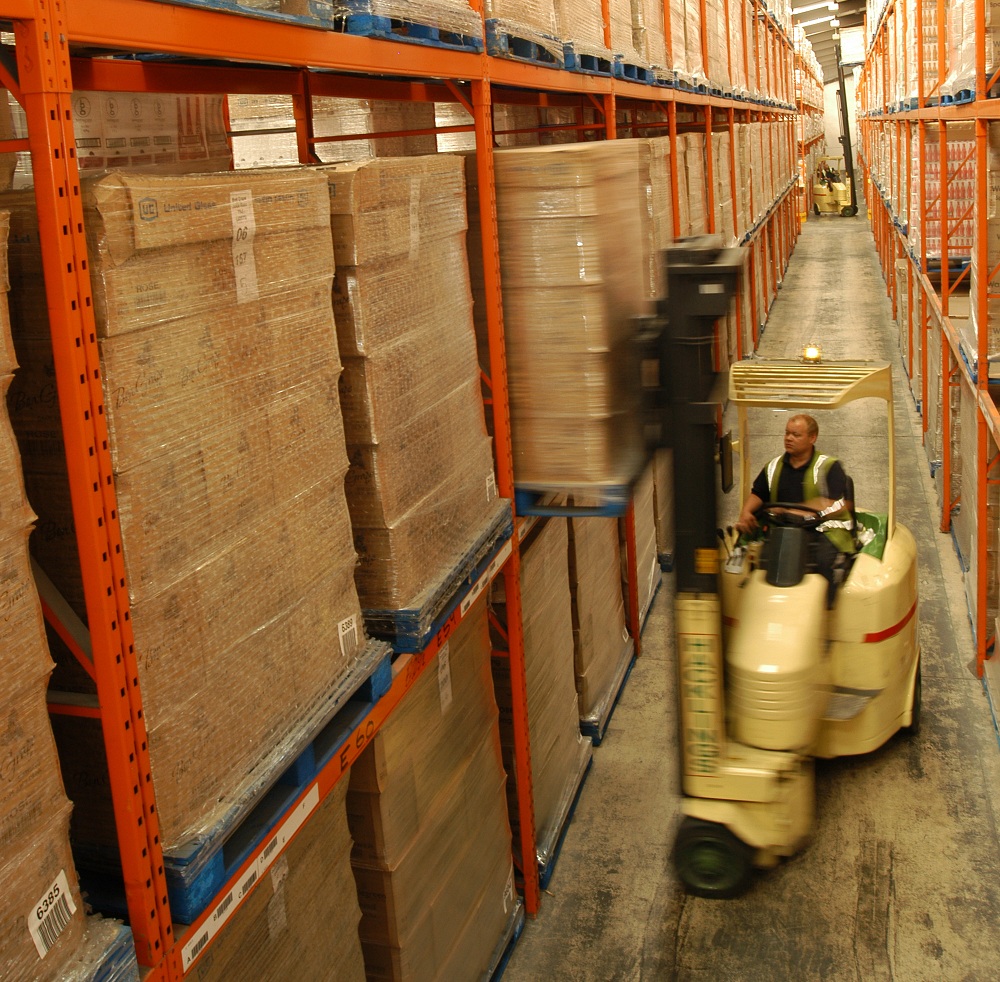 Based in the Cotswolds village of Bourton-on-the-Water, John Hackling (Transport) Ltd has provided a range of road haulage, warehousing and fulfillment facilities since 1968.
A founder member of Palletline and the ADR Hazchem Network, the company offers nationwide trunking, European distribution and fully integrated transport logistics services to an extensive and varied client base.
Hackling Transport's 130,000 sq ft shared user warehouse provides in the region of 10,000 pallet locations of varying dimensions to allow anything from hazardous chemicals to foodstuffs to be stored.
The racking is arranged around a narrow aisle configuration to ensure that storage space is maximized and loads are put away and picked by a fleet of six articulated forklift trucks supplied by Flexi Narrow Aisle.
Although Flexi trucks can operate in aisles as narrow 1.8 metres wide, the aisles within Hackling's Bourton-on-the-Water site have been set some two metres apart to allow throughput and picking speeds to be optimized as the company's director Dale Hackling explains: "Many of our clients rely on us to achieve a quick turnaround. By narrowing the aisles too much we felt we would restrict the speed at which the forklifts could travel between picking locations as the pace at which the truck can be safely operated is reduced if there is insufficient clearance in the aisle."
Narrow Aisle Flexi offer a free warehouse design and layout service to ensure the success of any space saving project, and the optimum aisle width for Hackling's operation was decided following a period of close consultation between key Hacklings personnel and the warehouse planning team at Narrow Aisle Flexi.
The Narrow Aisle Flexi design team was able to prove that by going to 2.0 metre wide aisles, the articulated truck option was more space efficient than using reach trucks. Both Euro and ISO type pallets can be handled by the in the specified aisle ways providing real flexibility when handing both UK and European customers goods.
The articulated forklift models in operation at John Hackling's site are from the Flexi AC range.
The flexi AC trucks feature the latest generation of Zapi AC motor controller technology as well as high quality Schabmuller motors, which provide more power and an extended service life.
Meanwhile, to ensure that the noise generated by functions such as the lifting and lowering of the trucks' mast and other hydraulic functions is minimised, the trucks use low turbulence hydraulic pumps that significantly reduce operational noise levels to provide a safer and more comfortable working environment.
And, with safety and energy efficiency in mind, LED working lights and reversing lights are fitted.
To further improve truck safety and performance and reduce 'total cost of ownership,' to the minimum, the Flexi trucks use premium 'Finger Treaded' Continental cushion rubber tyres – considered the optimal tyre for stability and long service life when dealing with heavy-duty operations.
Of course, truck uptime and energy efficiency are important considerations for Hackling. The Flexis in operation at the Hackling site are electric-powered and incorporate a heavy duty battery for long shift working. No chains or slings are required during battery change over operations – which, with some forklift models, can be a difficult process for a forklift driver to carry out safely. The Flexi battery is removed simply and efficiently at low level from the rear with the driver using a hand pallet truck or another forklift. This process is very fast and eliminates the risk of the battery being dropped from height.
The battery system supplied uses 'state of the art' charging technology to reduce mains electricity usage by up to 50 per cent compared to traditional systems. In addition, the normal eight hour charge cycle is reduced by up to two hours allowing 24 hour truck availability without the need for two spare batteries.
At Hackling's Cotswolds facility incoming vehicles arrive at the goods-in area where counterbalanced trucks unload them and the pallet loads are deposited at a marshaling area where Hackling's warehouse management system allocates a position within the storage cube.
The Flexis shuttle between the goods-in area and the racking to ensure that the put away process is conducted speedily and safely.
When it comes to picking out-bound orders, the 2.0 metre wide aisles allow low level order pickers to work at ground level in the same aisle as the Flexis safely and efficiently.
"Some of our clients are retailers who want less inventory in store so the amount of break-bulk and ground level picking of single items that we do is growing fast,' says Dale Hackling. "We need more low level locations to pick from but, at the same time, we do not want to increase warehouse space costs so Flexi articulated truck technology has been key to ensuring that we get the most from our storage cube.'
Such has been John Hackling's satisfaction with the Flexi trucks' performance at the Bourton-on-the-Water facility, the company's new, storage facility in Swindon features the same narrow aisle, space saving layout with Flexi articulated truck technology at its heart.