Ems Port Agency Takes Delivery of Two Mobile Harbour Cranes
15th January 2018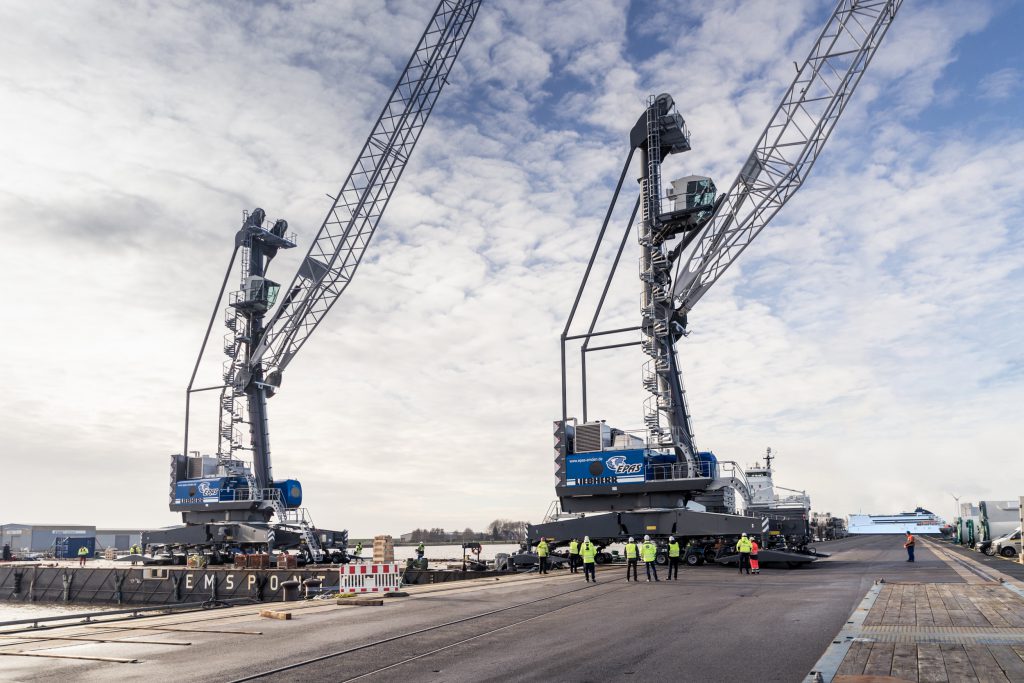 German port handling company EPAS has taken delivery of two new Liebherr mobile harbour cranes type LHM 420. Both cranes together can handle up to 248 tonnes in tandem lift operation. The two devices are intended to further improve the logistic process at the Nordkai terminal in Emden, Germany.
Mobile harbour cranes have a long tradition for Ems Ports Agency. At the end of 2017 EPAS received two new Liebherr machines, type LHM 420, from the Liebherr maritime headquarter in Rostock. Each crane has a maximum lifting capacity of 124 tonnes at an outreach of up to 18 metres.
This valuable investment will significantly improve the logistic processes at the Nordkai terminal in Emden. The main driver in the decision process was the capability to do twin lift operation. Liebherr convinced with its synchronised lifting assist system Sycratronic. The system makes it possible to operate two Liebherr cranes in tandem mode. A crane operator controls the movement of both machines that are electronically synchronised.
While manual tandem lifts have to be restricted to 75% of the crane's capacity, Sycratronic guarantees 100% utilisation of the maximum load capacity. In tandem lift operation EPAS can now lift up goods weighting up to 248 tonnes. Greater productivity is also achieved through the ability to handle multiple ships simultaneously.
The purchase of the two very powerful new Liebherr cranes is the prelude to a series of investments we are planning to provide our customers with the best possible service and competitive positioning in the future," says Heinrich Smidt, Managing Director of Ems Ports Agency & Stevedoring (EPAS).
The Ems Ports Agency & Stevedoring Bet. GmbH & Co. KG is active in the port of Emden as transhipment company, stevedoring, ship agent and in the chartering of sea and inland waterway vessels. The support of shipyard ships, new constructions and repair ships in the North German seaports is also part of the range of services of the company.