Efficient Ship Loading
8th October 2020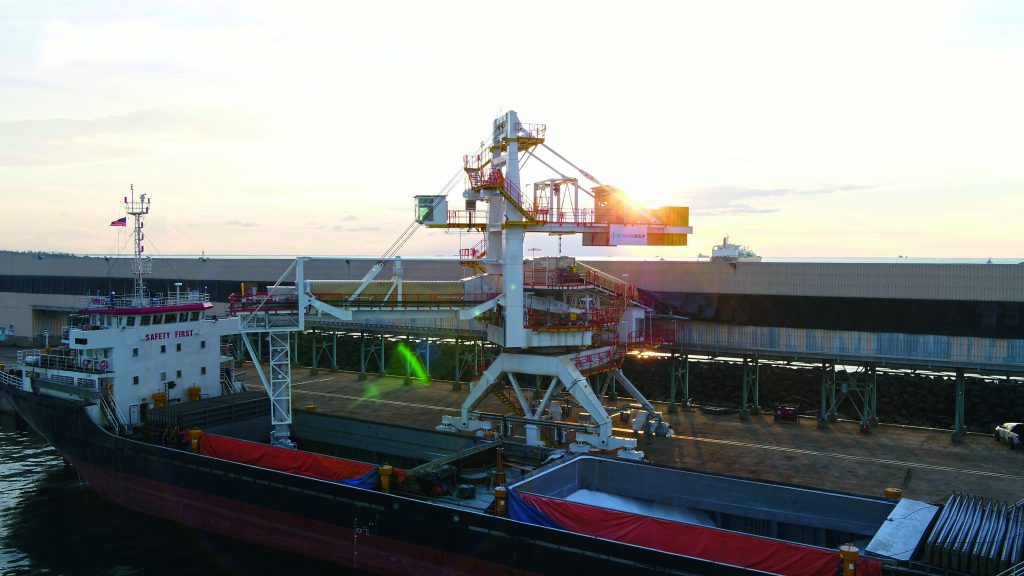 A loading and unloading system in a port must be able to handle ships quickly – with minimal dust emissions and without the loss of bulk goods. Beumer Group provides efficient systems for this purpose, which take into account both different ship sizes as well as the space available at the port. The modular design of the Beumer Group systems makes it possible to deliver a precisely tailored solution for every requirement.
The right loading technology is crucial for efficient and safe delivery of products to the customers. Beumer Group offers sophisticated solutions for loading and unloading trucks, railway wagons – and ships. The modular design of the Beumer systems allows customised solutions for every application. The system provider offers ship loading technology, including quadrant type ship loaders, rail-mounted ship loaders with a luffing and swivelling boom, as well as simple stationary loading towers. All ship loader types can of course be equipped with telescopic chutes.
Coarse bulk materials, such as clinker or lumpy ores, are loaded into bulk carriers efficiently and dust-free with belt conveying systems and a vertical telescopic tube. The loading of powdered goods is handled by fully enclosed loading machines. An emission-free operation is ensured at all times, helping protect the environment. Beumer Group has for example installed a ship loader at one of the largest manufacturing plants of urea in Malaysia. This ship loader receives bulk material from belt conveyors and loads ships with up to 1,000 tons of material per hour. The swivel-mounted ship loader runs on rails with a telescopic chute and a throw-off belt conveyor to ensure effective and flexible loading.