Corrugated Workshop Indonesia: Mosca GmbH demonstrates its focus on customer requirements and the market
9th April 2015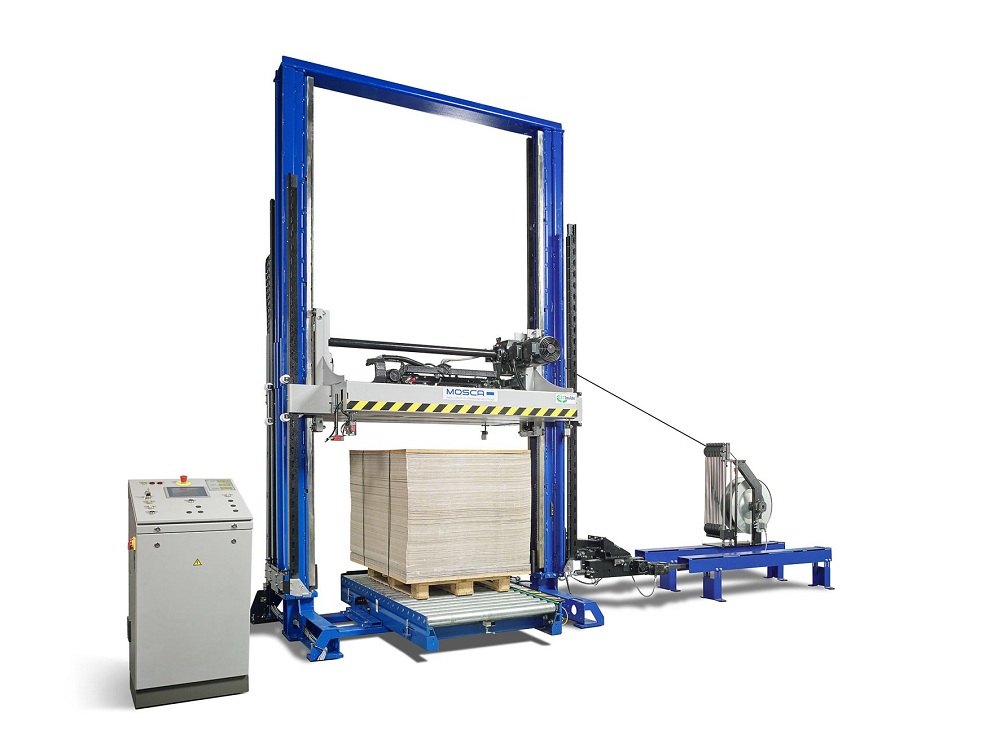 High potential for fully automated processes despite low wage structure
Understanding and fulfilling needs in dialogue with the customer
Successful case study: investment pays for itself after 2 years and 5 months
Even in countries with a low wage structure, fully automated production processes can bring economic benefits. A possible optimization methodology was recently introduced by Mosca GmbH together with their strategic partner, the Japan-based manufacturer of robotics systems, Fuji Yusoki Kogyo Ltd. In two one-day workshops in Indonesia, the cooperating partners introduced the benefits of a fully automated end-of-line logistics chain solution (from bundle to pallet) to decision makers from over 20 producers from the corrugated cardboard industry. Fuji Yusoki contributed their expertise in the area of robotic palletising. To provide their customers with an even better overview in the area of strapping, Mosca also presented other new products of their machinery portfolio which were newly launched in 2015. Open discussion between the participants led to new insights on both sides, allowing a better understanding of the needs of the Indonesian market.

"The Indonesian market is undergoing constant development in the area of corrugated cardboard," says Timo Mosca, Managing Director and CEO of Mosca GmbH, who was on site in Indonesia on both workshop days. "A few years ago, demand for more automation initially grew in the area of bundle strapping, and ultimately more and more of our Indonesian customers demanded solutions for fully automated strapping of bundles." The Mosca Group is now actively providing support also for pallet strapping. Together with their strategic partner Fuji Yusoki, Mosca demonstrate how financial benefits can be drawn from fully automated logistics even in areas with a low wage structure. The two strategic partners have various joint installations in countries such as Taiwan, China, and South Korea.

Investing to reduce costs over the long term
Mosca evaluated internal processing data of a pallet strapping project which was put into operation in early 2013 at an Indonesian customer's site. This provided evidence that automation of pallet strapping together with restructuring of downstream logistics processes already pays for itself after only two years and five months. If a fully automated strapping line has a service life of up to 20 years, this means that it is not just the investment costs that are paid off after a very short time. The system also saves ongoing costs over several years, which ultimately amounts to a multiple of the original investment. Additional use of a robotic palletiser of Fuji Yusoki automates the entire process one step further, making it even more efficient. "We know that interest in fully automated palletising and pallet strapping is growing in all Asian markets," says Timo Mosca. "That is why we want to show our customers solutions that enable them to automate their production processes, allowing them to be more streamlined, efficient and sustainable."



In-depth presentations and discussions
During the workshops Mosca also presented a wide range of strapping options to their customers, including proven classics as well as new releases from their machine portfolio. This included the automated strapping machine RO-M Fusion, the new EVOLUTION SoniXs TRC-6, a fully automated strapping machine specially designed for the corrugated cardboard industry, and the LCU (Lean Concept Unitizer) as an example of a fully automated pallet packing press as an entry-level model in pallet strapping. "As part of our workshops, we not only show our Indonesian clients where savings are possible within their production," says Timo Mosca, summing up. "For us, direct contact was also important. In numerous conversations we were able to develop a better sense of the needs of our customers. And we want to meet these needs as a reliable partner on site."