Big News, Big Names from Isuzu Truck
16th April 2015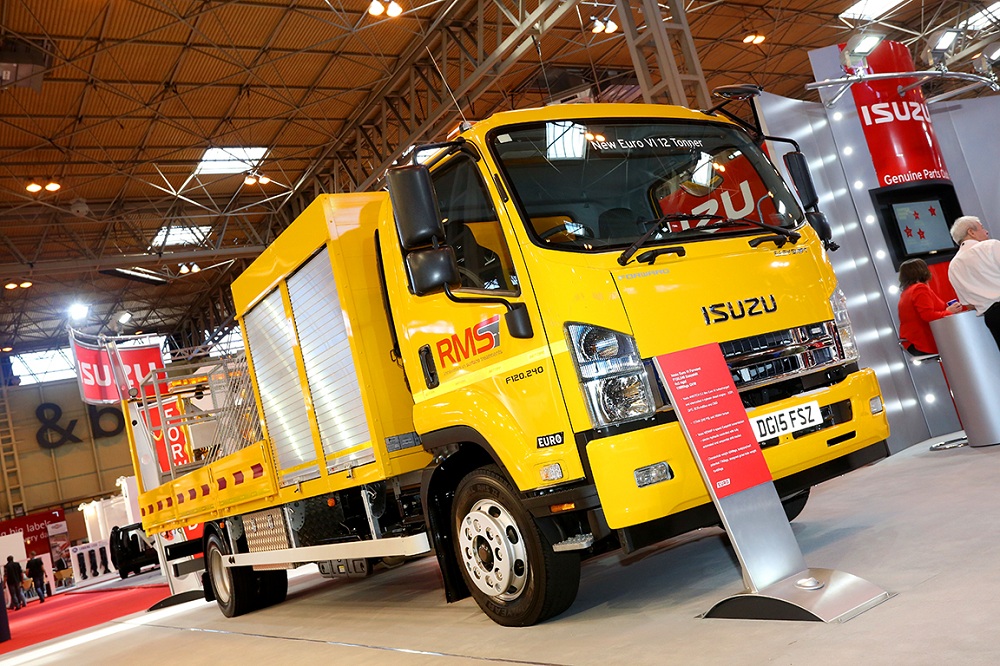 The big news from Isuzu Truck at the CV Show is the debut of its brand new Euro VI 'Forward' 12 tonner – the new F120.240 4×2 rigid featuring a compact overall footprint as well as a class-leading payload carrying capacity.
Also making its debut is the Euro VI Isuzu 'Urban' N75.150 (E), short wheelbase chassis, featuring a Brit-Tipp all-steel tipper body that gives an overall payload of 3780kgs. This vehicle is part of a programme of pre-bodied Isuzu tippers that have full ECWVTA and are available off-the-shelf for customers that require a durable tipper, easily, quickly and conveniently.
Completing the four-vehicle line-up for Isuzu inside this year's CV Show are two Isuzu 'Forward' N75.190 (E) Euro VI rigids for two of the industry's biggest names – Argos and HSS. Both vehicles feature Isuzu's popular 'Easyshift' transmission.
As one of an order for 66 new Isuzus, the Argos 7.5 tonner has an extended 5.3m wheelbase and is fitted with a demount body highlighting the new striking Argos livery. The HSS vehicle is part of a 19-strong order of Isuzus and is fitted with a drop-side body with a 2-tonne cantilever tail-lift.
In the outside demonstration area of the CV Show, Isuzu Truck is exhibiting an additional fifth vehicle. This is another N75.150 (E) 'Urban' Euro VI short wheelbase rigid in the livery of SHB Hire and fitted with a Paneltex insulated box body, featuring a GAH refrigeration system.
For 2015, Isuzu has also made some enhancements to its complete range of cabs including a new restyled chrome grille, a new driver's suspension seat, factory-fitted red seat belts, a new steering wheel with standard SRS airbag plus a new interior trim and upholstery. Visitors to the show will be able to see these enhancements on the 'Urban' N75.150 (E) Brit-Tipp tipper bodied vehicle on Isuzu's main inside stand.
Commenting on the impressive line-up, Keith Child, marketing director at Isuzu Truck has this to say; "Isuzu has been a long-term supporter of the CV Show, which is why we decided to debut two new models from our 2015 range this year, as well as featuring two 7.5 tonners, in the colours of two of our high-profile customers. In addition, all four vehicles on our stand feature an impressive and varied range of body types, which again highlights the flexibility and versatility of the Isuzu chassis."

In detail, the Isuzu Truck vehicle line-up consists of:
Isuzu F120.240 (E) 12.00 tonne GVW 'Forward' Euro VI

Making its first ever appearance is the new Isuzu F120.240 4×2 rigid and the vehicle is in the livery of Road Maintenance Services Ltd. This 12 tonner is one of a pair of Isuzu 12 tonne rigids that are due to go into service with the Cheshire-based road surface treatment company, just as soon as the CV Show is over.
In line with all Isuzu's 2015 product range, the 12 tonne rigid is really compact in size, with a low chassis height and offering great versatility. This particular truck offers excellent manoeuvrability and is specified with Isuzu's Easyshift semi-automated transmission making it really easy to drive. With Isuzu's Euro VI four-cylinder 5.2 litre diesel engine producing 240PS power and 765Nm torque, this engine really does give superb fuel economy and productivity.
The Isuzu F120.240 Euro VI 4×2 rigid on display has a 4990mm wheelbase and features a multi-purpose, 4-section Brit-Tipp body designed for signage vehicle applications within the highways maintenance operation of RMS Ltd. With an overall body length of 7000mm, accommodating a high level of detail and features, this particular Isuzu 12t rigid has a payload of 6350kgs.

"The RMS 12 tonne Isuzu clearly demonstrates the flexibility and versatility of the full Isuzu product range. Within this specification, the customer has been able to meet all operational requirements to cover the seasonal variations within its business needs, whilst retaining the prime benefits of payload, performance and long-term reliability – all of which are attributes long-associated with the Isuzu truck brand," commented Keith Child.
Isuzu N75.150 (E) 7.5 tonne GVW 'Urban' Euro VI Tipper
The second Isuzu rigid making its debut at the show is the Euro VI Isuzu 'Urban' N75.150 (E) short wheelbase chassis, featuring a Brit-Tipp, all-steel tipper body, offering a payload of 3780kgs.
This vehicle is part of Isuzu's 'ready to go to work' range of durable 7.5 tonne tippers. Powered by the turbocharged and intercooled, four-cylinder diesel, 3.0 litres, 150PS engine, the Isuzu 'Urban' tipper chassis offers both power and economy, and again features Isuzu's semi-automated 'Easyshift' transmission.
As Keith Child explains; "This is the perfect package for operators who want to take ownership of a new 7.5t tipper with a hassle-free, short lead time. Our pre-bodied trucks have full Whole Vehicle Type Approval. Brit-Tipp gives a full 12-month warranty on the painted steel tipper body, PTO unit, hydraulic ram, tow bar plus ancillary equipment. All Isuzu Truck vehicles are backed by our industry-leading 3-year unlimited mileage warranty giving customers complete peace of mind. It's a great package and operators can literally drive away a new Isuzu Urban 7.5 tonne tipper in just a few days."

Completing the four-vehicle inside display are two of Isuzu's ever popular N75.190 'Forward' 7.5t 4×2 rigids in the striking livery of major Isuzu customers – Argos and HSS – as follows:
Isuzu N75.190 (E) 7.5 tonne GVW 'Forward' Euro VI – 'ARGOS'

The Argos liveried Isuzu N75.190 4×2 Euro VI rigid on the stand is one of a 66-vehicle order placed by the retailer for delivery during 2015. Like all the vehicles on the Isuzu stand this year, this 7.5 tonne rigid features Isuzu's increasingly-popular 'Easyshift' transmission.
The current Argos home delivery operation utilises a lightweight 7315mm box-van body. To cater for this it means that the standard Isuzu 4475mm wheelbase is extended to 5300mm. Wheelbase Engineering then mount a lightweight demount frame to the chassis and this enables Argos to achieve maximum payload and loading efficiencies from this specialist chassis/cab and body combination.
Isuzu N75.190 (E) 7.5 tonne GVW 'Forward' Euro VI – 'HSS'

Long-term operator of Isuzu vehicles, tool and equipment hire company HSS has recently ordered a further 19 new Isuzu 7.5t rigids for its nationwide fleet. On display at the CV Show is one of these N75.190 (E) Euro VI vehicles – again specified with Isuzu's 'Easyshift' transmission.
With a payload of 3060kgs, this particular vehicle is fitted with an 18ft aluminium double drop-side body, with detachable pillars and a 2000kgs lifting capacity cantilever tail-lift at the rear.
(External demonstration area) Isuzu N75.150 (E) 7.5 tonne GVW 'Urban' Euro VI – 'SHB Hire'

In the external demonstration area of this year's CV Show, Isuzu Truck is also featuring an additional N75.150 Euro VI 'Urban' 4×2 rigid. This vehicle is specified with a 4.5m Paneltex insulated box-body fitted with a GAH J503 direct drive refrigeration system. With double rear doors and a pallet-width side door fitted to the nearside of the body, this vehicle is designed for carrying goods to an operational temperature of -18° C and has an impressive payload of 3100kgs. This particular refrigerated body is manufactured to ATP Class C standards and has a Dhollandia DHRC 1000kg rear tail lift.

"The Isuzu 7.5t 'Forward' and 'Urban' rigids are the proven mainstay of our current range and the four examples on show at the CV Show clearly illustrate the versatility of our products. Although completely different body specifications, maximum payload carrying capacity is at the heart of the differing operations. Argos, HSS and SHB Hire each require maximum payload and a high degree of flexibility from their distribution vehicles. The Brit-Tipp bodied tipper offers durability as well as maximum payload carrying capacity. And our new 12 tonner has similar credentials. This is why the Isuzu marque ticks so many boxes for operators the length and breadth of the UK," concluded Keith Child.