New Rail Service Connecting Scotland Globally
28th July 2022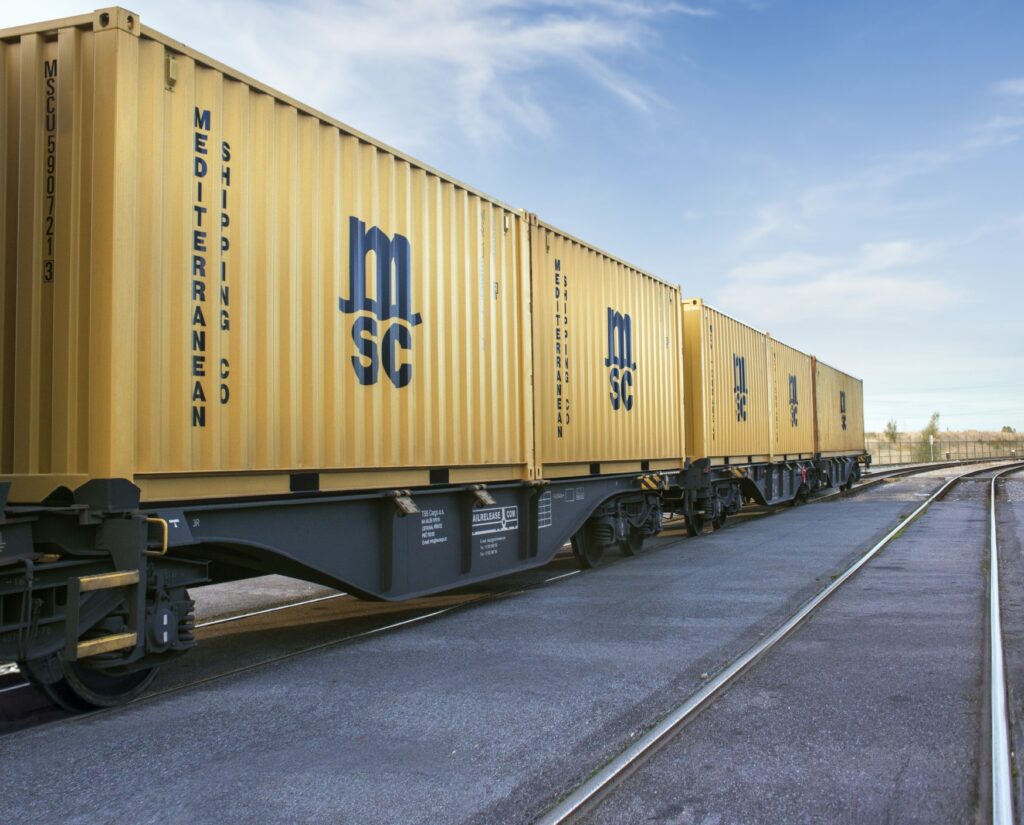 MSC UK is delighted to announce a new rail service connecting Mossend in Scotland via Hams Hall, to Felixstowe and London Gateway. The new Mossend rail service builds upon MSC UK's commitment to the Scottish market, customers, and ports, by complementing two existing weekly calls into the ports of Grangemouth and Greenock.
Jonathan Burke, Operations Director at MSC UK commented: "We are very pleased to announce that, together with our partners GB Railfreight (GBRf) and Maritime, the new service launched last week will add greater flexibility for our customers to move cargo to and from anywhere in Scotland and connect to global trade routes via the ports of Felixstowe and London Gateway.
This latest enhancement to MSC UK's long established and market-leading intermodal network offers great value to our UK customers by seamlessly connecting their cargo across road, rail and sea; delivering an efficient and cost-effective solution that helps contribute to our customers' sustainability goals."
Intermodal transportation is a core focus for MSC, and the company continues to make significant investments in this area to strengthen its inland solutions offering. Its fast-growing road, rail and barge network offers customers all over the world a flexible and effective way of moving cargo inland and contributes to the decarbonisation of global supply chains.
John Smith, CEO of GB Railfreight added "GBRf is delighted to begin this exciting new venture with MSC. We are committed to working with partners to ensure that we provide a first-class service. One that demonstrates the commercial value of collaborating with GBRf, delivers wider sustainability benefits for every region across the UK and grows the rail freight industry."
The train service will run 6 days a week and enhance rail and road capacity for MSC UK's customers, complemented by the company's door-to-door haulage services designed to provide support at all stages across customer supply chains.
John Bailey, Managing Director – Intermodal and Terminals, for Maritime Transport Ltd said: 'We are pleased that MSC UK have decided to utilise both of our terminals at Mossend and Hams Hall to launch this service. Our continued investment in intermodal services and infrastructure means the two sites, which form part of our growing network of seven fully open access terminals, offer excellent coverage and rail connectivity throughout the UK.
Jonathan continued: "This exciting enhancement to our intermodal offering ensures we can collect or deliver customers' cargo from anywhere in Scotland and connect seamlessly to the ports of Felixstowe and London Gateway and mainline services to destinations around the globe."
As a national leader in shipping and logistics, with knowledgeable support from local teams in Glasgow, Liverpool, London and the UK Head Office in Ipswich, MSC UK is confident that the new rail service will deliver success for all parties involved.