Mass transit 'pods' aim to revolutionise transport
14th October 2021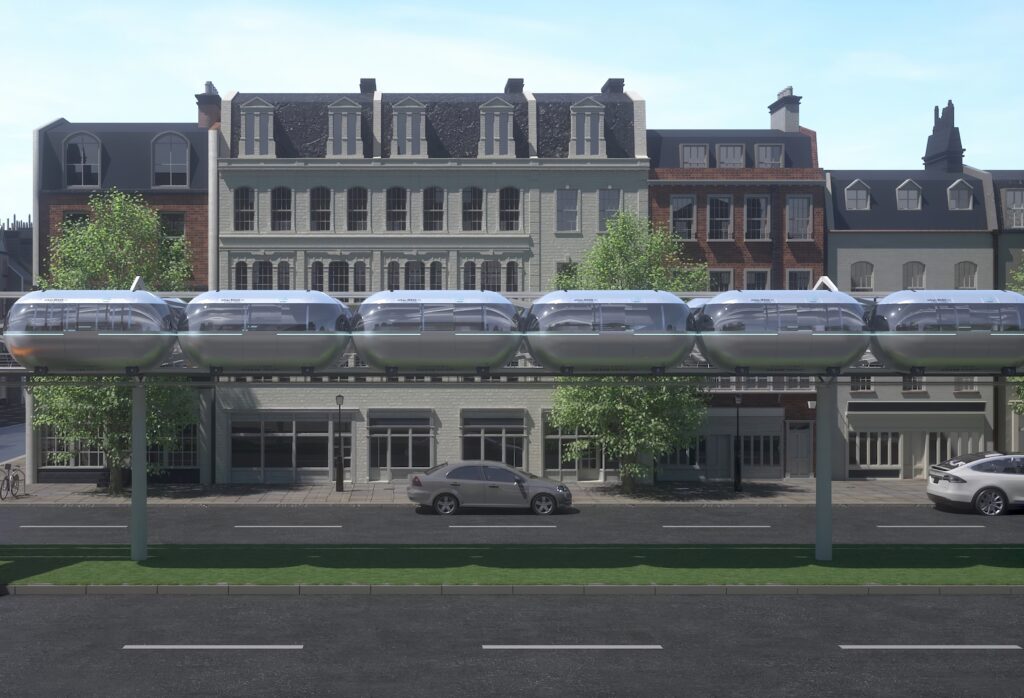 A world-first driverless, zero-emission mass transit technology – comprising autonomous electric "pods" capable of traveling on both road and rail – launched today (Thursday 14th October 2021). UK start-up Urban.MASS claims its idea will revolutionise urban mobility and connectivity in cities worldwide, cutting congestion, air pollution, costs and carbon emissions.
Urban.MASS's breakthrough floc technology will, for the first time, combine door-to-door on-demand ride hailing transport with high frequency, accessible and sustainable mass transit to provide seamless, zero-emission passenger and cargo journeys across cities.
In order to maximise the use of the infrastructure to reduce delivery van movements during the day on our roads, the floc system can be used for parcel deliveries between logistics centres, ports and airports during off-peak times via special purpose-built pods design just for cargo deliveries. As the system uses battery technology and rubber tyres, the operation is quiet and non-polluting. Urban.MASS has told Logistics Manager that it is in very early talks with port operators who are land constrained and see this as a solution to transport ferry/cruise passengers during peak hours and cargo off-peak.
The world's first fully operational site is planned to open in 2025 at the National Railway Museum, Locomotion, in Shildon, north-east England – exactly 200 years after the same site hosted the world's first passenger steam engine, Stephenson's Locomotion No.1. A rapid global roll-out will follow, seeing at least 10 cities adopt the technology by 2030, beginning with Kampala, the capital of Uganda, and cities across the UK, ushering in a new era of mass transit.
68% of the world's population is expected to live in urban areas by 2050, putting massive strain on roads and existing public transport networks. In the UK alone, road congestion cost the economy almost £7bn in 2019, with 65% of its workforce currently commuting by car. In the US, the annual cost to the economy is $88bn, with Americans each losing 99 hours a year to congestion. This compounds air quality crises in cities worldwide which collectively lead to 4.2 million deaths annually according to The World Health Organisation. A large proportion of this pollution is caused by road traffic, creating demand for mass transit solutions to reduce congestion.
Conventional mass transit infrastructure projects – such as the £19bn Crossrail project in London, UK – are disruptive, time-consuming and costly, with European rail projects going over budget by 34% on average. These costs can be prohibitive for smaller cities, developers, and businesses, such as airports and out-of-town business parks, which compounds the reliance on road transport.
21st century solution
Cities across the world are urgently seeking sustainable and affordable mass transit solutions that meet the needs of a zero-carbon, clean air future while supporting a new age of mass urbanisation. As a result, around 100 countries are planning over 1,000 new metro rail projects by 2030 – equivalent to over $2.2trn USD of investment. Urban.MASS's floc technology is a 21st century solution to the problem, designed to be significantly cheaper and quicker to construct, with a much smaller physical footprint than conventional metro rail, light rail and tram projects.
Kevin O'Grady, CEO of Urban.MASS, said: "Cities are changing like never before – populations are exploding but the way we move people around hasn't changed in over a century. Victorian-era rail and road technologies weren't designed for the demands of modern life and yet worldwide we continue to rely on the same basic, expensive, and carbon intensive system. We should be using solutions of the 21st century, to serve the new-breed of cities we see today – cities that are built for people, not polluting vehicles.
"It's almost 200 years since the United Kingdom invented passenger rail – it's time to once again set a new global precedent and upend the status quo of transport. With massive demand from cities right across the world, it's clear that people everywhere recognise the need for a new technology to dramatically change our transport systems for the next 200 years. Our affordable and accessible system delivers twice the track for half the cost, with an unrivalled customer experience."
The Urban.MASS floc technology deploys hundreds of lightweight, driverless, zero emission electric pods to collect passengers from anywhere in a city using ground-level tracks or existing road networks. To traverse the most congested areas of urban centres at high speeds, the pods elevate to an above-ground Duo Rail track via ultramodern Urban.MASS stations, all without passengers having to leave the pod. The pods can "flock" together into connected trains or run individually depending on demand. This means floc can deliver high frequency peak capacity on dense routes and also provide economically viable services on less dense routes or during off-peak times.
The elevated Duo Rail track, powered by overhead solar canopies, can run above existing roads and infrastructure, giving a physical footprint 70% smaller than a typical urban light rail system. This allows infrastructure to 'tiptoe' through dense urban areas, minimising the need to demolish buildings or dig expensive tunnel networks, while allowing space for roads, green corridors, cycle paths or pedestrian zones below.
Using innovative "pop up" construction, each prefabricated section of Duo Rail track can be installed in a matter of days. This flexible and modular design means new sections can be easily and quickly added or adapted to meet the changing demands of cities as they develop. The result is a system costing 50% less than traditional light rail, with significantly less environmental impact.
Urban.MASS plans to develop floc Duo Rail mass transit networks in at least 10 cities around the world by 2030 to meet growing demand. Cities in the UK, Europe, North America, Middle East, and Africa, are in discussions with the company to deploy Urban.MASS floc networks, with Kampala in Uganda expected to host the world's first city-scale project. Urban.MASS has received support from the highest levels of Ugandan Government to deliver the project, which will be capable of carrying up to 16,000 passengers in each direction on each of the proposed routes.
George Piwang-Jalobo, Urban Mass Contact at UNCCI Uganda National Chamber of Commerce and Industry, said: "In line with Uganda 2040 vision, Kampala will be one of the most attractive cities in the world, offering its citizens and visitors a safe and efficient transport system based on a high quality public transport system and a complementary non-motorised transport network. The strategy will be driven by mass public transport to facilitate efficiency and reduce congestion and pollution. Urban Mass, with its green efficient product, is aligned to this vision."
In the UK, Urban.MASS has identified a number of cities suitable for deployment, including, Bristol, Liverpool, Cambridge, Oxford, and Cardiff.
Partnership agreements
To support its rapid global growth, Urban.MASS has already signed partnership agreements with Grimshaw architectural design company – the world-renowned transport architect and engineer firm which has developed major mass transit projects worldwide – and WSP – one of the world's largest engineering professional services consultancies which acted as engineers on the new London Bridge Station, UK.
The company has also already received substantial interest from investors for its Series A-capital raise to support its rapid commercialisation and global growth.
Urban.MASS is yet another example of an innovative UK company creating a new game-changing green and sustainable tech sector for the world, supporting UK PLC's ambition to be a leading exporter of clean technology globally.
Nicholas Robb, Senior Policy Advisor, Construction Finance at BEIS, said: "Urban.MASS has the potential to comprehensively transform how we get from A to B within cities right across the world, connecting communities and enabling a cleaner more prosperous future. The project in Shildon, along with Urban.MASS' exciting global development plans, will enable the UK to spearhead a global mass transit revolution for the 21st century, building on our 19th century forefathers' innovations and exporting the next generation of mass transport technology worldwide."
Shildon: cradle of the railways
Urban.MASS chose Shildon for its first site due to its historic record of pioneering new age mass transit, having hosted the world's first steam-powered public railway in 1825. It was also chosen due to its unique ability to demonstrate how floc Duo Rail will navigate a number of obstacles, including a road bridge, existing railway line and public walkway, demonstrating the flexibility of the technology.
The site will consist of three stations: the first is at ground level, allowing passengers to board pods and travel on tarmac; the second is situated on an above-ground Duo Rail track allowing high-speed travel which traverses physical obstacles below; the third station, equidistant between the other two, enables pods to transfer between the ground-level and the above-ground track to demonstrate how future door-to-door road transport can be combined with mass transit rail to reduce congestion.
Quotes
Neill McClements, partner at Grimshaw, said: "The climate emergency is the most pressing issue for our generation, and we see high-quality transport infrastructure as an essential part of sustainable urban development. Our collaboration with Urban.MASS is an exciting opportunity to explore the potential of emerging technologies and modern methods of construction to create a new typology in low-carbon mass transit.''
Diego Padilla Philipps, Associate Director and Net Zero Lead for Structures at WSP UK, said: "As the world comes together to reduce carbon emissions, Floc gives us the opportunity to redefine the future of transport. We are proud to provide the structural engineering solutions for such a fantastic project, focusing on sustainability, whole-life emissions, low-carbon structures and DfMA."
Daisy Chapman-Chamberlain, Rail Lead at KTN, said: "This thrilling launch represents a truly innovative approach to transport, working towards the crucial sustainable goals of the United Kingdom including net zero by 2050. KTN not only supports development of new and creative green transport concepts and innovations, but also the passenger-focussed, community-inclusive, mobility-on-demand aims of Urban.MASS, with the United Kingdom as a global leader in this space."
Wayne Goldsmith, Managing Director at EQUANS said: "EQUANS is delighted to be working with Urban.MASS floc to provide net zero energy solutions and FM services. The Urban.MASS project at the National Rail Museum in Shildon aligns perfectly with our own global strategy and commitment to empower business and communities to embrace the energy digital and industrial transitions, redesigning the way we move, work and live."
Deborah Geideman, Vice president and Global Head of International Relations at Jacobs, said: "As we heard this week on several platforms at the UN General Assembly and Biden's recent comments on sustainable cities within the proposed infrastructure bill, a new paradigm of urban transport can be part of the solution to reversing the deteriorating situation in some cities of developing countries, and supporting others to embark on a sustainable, low carbon, green growth path: developing a city for people rather than cars, and including public and mass transport as a major component of the modal structure. Urban.MASS is a solution to these emergency problems."
More on Shildon
The Shildon project forms part of the National Railway Museum's £55m development programme, known as Vision 2025, to expand the museum, preserve listed buildings and celebrate the past, present, and future of railways.
Celebrations for the start of Urban.MASS' Shildon planning process and the 196th anniversary of Stephenson's Locomotion took place on 27th September 2021, outside the Locomotion museum building, Shildon, attended by Kevin O'Grady Urban.MASS CEO, Ricky Sandhu Co-Founder and Executive Chairman at Urban.MASS, Stephen Wheater Associate Grimshaw, Sarah Price Head of Locomotion, Tim Wood NPR Rail Director Transport for the North and Andrew McLean Assistant Director & Head Curator at National Railway Museum.
The Northern town will also act as a test bed for how affordable, and quickly deployable mass transit can "level up" communities across the UK.
Tim Wood, Northern Powerhouse Rail Director at Transport for the North, said: "Comprehensively connecting the North's communities by rail and mass transit will create jobs and boost the Northern economy for decades to come. Innovations like Urban.MASS will help accelerate that transformation and spread prosperity right across the UK, while also playing a major role in the decarbonisation of the transport network.
"It is fantastic to see the North continue its great transport history in the development of this scheme, with Durham acting as a test bed for the project. The sooner we can deliver sustainable and transformational enhancements to the transport offering in the region, the sooner the North can realise its true potential. I look forward to seeing Urban.MASS progress in the coming years and how it will dovetail with major rail investment programmes, like Northern Powerhouse Rail and HS2."