Marshalls Expands its Fleet of Trucks
21st October 2020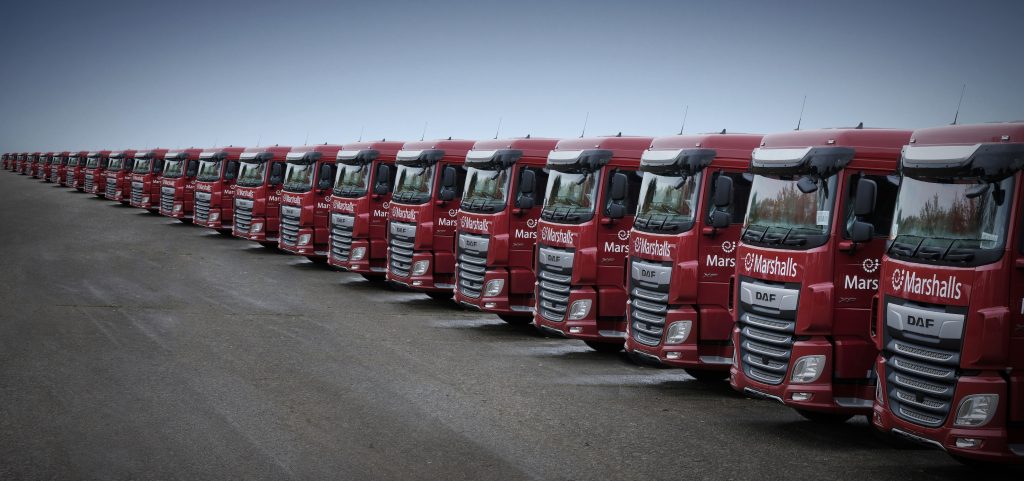 Manufacturer of hard landscaping products, Marshalls has expanded its fleet of trucks. Ryder, an independent provider of commercial vehicle rental is supplying 100 new DAF XF480 Euro-6 tractor units with Space cabs.
The fleet of trucks s will be used within Marshalls' nationwide distribution operation. They will be used to deliver its products to builder's merchants and other customers.
The new vehicle order takes Ryder's share of Marshalls' fleet to more than 240 vehicles and trailers, around two-thirds of the company's fleet.
John Robinson, Ryder Director, Fleet Sales, who has been involved in the Marshalls relationship since the beginning, said: "We've worked really hard to understand the demands of Marshalls' transport operation, which is complex and involves a significant number, and wide range, of vehicle types. I believe Ryder's size and strength as a business give us a real advantage in supporting a transport operation as large and diverse as Marshalls."
David Grogut, Asset Engineering Manager at Ryder, commented: "Maximising fuel efficiency and reducing CO2 emissions are key priorities for Marshalls. The vehicles tend to carry very heavy loads so, in addition to ensuring the correct powertrain and differential ratios are specified, we looked at all options for reducing vehicle weight. Our engineers also carried out a detailed fleet review to ensure that all new equipment going into the fleet was compatible with Marshalls' existing fleet of trucks. For example, reviewing the specification of the tractor units against the types of trailers they are being matched with."
In introducing the new Euro-6 vehicles to the Marshalls fleet, a 'train the trainer' programme was run by DAF and Ryder that focussed on how to get the best out of the new technology.
At the heart of Marshalls' operations is the company's three-day delivery promise, with all activities designed and aligned to deliver on this promise. Vehicle uptime is key to maintaining the Marshalls' delivery promise. Robinson comments: "Marshalls runs a demanding fleet operation throughout Scotland, England and Wales. Their trunking fleet is based on a five-day operation with some vehicles away from the home location on 'tramping' runs for six straight days and nights. Ryder's approach to supporting the operation is two-pronged. First, Marshalls can take advantage of Ryder's significant rental fleet, especially during the summer peak demand months, but also for breakdown cover. Second, we have a dedicated Ryder Account Management function to support their transport operations on a day-to-day basis, backed by a range of critical KPIs to monitor compliance performance in order to drive improved efficiency and continuous improvement."
Jonathan Galvin, Category Manager in Marshalls' Procurement department, commented: "In ultimately selecting Ryder to provide such a large proportion of our transport fleet, we know that Ryder is a longstanding and stable business. We also value highly the fact that Ryder uses its own funds and has the financial backing of a major US corporation. With more than 20,000 vehicles themselves, we also benefited from Ryder's buying power in the market to secure the financial terms that meet our business needs."
"It is a fantastic achievement to now be a major supplier of commercial vehicles to Marshalls, and testimony to the progressive working relationships that have developed at many levels throughout both our organisations over the last 10 years," concluded Robinson