Kögel Wins Big Contract with Italian Steel Transport Specialist
5th October 2017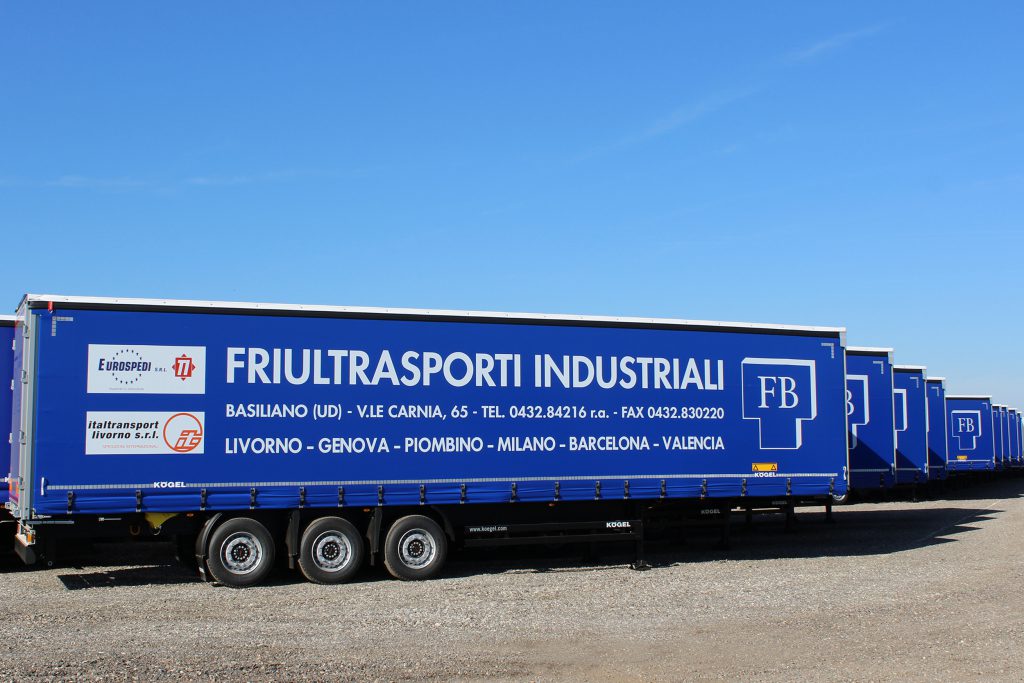 Italian transport company Friultrasporti Industriali has acquired 100 new Kögel Cargo Coil trailers.
Livorno-based Friultrasporti is a specialist in transport and logistics for steel, chemicals, paper and other goods. Steel transport makes up over a quarter of its business. The forwarding company pays particular attention to using ferry connections from Italy to the Iberian peninsula, Greece, Turkey and the Balkans. In doing so, the company plays an active role in reducing traffic on the roads, thereby reducing CO2 emissions by more than 50 percent. The Kögel Cargo Coil trailers are achieve this. Heavy-duty RoRo equipment makes intermodal transport possible.
Frame in coil design
Kögel Cargo Coil trailers come with a highly stable, lightweight steel frame with a shaped coil trough and a 120 millimetre high frame neck. Instead of the standard 7,200 millimetre coil trough, Friultrasporti has opted for the optionally available 9,000 millimetre coil trough. This enables the transport of coils and split strips with a diameter of 900 to 2,100 millimetres and a maximum distributed load of 30 tonnes. For load-securing, two pairs of stake pockets are fitted as standard in the coil trough to hold square pipe stanchions. One pair of stake pockets at the front of the trough, and one pair at a distance of approx. 2,045 millimetres. There are also 13 pairs of lashing rings set into the Vario-Fix perforated steel external frame that allow almost infinitely variable lashing of the cargo. Of these, five pairs have 2,000 kilograms tensile force per ring and eight pairs have 4,000 kilograms tensile force per ring around the centre of gravity of the payload. 20 coil trough covers ensure that the coil trough can be covered quickly and safely. The floor load-bearing capacity of the coil trough covers is designed to withstand high fork-lift axle loads of up to 5,460 kilograms.
Kögel Trailer Axle – KTA
Fitted with standard Kögel trailer axles KTA, the Cargo Coil trailers feature axel units characterised by easy maintenance, excellent tracking and reliability. The unique "double suspension" of the KTA, made from a soft rubber bearing and a spring steel wishbone, not only enhances the driving characteristics of the trailer, but also reduces wear and tear.
Heavy-duty RoRo equipment
Friultrasporti trailers are fitted with heavy-duty RoRo equipment for unaccompanied transport by ship and ferry. This includes a diagonal reinforcement between the side member and external frame, a 10 millimetre closed sliding plate, a 10 millimetre fifth-wheel plate, two suction valves and four pairs of heavy-duty lashing rings with 12,000 kilograms of test force.
Friultrasporti individual equipment
In addition to the previously mentioned individual equipment, Friultrasporti has opted for further optional accessories. To protect the interior of the front wall from damage during everyday use, it has been fitted with a 12 millimetre thick and 1,250 millimetre high textured coated board. For enhanced impact protection, the rear of the vehicle is equipped with reinforced steel rubber bumpers. An eight-millimetre-thick lateral steel bracket extending over the entire width and a locking cam protection, mounted centrally on the end plate of the frame, completes the trailer's impact protection. Further special equipment includes a light carrier made of steel, a toolbox, tarpaulin cables with two brackets, a brake lining wear indicator system and much more.
Cathodic dip-paint coating: lasting protection from corrosion
On the Kögel Cargo Coil trailers too, the entire vehicle frame is given long-lasting protection against corrosion by nano ceramic technology and cathodic dip-paint coating, supplemented with a coat of UV varnish.