Fleet Connectivity for Commercial Vehicles
11th January 2023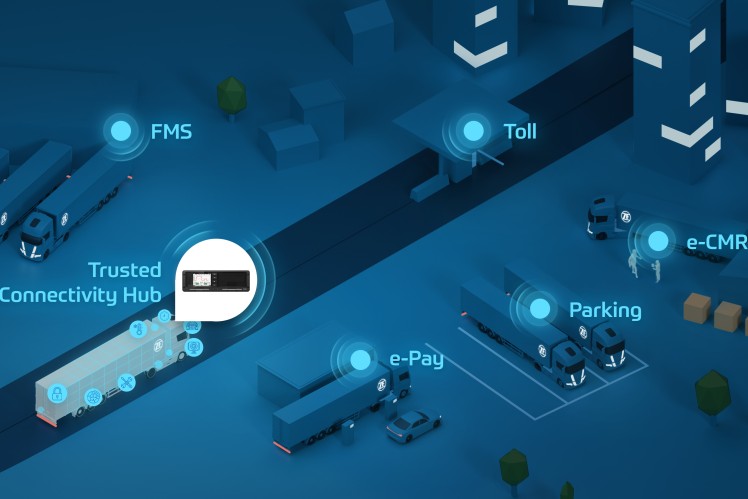 To advance next generation fleet connectivity for commercial vehicles ZF, today. announced that it has acquired intellic Germany GmbH, a Berlin-based advanced tachograph technology company with 20 employees. The acquisition further consolidates ZF's unique capability to supply innovative solutions across the entire commercial vehicle transport value chain, reinforcing its innovation leadership in road transportation, orchestration and infrastructure optimization. Building on ZF's 'Next Generation Mobility' strategy, the move represents a significant step towards realizing its ambitions to enable Transportation as a Service (TaaS).
"Incorporating Intellic's smart tachograph technology within our telematics portfolio further advances ZF's leading position as a 'one-stop-shop' for commercial vehicle manufacturers, fleets and industry partners," said Hjalmar Van Raemdonck, Head of Digital Systems Solutions in ZF's division Commercial Vehicle Solutions. "As a uniquely regulated and trusted data center, smart tachographs will have an increasingly important role to play in the road transportation ecosystem."
"Leveraging the data integrity of smart tachographs will open opportunities in logistics, infrastructure optimization and build on ZF's recent launch of its SCALAR digital fleet orchestration platform," added Van Raemdonck. As the "black box" of the vehicle, verified data will include the entry of local times, precise real-time clocking, secure Global Navigation Satellite System (GNSS) and an Intelligent Traffic System interface (ITS).
Enabling a "Connectivity Hub," it is envisioned that a single, certified box will be able to reliably and accurately collect and relay data from a wide range of vehicle sensors and data sources including Advanced Driver Assistance Systems (ADAS) and EBS signals.
With the potential to deliver significant added value to fleet customers, ZF is well positioned to become a full digital service provider by providing a complete system with clear, measurable, verified data. This includes displaying remaining drive time limits to ensure regulatory compliance. Offering all the digital software and hardware solutions that fleets need from a single source, ZF will integrate future-proof capabilities with software updates over-the-air, in the same way as updates for the tachograph such as driving and resting times. Adding value for manufacturers, ZF's tachograph capabilities offer a simple solution to integrate speed, driving and resting time data to their vehicle dashboards.
The integration of trusted smart tachograph data with ZF's recently launched SCALAR fleet orchestration platform will enable more efficient routing, dispatching and driver scheduling to help significantly enhance fleet efficiency. From 2023, the smart tachograph will become the central trusted device in the commercial vehicle sector in Europe. By third quarter 2023, manufacturers in Europe will be required to install next generation smart tachographs in new vehicles and, by the end of 2024, they will replace analogue tachographs altogether.
ZF is a global technology company supplying systems for passenger cars, commercial vehicles and industrial technology, enabling the next generation of mobility. ZF allows vehicles to see, think and act. In the four technology domains of Vehicle Motion Control, Integrated Safety, Automated Driving, and Electric Mobility, ZF offers comprehensive product and software solutions for established vehicle manufacturers and newly emerging transport and mobility service providers. ZF electrifies a wide range of vehicle types. With its products, the company contributes to reducing emissions, protecting the climate and enhancing safe mobility.
With some 157,500 employees worldwide, ZF reported sales of €38.3 billion in fiscal 2021. The company operates 188 production locations in 31 countries.