Electrification for Trailers
21st September 2023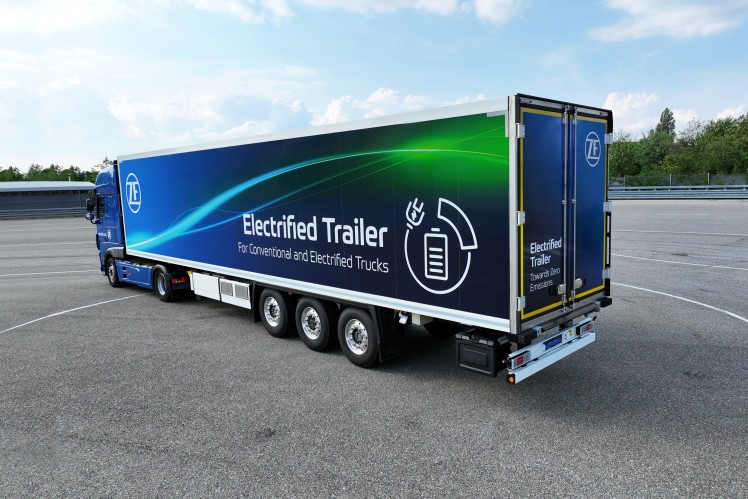 ZF's latest version of its pioneering concept to electrify the trailer will be on show at the NUFAM commercial vehicles trade show in Karlsruhe (Germany). The ZF electrified trailer solution is made possible by integrating ZF's AxTrax 2 electric axle with a modular battery system box for recuperation and traction support. Thanks to its ability to recuperate energy from braking, the system can effectively convert a heavy-duty diesel truck into a hybrid vehicle, generating up to 16 percent fuel and CO2 savings, while the optional plug-in variant can save up to 40 percent. The trailer also provides benefits for zero-emissions electrified heavy trucks by extending their range.
ZF's electrified trailer concept is gaining traction as interest from the industry grows. Bringing the benefits of electrified trailers to fleet operators took a step closer as ZF's Commercial Vehicle Solutions (CVS) division announced that it will cooperate with BPW to offer a fully integrated running gear system for trailer builders including ZF's AxTrax 2 electric axle. Kässbohrer and Krone, two leading trailer manufacturers will also start to implement ZF´s pioneering electrification system into their platforms. This announcement will see the companies start the process of integrating ZF's pioneering electrified trailer technologies into their range of products.
"Electrification for trailers is an innovative solution to decarbonize road freight transport in the very near future," said Dr. Bernd Meurer, responsible for the electric trailer program at ZF. "Instead of solely being pulled by the truck, the new approach provides additional traction while generating fuel savings, reducing CO2 emissions and improving sustainability.
"The fact that industry leaders are embracing our system demonstrates that we have taken the right concept approach in developing a lightweight and modular system that can be adapted to suit the diverse requirements and various applications of manufacturers and fleet operators."
Thore Bakker, General Manager Business Unit Trailer Solutions & Mobility Services at BPW said: "Every trailer needs a chassis, suspension and braking technology that can be trusted. With our axles for 7.5t trucks and the generator axles for reefers, we already have a lot of experience regarding the integration of electric drives. It therefore makes perfect sense that ZF, with expertise in drivelines, cooperates with BPW to offer a robust and highly engineered running gear solution with the AxTrax 2 axle for recuperation and traction support for semitrailers that can be easily assembled by trailer builders and is fully trusted by the fleets."
İffet Türken, Kässbohrer Board Member said: "Together to the next 125 years", we highlight the importance of a wide ecosystem of innovation and partnerships to advance the trailer industry towards sustainability. We support our industry with longer and heavier vehicles, our award winning intermodal product range and our already tested electrified reefers. We are committed to invest our proven innovation capability, engineering competence to advance the technical integration challenges of the new system safely and efficiently. We look forward to our cooperation with ZF and all our partners furthering electrification application to include all sectors of transport business."
Dr. Stefan Binnewies, Board Member of the Krone Group, said: "ZF and Krone share similar attributes like commitment to quality, sustainability, and innovative technology. Very early on, Krone investigated and invested in possible options for trailers to provide electrified traction support as a way towards meeting decarbonization targets of road transport. We are happy to see that well-established partners of the industry like ZF and BPW team up to support the transformation to more sustainable logistics by offering innovative solutions that we as trailer OEMs can integrate into our Trailer Systems. At Krone we are convinced that we can only meet the challenges of the future together – generating the best solutions for our customers."
With this announcement, customers will be able to draw on ZF's leading expertise in combining brake control and electrification systems with innovative technologies, such as the AxTrax 2 electrified axle system which enables recuperation and traction support to deliver up to 210 kW continuous power and 26,000 Nm of peak output of seamless torque.
The ZF system has been designed as a highly integrated solution enabling manufacturers to combine electrified technologies into their own trailer platforms more easily. The system takes advantage of braking energy recuperation to recharge the batteries to generate 16% fuel and CO2 savings, while the Plug-in Hybrid version can achieve 40% when combined with an ICE-powered truck.
ZF's electrified trailer solution is designed to meet future standards and comply with national and regional regulations. The first electric trailers are expected to be operating on EU roads, once regularity classification has been received.