Cenntro offers Logistar 200 vehicle with tail lift
1st December 2022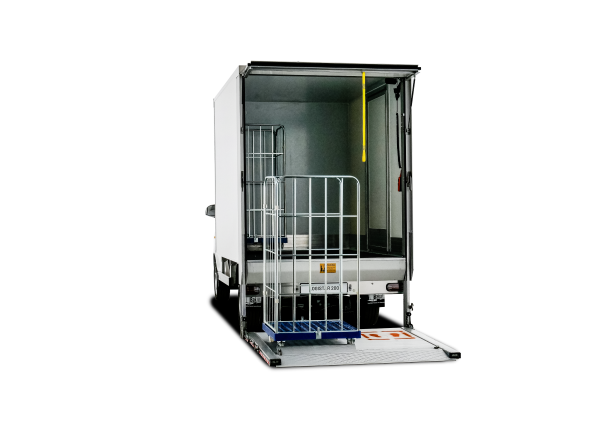 Cenntro Automotive Europe is introducing a tail lift variant for its Logistar 200 electric utility vehicle on the European market. The vertical lift, which has been specially manufactured for the Logistar 200, offers a payload capacity of 500kg and is therefore particularly suitable for urban delivery and distribution operations.
The high-performance single-deck lift is equipped with a single-section, light aluminium panel and is operated using a hydraulic cylinder, which electrically raises and lowers the platform using chains and guide pulleys. It is possible to easily open and close the 1,600mm aluminium platform manually to save energy in order to achieve the greatest possible efficiency. There is a side door in the middle, which is 900mm wide, and it provides additional loading and unloading opportunities for the box body, which measures 8.77 cu m (L x W x H interior dimensions: 2537 x 1729 x 2000mm).
The box body entirely consists of 100% recyclable, thermoplastic composite materials and is ultra-light, so ensuring that it is possible to make full use of the Logistar 200's maximum payload capacity and range. The walls of the box body, which have been specially developed for Cenntro, are made from a 20mm thick, highly resistant composite material, while the front wall and roof are 25mm thick. The lightweight base is self-supporting, is made of a 30mm thick recyclable composite material and has an anti-slip coating.
Compact Cenntro Logistar
The operating unit is waterproof and attached to the outside of the vehicle frame; a remote control system with a spiral cable is affixed to the interior of the body by means of magnets. The box body is also equipped with powerful LED interior lighting, anti-roll stops and platform lighting as well as a third brake light.
The Logistar 200 is 4.77m long and 1.64m wide in its chassis version and therefore has more compact dimensions than traditional delivery vans and transport vehicles – and this provides manoeuvrability benefits in inner-city areas. The electric utility vehicle has a range of between 188 and 264km when carrying a full payload of 1,045kg (WLTP combined/city range).
Thanks to the new design with the vertical lift, it is now possible to transport trolleys or Euro pallets containing general cargo without any problems on last mile deliveries. At the same time, the tail lift makes it easier to transfer goods to cargo bikes such as the Antric One. Six trolleys, which can be accommodated on three Antric One bikes, fit into the new "Logistar 200 box body with lift" and this further optimises the sustainable delivery of goods during the last mile. The Logistar 200 in the new lift version and the electric cargo bike from Antric complement each other perfectly for use at urban distribution centres.
Both the Logistar 200 and the Metro N1-13 models can still be delivered in 2022, for as long as stocks last.