A dozen new Terberg distribution tractors work hard for Fowler Welch
8th April 2014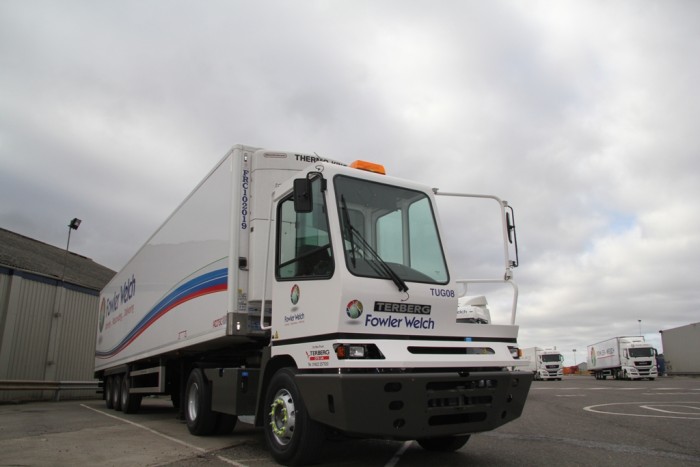 With nine depots across the UK, leading ambient, chilled and FMCG supply-chain specialist, Fowler Welch operates an intensive 24/7 warehouse and logistics operation, handling high volumes of ambient and multi-temperature products. In support of its primary distribution fleet, Fowler Welch has recently restructured its depot based shunter fleet by taking 12 new Terberg YT182 tractors on a 5 year contract hire deal.
According to Paul Allera from Fowler Welch, "At our depots, we have sufficient traffic to justify operating a sizeable shunter fleet. For example, our national distribution centre for chilled products in Spalding is home to over 200 trailers that generally require in excess of 5000 lifts per week from the on-site shunters."

Terberg's success in distribution is based on the performance of its popular YT 4×2 distribution tractor range, which is renowned for offering a spacious and ergonomic cabin for the operator with excellent visibility and access, combined with reliability and effective performance over its working life.
During the contract negotiations, Terberg were able to provide Fowler Welch with a high spec version of its popular YT182 distribution tractor with additional requested features such as nights heating, extra 5th wheel controls, a training seat and Haldex soft docking.
All 12 Terberg YT182's are now in service with Fowler Welch, following a seamless introduction of the vehicles into the Fowler Welch network.

"The overall package put together by Terberg was superb, their approach to our business was really flexible and understanding, and they showed a real willingness to support us, not just from day one but through a proven after sales service for the full contract duration," said Paul Allera, "The way they handled the integration of the new tractors into our fleet was first class, with individual handovers at each depot and full on-site training."

Distribution shunters form the backbone of the impressive 2014 Terberg product portfolio at the Halifax based company, who are suppliers of shunting tractors, terminal tractors, aviation equipment and specialist vehicles. Further information about the full range of Terberg products can be obtained by calling the sales office at Terberg DTS (UK) Ltd on 01422 257100 or by viewing the website at www.terbergdts.co.uk.