Road Transport Capacity and Prices are Rising Again
10th November 2020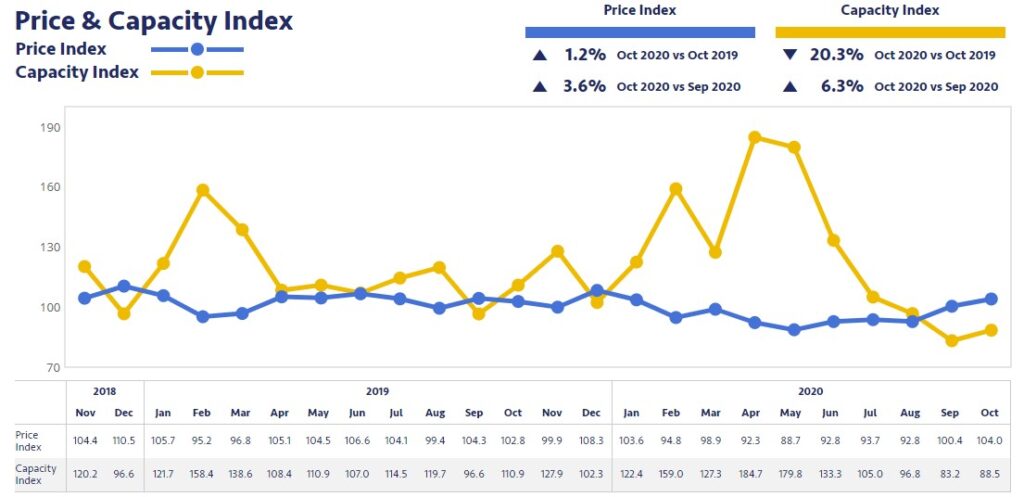 A new European survey has revealed that road transport demand is picking up, according to TMS supplier Transporeon.
• Compared to September 2020, 6.3% more road transport capacity was available in October on the European spot market.
• Compared to October 2019, less capacity was available (-20.3%).
• The rising price trend that started in June and July with a short interruption in August, continued in October. Compared to September 2020, prices rose by 3.6%.
• Prices have now reached the highest level this year and are above pre-crisis level.
• Year on year, prices have also risen by 1.2% compared to October 2019.
• The rise in the price level can be explained by the fact that the level of available capacity has been low for several months and prices are adjusting with a slight delay.
• The automotive industry continues its recovery, as shown by the rising prices on the spot market (+4.7% compared to September 2020). The decrease in available capacity (-3.6% compared to the previous month) is part of an ongoing development already observed since June 2020.
This is the result of the current evaluation of the transport market monitor (TMM). The online service is provided by Tim Consult on the basis of transport data of more than 1.8 million freight loads per year. The processed transport data, stemming from the spot market, is provided by Transporeon, Europe's leading network provider for transport logistics services. The report is based on data available up to 09 November 2020.
"We are currently seeing the first increase in available transport capacities recorded since April this year. At the same time, we observe an ongoing trend for increasing prices. This is a normal development in times of generally low levels of available capacities on the spot market. This month's data can be read as a sign that the positive price trend observed after the summer break was not just a seasonal phenomenon, but a sign for an economic recovery. The interesting question now is how the second wave of lockdowns in Europe will affect this development.", said Oliver Kahrs, Managing Director of Tim Consult, a Transporeon subsidiary.