Mosca's first in-house trade show presents fresh ideas for efficient logistics processes
4th December 2015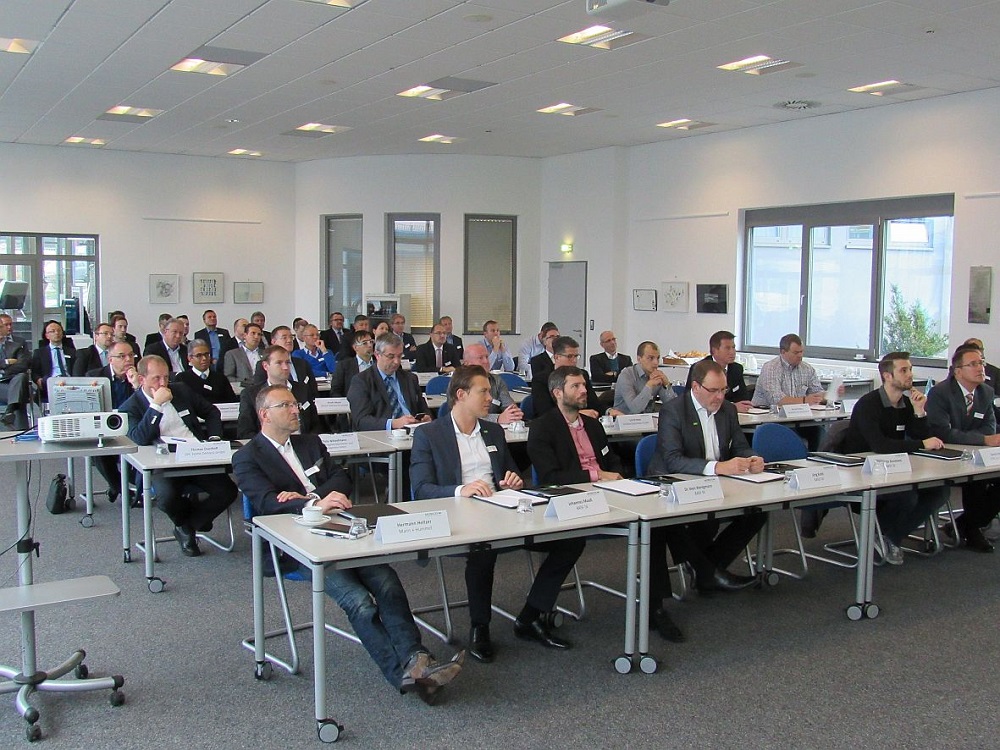 End-of-Line Packaging in Logistics: Expert presentations on packaging and logistics encourage knowledge sharing
Tried and true: Simulations and factory tours provide insight into cutting-edge strapping technologies
Industry 4.0: Mosca strapping machines are fit for the future
Five presenters, two factory tours and a wealth of new ideas: Mosca GmbH brought business partners and customers together with packaging and logistics experts on 11 November at its company headquarters in Waldbrunn for the first Mosca in-house trade show. Focusing on the theme "End-of-Line Packaging in Logistics," the event featured presentations on topics ranging from the best designs for packing materials to process optimization in intralogistics. It also offered insight into the day-to-day operations of a renowned German logistics center. Participants also learned how Mosca develops comprehensive strapping solutions and the extent to which Industry 4.0 has been implemented in the strapping industry. The in-depth program included tours of the Strumpfelbrunn plant and the fully automated production line in Muckental.
Around 50 invited guests, including Mosca business partners and customers, accepted the invitation to the in-house trade show focusing on End-of-Line Packaging in Logistics. The participants engaged in an in-depth exchange of knowledge and ideas on the key topics of the day. "The idea behind this event is create a new platform giving us and our guests an opportunity to share knowledge and experience on key logistic themes ranging from packing materials technology, to efficient process planning and the latest developments in the strapping industry. At the same time, we wanted to explore new knowledge," explains Mosca GmbH Managing Director and CEO Timo Mosca.
Guest speaker Thomas Mayer, Managing Director of Karl Mayer Kartonagenfabrik GmbH & Co. KG based in Haiterbach, got the ball rolling with a talk on packing materials technology. He described how his company creates individual packaging solutions to meet a variety of requirements. As an example, he cited the successful relaunch of a packaging solution for injectors for large engines. This packaging was optimized to secure multiple injectors for safe transport. Alexander Emmerich, Logistics Engineering Consultant at TIM CONSULT GmbH, spoke about "Planning and Process Optimization in Intralogistics" in the packing sector. His job requires him to focus on what needs to be implemented today in order to optimize logistics for the future.
Peter Lutzenberger, Technical Director at Tchibo GmbH, offered guests insight into the day-to-day operations and processes of a large-scale logistics center in the north German town of Gallin. This is where articles from 52 product groups that change weekly plus special offers converge on a floor area covering 47,000 m2 (506,000 sq. ft.). A widely varied product range requires a multiplicity of logistics schemes. The high-rack warehouse with 65,000 pallet bays handles 5,300 movements per day. An electric overhead conveyor, the heart of the logistics system, transports more than 400 loads per hour. All product returns are also processed in Gallin, which means up to 800 boxes of goods are palletized per hour. Twelve Mosca strapping machines are in operation in the returned goods and picking areas zones. Thanks to high availability, the machines efficiently handle the continuous stress of logistics operations.
Planning expertise and Industry 4.0
Mosca experts explained the path from order placement to finished strapping system. Machines and units are assembled in Waldbrunn according to individual customer requirements. An engineer monitors each project until final approval and installation. Afterwards, a customer service representative is available to provide support 24/7. Technical developments in the scope of Industry 4.0 are also highly advanced at Mosca. All class III machines are equipped to ensure smooth communication between machine and product or reciprocal control at different levels. "If necessary, our machines can be remotely monitored and controlled off-site. Or they can adjust autonomously to changing conditions, for instance by selecting the correct strapping parameters for a particular package. Engineering developments are constantly evolving and our strapping machines are at the forefront of this trend," says Timo Mosca, who was available to answer questions during the entire event. Participants expressed a keen interest in Industry
4.0. "As a systems partner for packaging, we – like Mosca – are a member of the Packaging Excellence Center (PEC) for packaging and automation technology," says Dirk Kallenberg, Managing Director of Just Pack GmbH based in Aspach, Germany. "We are always interested in sharing ideas and information about innovations in the packaging sector. So we were happy to accept the invitation – and are glad we came. Along with the interesting presentations, we made a number of promising new contacts and learned more about Mosca's expertise."
Close-up look
Following the theoretical segment of the in-house trade show, two factory tours offered guests a close-up look at Mosca production operations and machines at the Strumpfelbrunn plant. The event included a tour of the Muckental site, where PP, PET and PLA strapping materials are produced around the clock in a fully automated process on one of Europe's most advanced systems. "We supply the bioplastic ecovio® used to make the strapping material, so the factory tour in Muckental was particularly interesting for us," says Joerg Kohl, who is in charge of Business Development Biodegradable Packaging at BASF. "The audience at the event was great! I talked with a number of interesting people and met potential project partners – one of the key benefits of events like this. We also received valuable input about the color of our plastics, which we will take into account in the future. The event sparked some exciting new ideas."
Guests at the Muckental plant had a chance to experience Mosca strapping material production in action and see how the company has automated its packaging logistics. "The presentations were practice-based and I learned a lot. The factory tours were also very informative – it's always fascinating to have a look behind the scenes," said Hartmut Fiebranz of Storch-Ciret Logistics GmbH. "It was a completely new experience to learn about issues specific to the packaging industry in a context like this, and I made some promising contacts. It was worth every minute!" The positive feedback from guests after the event prompted the company to continue with the in-house trade show concept as a knowledge platform.