Market report on logistics property and industrial space
12th January 2016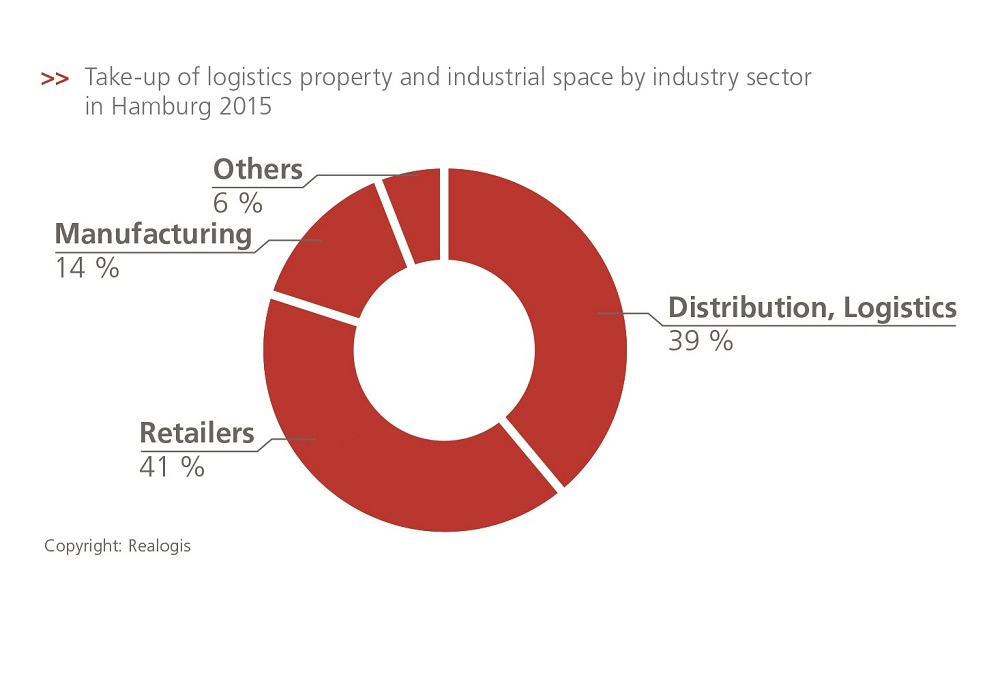 According to an analysis carried out by Realogis – the leading German consultancy for logistics and industrial real estate and business parks – take-up of industrial and logistics space by all participants in the Hamburg market reached 540,000 sqm in 2015. This represented an increase of 15% compared to the previous year (2014: 470,000 sqm). The very positive annual result is attributed among other things to the exceptionally strong summer quarter (July-September) with take-up of about 185,000 sqm. By the end of September, take-up had already almost reached the total volume for the previous year at approx. 465,000 sqm. Compared to the previous year, there was a notable increase in demand for space in the larger categories.
Completion of large contracts – the positive trend continues
This positive development is attributed to the good economic situation on the domestic market combined with strong demand for warehouse and logistics property. Customers became increasingly more willing to close deals as the year progressed particularly in the segment above 8,000 sqm, which accounted for almost half of the total volume at about 254,000 sqm (+8%). Retailers were strongly represented here. Edeka leased about 31,000 sqm by the harbour (Waltershof) and a tobacco retailer signed a contract for approx. 19,500 sqm in the metropolitan region to the south (Bucholz in der Nordheide). "Also included here is the contract signed by Carl Block in Altenwerder for about 12,500 sqm," explained Jörg Lojewski, head of department at Realogis Immobilien Hamburg GmbH.
Units between 3,000-8,000 sqm in size remained in short supply. However, the situation improved slightly during the year since some products in this segment fortunately came onto the market in 2015. This increase in capacity is attributed to companies that took advantage of the low interest rates and optimised their spaces through built-to-suit structures or project developments. Also to be mentioned here is the centralisation of the logistics processes of DHL at a new building in Allermöhe and the related termination of leases primarily in the Hamburg city area. Thus the share of take-up here increased year-on-year by 5 percentage points to 28% of the overall volume (151,000 sqm).
The sub-3,000 sqm category as usual made a strong showing in terms of the number of contracts. However, its share of the total volume fell by 13 percentage points to about 25% (135,000 sqm). Contract signings mostly took place in the eastern areas of Hamburg city (Billbrook, Rothenburgsort). The neighbouring location of Allermöhe typically demonstrates a high level of activity in this category and now enjoys almost full occupancy.

Logistics companies and wholesalers focus on Hamburg's environs
The Hamburg metropolitan regions continue to benefit from healthy demand for commercial sites and warehouse/logistics spaces. The reason is obvious: there are still few or no available sites in the Hamburg city area. Even the decision to pull out of the bidding for the Olympic Games barely changed this situation. Since the economic development agencies in the surrounding districts are also largely unable to offer bigger sites, local authorities are obliged to designate new spaces to meet the continuing demand for commercial properties.
The situation is similar for warehouse/logistics space. In particular, the surrounding areas to the south were able to register numerous large deals last year. "Quoted rents of just over €4/sqm, improved public transport connections and cheap oil prices for the trucking of containers make for an attractive overall package," explained Jörg Lojewski. Thus the globally active logistics company UTI Deutschland and the company Drive Medical opted for new locations in Rade with usable areas of around 10,000 sqm apiece.
Institutional developers have reacted to this strong demand with new and speculative logistics projects. These include the approx. 15,000 sqm logistics site completed at the beginning of 2016 in VGP-Park on the A1 in Rade as well as the project of developer Gazeley to build around 40,000 – 60,000 sqm in Winsen on the A39, with the first building section expected to be ready for occupancy in autumn 2016.
Current rental prices for the different property types in their respective locations:

high-quality logistics properties close to the centre/harbour with the following characteristics: minimum hall height of 10.5 m; warehouses accessible by ramps with spacious service zones and at least 1-2 doors per 1,000 sqm of warehouse space; efficient heating system. Warehouse rental price: €5.40-5.70/sqm; associated office space: €9.00-11.00/sqm
existing functional properties in Hamburg harbour-East Billbrook/Allermöhe with the following characteristics: minimum hall height of 6.50-7.50 m; warehouses accessible by ramps; heated or unheated buildings. Warehouse rental price: €4.30-4.70/sqm; associated office space: €6.50-8.00/sqm
basic warehouses in Hamburg harbour with the following characteristics: hall height of up to 5.00 m; unheated buildings without insulation and mostly with ground-level loading. Warehouse rental price: €3.70-4.30/sqm; associated office space: €5.00-6.00/sqm
Outlook
There are strong indications that the positive development of the Hamburg logistics property market in the second half of 2015 will continue into 2016. Further requests for large spaces are under negotiation and will be concluded in the first quarter of the year. The domestic economy is picking up speed and is supported by strong private and state consumption. Growth of 1.7% is forecast for 2016. Exports will continue to benefit from the low euro exchange rate this year and will make a decisive contribution to the positive economic development. All companies and players in the maritime industry will also be looking out for the decision by the Federal Court (BVG) in Leipzig with regard to the deepening of the river Elbe. Overall, Realogis is expecting space take-up of more than 500,000 sqm in 2016.