Intralogistics Automation Launch at Tire Technology Expo
19th January 2016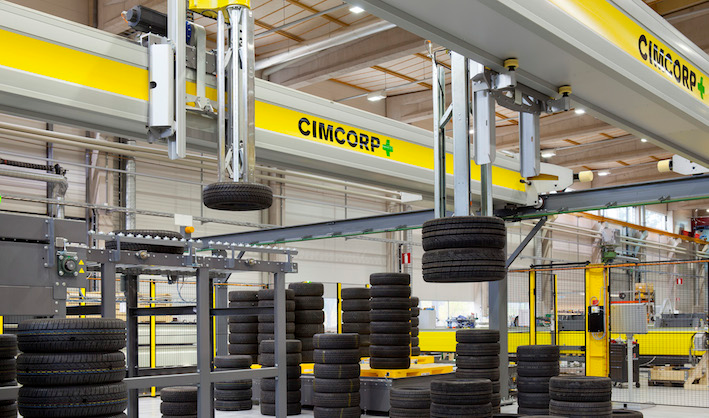 Cimcorp, manufacturer and integrator of turnkey robotic order fulfilment and tyre-handling solutions, will launch its expanded Dream Factory solution at Tire Technology Expo, taking place in Hannover from 16-18 February 2016.
The new version of Dream Factory includes the handling of raw materials and compound products to provide an end-to-end solution. The company says that with an optimized layout design that utilizes 50 percent less floor space than conventional solutions, Dream Factory generates cost savings of up to 50 percent in materials handling capital investment by simplifying the material flow in tyre plants.
Dream Factory is said to be suitable for both brownfield and greenfield factory sites and Cimcorp has delivered automation solutions to seven of the top ten tyre manufacturers globally. Key installations include Cordiant's Yaroslavl Tyre Plant in Russia – a brownfield site that dates back to 1932 – and Tigar Tyres' new plant in Pirot, Serbia, which demonstrates the simplicity and speed of installation at a greenfield site. Last year, Cimcorp secured an order worth nearly 30 million euros for an automated handling solution at Qingdao Sentury Tire's new plant in Thailand, as well as several other orders for major turnkey automated systems in greenfield tyre plants.
In the expanded offering, Cimcorp's gantry robot technology and material handling software claim tangible benefits including total control of the manufacturing process at each stage, real-time data for production and inventory management and streamlined material flows that enable optimum utilization of the most valuable process machinery, such as building machines and curing presses.
Cimcorp will demonstrate the technology behind its innovative Dream Factory solution on stand 4042 at the exhibition.