Improving cold-chain logistics
9th April 2015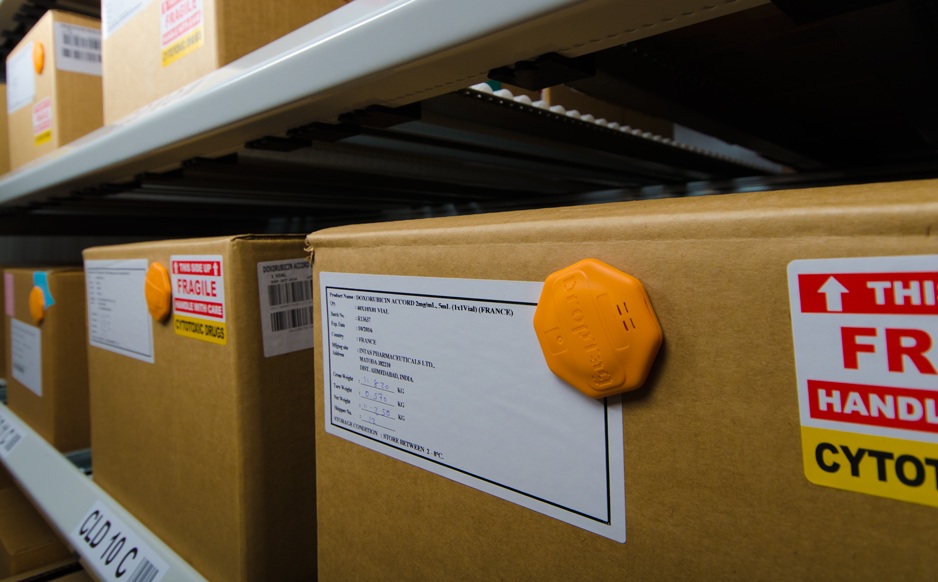 Product design and development firm Cambridge Consultants is revolutionising cold-chain logistics for the healthcare industry – with a new service based on its DropTag condition monitoring technology. Temperature, vibration, humidity and shock can be continuously monitored throughout a pharmaceutical package's journey from the manufacturer to the point of care in a hospital or doctor's surgery.
By tracking the complete journey, DropTag helps ensure drugs are kept within their optimum temperature range – reducing spoilage and giving patients the best chance of effective treatment. The simple-to-use, low-cost system uses Bluetooth Smart technology and connects to any smartphone, making it a quarter of the cost of existing products.
With new industry regulations coming into force – such as the European Commission's new Good Distribution Practice (GDP) guidelines for medicinal products – end-to-end monitoring of drugs in transit is growing in importance. It is particularly crucial when there are multiple carriers, transport modes and climates involved, as even a small change in environment can sometimes have a large effect on a product.
When drugs are shipped, for example, they often need to be kept between 2°C and 8°C. If the temperature during transit goes above or below this range, products like biological vaccines can deteriorate and become less effective. This has a knock-on effect for patients as it can lead to shipments being rejected and delays in receiving their medication.
Journey loggers do already exist – but one in five either get lost en route or don't have their data uploaded. As DropTag is a wireless, app-based solution, it does away with the extra step of uploading the data and provides continuous monitoring throughout a journey. Having wireless data transmitted from inside packages allows logistics companies to intervene during the distribution process if a problem is flagged up.

"No other mobile monitoring solution for the healthcare cold-chain logistics industry can match DropTag's price point, ease of use or ability to monitor the entire journey," said Jon Edgcombe, software group leader at Cambridge Consultants. "These factors are absolutely critical in such a device – not only for streamlining processes but also for quality assurance to ensure medicines are fit for patients' needs. Cambridge Consultants' unique combination of expertise in low-power electronics, connected systems, end-to-end security, mechanical design and sensing technologies has made this novel device a reality."

Pharmaceutical company Accord Healthcare has been involved in the DropTag trials. "We strive to be ahead of the game in improving our processes and ensuring quality assurance – and this new DropTag application has been a tremendous enabler of that," said Tony Cordrey, senior director of European strategic operations. "It's revealed some opportunities for real improvements in our shipping process – by improving the transparency of information where temperature variations are most likely to occur during a journey and giving us the confidence to safely optimise our use of shipping routes."

By capturing essential data during day-to-day shipments, the DropTag system enables companies to match shipping lanes to the profiles of specific drugs – giving greater flexibility and reducing costs. It allows more robust drugs to be safely transported via cheaper, longer routes, for example – leaving the expensive direct shipping lanes for temperature-critical items.

"When something goes wrong, there are a myriad of questions about how and why," added Cordrey. "The use of DropTag speeds up decision making by providing additional information to better understand how processes can be continually improved for the benefit of patients."