DHL delivers electric racing cars to London
30th June 2015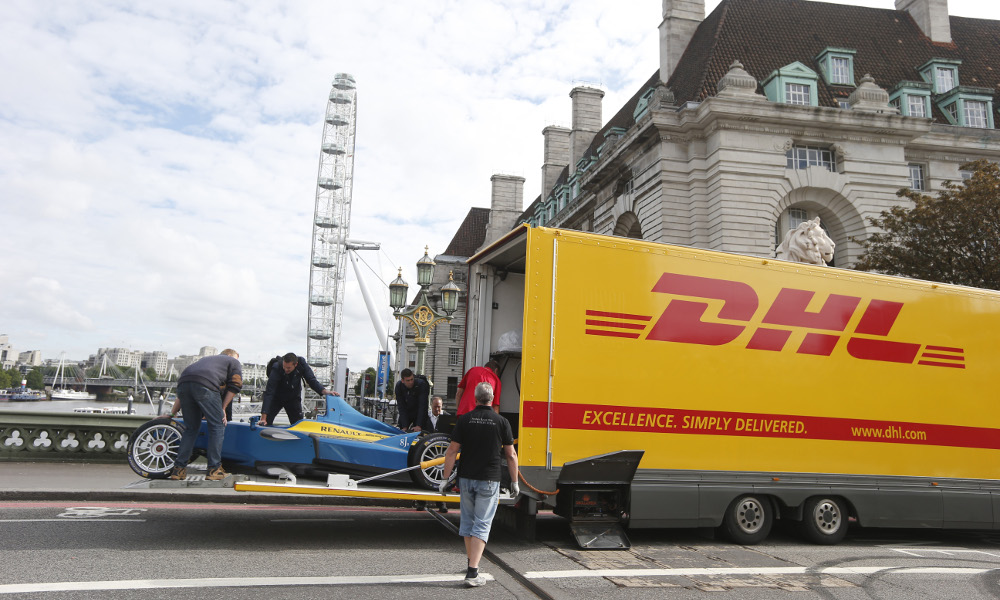 DHL, the world's leading logistics provider, today announced the successful delivery of 40 electric racing cars and related equipment around the world, and back to London for the final race of the electrifying new series, the FIA Formula E Championship.
The 2015 FIA Formula E Visa London ePrix, a special double-header weekend, will see the final two races of the inaugural series produce the first Formula E Championship winner on a unique and specially created 15-turn, 2.92km circuit in London's Battersea Park.
The Formula E season first revved its electric engines in Beijing in September 2014 after setting off from Formula E's base in Donington, UK, on 2nd September 2014. Nearly a year later, the Championship proudly returns to the UK.
Over the past 10 months, DHL's Global Forwarding Motorsports team has been responsible for finding efficient, seamless solutions in delivering the cars – weighing 800kg, with a 320kg battery – to each of the ten cities hosting the eleven races overall.
DHL prides itself on providing a variety of unique logistics services to the Championship incorporating the most efficient and green technology and processes available today. This includes, but is not limited to, the optimization of the race calendar to ensure the most efficient transport between countries, utilization of a variety of greener and more sustainable modes of transports as well as GOGREEN shipping services and reporting. A particular concern was ensuring the safe transport of the large lithium –ion batteries, which require special handling, regulations and certification.
Commenting on the inaugural season, Phil Couchman, CEO DHL Express UK said: "It's fantastic to welcome Formula E back to the UK, and particularly to such an iconic setting as Battersea Park in London. Over the past 10 months we have worked hard to deliver the first series of the championship in the most sustainable way possible. With over 30 years experience in motorsports, we're thrilled to be part of the founding team behind Formula E and are confident that it will continue to help drive interest in greener technologies and more efficient transport solutions – something we are passionate about as a business."

Commenting on the series, Alejandro Agag, CEO Formula E said, "With not one but two races taking place in London this weekend, it's set to be a fantastic spectacle for the city and a great platform to showcase sustainable mobility and clean energy."

DHL is already an industry pioneer in e-mobility, and owns one of the largest fleets of alternative drive vehicles, representing over 10% of its fleet. In addition, DHL was the first international logistics company to introduce a measurable target for CO2 efficiency and has committed, through its GoGREEN programme, to generate 30% less CO2 by 2020 (compared with 2007 levels) for every letter and parcel sent, every container shipped and every square meter of warehouse space used.