Cleveron and Clevon present new solutions at Gitex
14th October 2022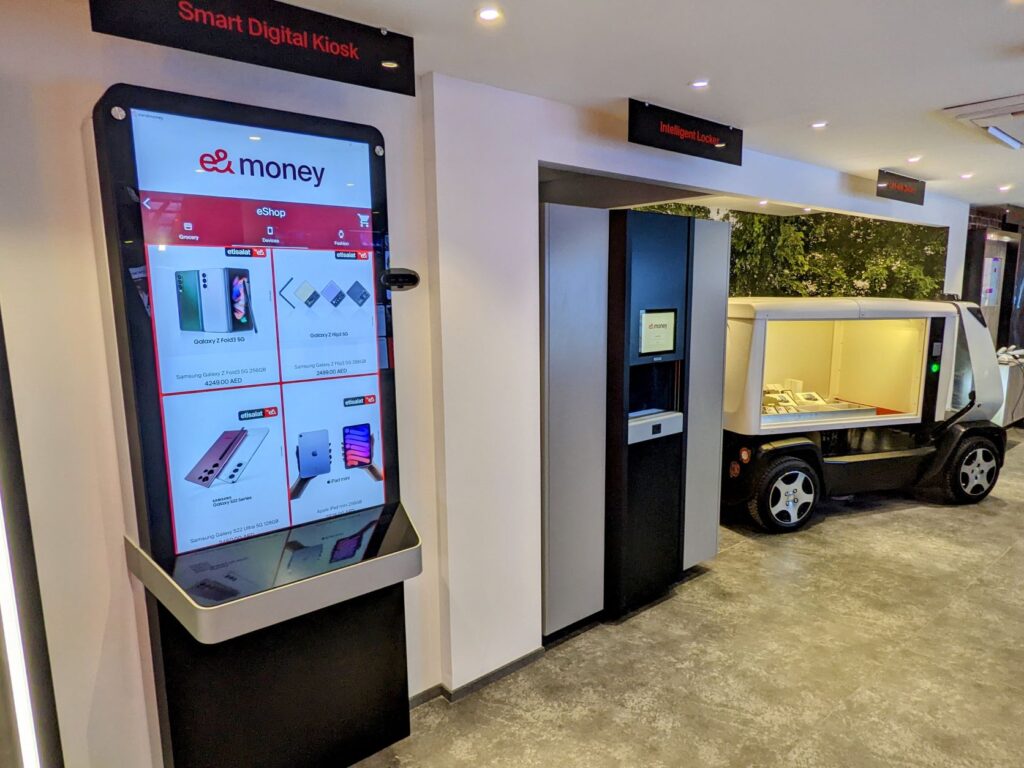 Estonian technology companies Cleveron and Clevon (Cleveron Mobility AS) will display their new solutions in the world's largest tech show Gitex Global, held in Dubai from October 10 to 14. As guests of Etisalat, known for its remarkable technical innovation showcases in Gitex, the two Estonian companies have created a unique system for last-mile delivery.
Cleveron presents a smart, unmanned telecom service kiosk where customers can communicate with the company and collect their purchases via a smart screen and a robotic parcel locker. Clevon is showcasing the autonomous delivery vehicle CLEVON 1, which can be used to meet various last-mile needs like grocery, parcel or on-demand ready-meal deliveries.
Cleveron's self-service and pickup solution consist of two Cleveron products, creating an unmanned smart service kiosk for places where a permanent representation is costly or complicated. The smart service screen Cleveron 103 acts as a service point where customers can connect with the company remotely via video and make the necessary purchases. The robotic parcel locker Cleveron 405 can be prefilled with popular items, so the customers can get their purchase instantly after receiving the order PIN code. The parcel robot also acts as a delivery and pickup point for general online orders. The smart kiosk is in the live pilot phase in Estonia.
CLEVON 1 is Clevon's flagship autonomous multi-platform delivery vehicle. Designed to navigate urban environments with ease, businesses can choose from different CLEVON 1 models, including the Universal Platform, CargoBox (retail), Lockers (logistics), Truckbed (transport), and Mobile Cameras (security). CLEVON 1 has been tested on public roads in Europe for two years and is proven to be safe and reliable, is environmentally focused with zero CO2 emissions, and reduces last-mile delivery cost by 30%. Clevon's third-generation vehicle CLEVON 1, is already providing services together with DPD Estonia, DHL Express Estonia and IKI Supermarkets in Vilnius, Lithuania, delivering groceries, among others.
Cleveron and Clevon are guests of Etisalat, the Emirati-based multinational telecommunications services provider, which is operating in 16 countries in the Middle East, Asia and Africa. World's largest technology show Gitex 2022 is held in the Dubai World Trade Centre, from October 10 to 14.
Cleveron is the world leader in robotic parcel locker production, offering hardware and software for parcel handover since 2015. The Estonian company's solutions are used by retail giants like Zara, H&M, Salling and ICA; logistics companies like DHL and DPD in more than 47 countries worldwide.
Clevon develops multifunctional autonomous vehicles that help make home delivery of goods cheaper, faster, more customer-friendly, and more environmentally friendly. The company has offices in Estonia and the US, Texas. In 2022, Clevon was listed on the Nasdaq's North Baltic Exchange (CLEV) after spinning off from Cleveron.