IAA Transportation has themed logistics day
23rd August 2022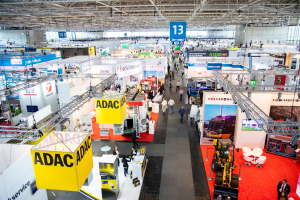 From September 20th to 25th, the IAA Transportation in Hanover will present the trends and innovations in the field of commercial vehicles, logistics and transport. An important part of the new event concept are the four theme days as part of the IAA Conference. The second theme day "Trade and Logistics" will take place in cooperation with the German Retail Association (Handelsverband Deutschland e.V.) on September 21st.
In various formats such as keynotes, panel talks, or fireside chats, international speakers from politics and business discuss, analyse and present the challenges of global logistics, autonomous logistics, sustainability in the supply chain or the challenges of the last mile.
The speakers include Frank Appel, CEO of Deutsche Post DHL Group, Dorothea von Boxberg, CEO of Lufthansa Cargo, Kurk Wilks, President & CEO of MANN + HUMMEL and many other representatives of well-known companies such as Volkswagen Commercial Vehicles, Mercedes Benz Vans, Arrival, Gorillas, Udelv, Einride, Michelin, UPS, Apex.AI, Goodyear, Plus.
Stefan Genth, General Manager of German Retail Association (HDE), commented on the joint theme day at the IAA Transportation in Hanover: "The trade faces considerable challenges in maintaining a functioning supply chain. Production bottlenecks, disruptions in ports all over the world and capacity bottlenecks in Europe show that the supply situation is tense. In addition, there are requirements for climate-friendly logistics, which will require considerable investments in the coming years. There's good reason to find out about current trends in the transport sector so that you can react to upcoming developments in time."
VDA Managing Director Jürgen Mindel said about the joint theme day at the IAA Transportation: "We are very pleased that HDE has agreed to sponsor the 'Trade and Logistics' theme day. With the theme days at the IAA Transportation, we want to jointly discuss opportunities and challenges that concern us all across the industry. The topics will be discussed and presented in a correspondingly broad manner on this day: the future of global trade, the current challenges of the supply chains or future topics such as autonomous logistics. The individual theme days will thus become an important think tank for future dialogue in the transport and logistics industry."