Award Winners to Headline Manifest Vegas
22nd September 2023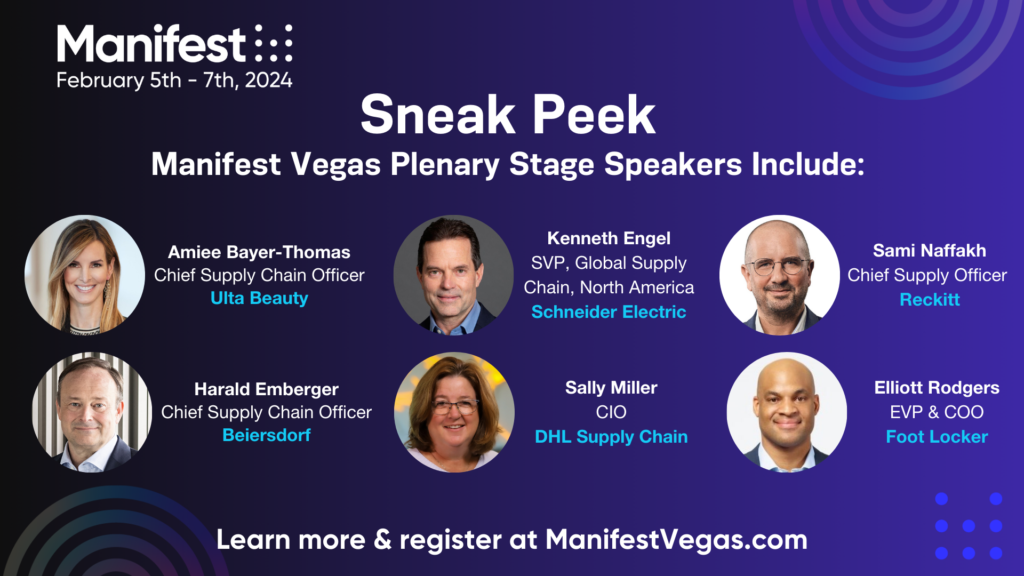 The Manifest Vegas 2024 team is excited to share a sneak peek of what attendees can expect to see and hear on the Plenary Stage on both February 6th and 7th.
A collection of distinguished C-Level executives, recent winners of Alcott Global's Leaders of Supply Chain Awards 2023 and Gartner's #1 Top Global Supply Chain company will take the stage at the February event. This group includes:
Amiee Bayer-Thomas, Chief Supply Chain Officer of Ulta Beauty
Harald Emberger, Chief Supply Chain Officer of Beiersdorf
Kenneth Engel, SVP, Global Supply Chain, North America of Schneider Electric
Sally Miller, Chief Information Officer of DHL Supply Chain
Sami Naffakh, Chief Supply Officer of Reckitt
Elliott Rodgers, COO of Foot Locker
These prominent industry leaders will delve into vital topics, ranging from supply chain orchestration and the incorporation of cutting-edge technology, as well as fostering strategic partnerships and expediting the advancement of diversity, equity, and inclusion initiatives within supply chain organizations.
"We are thrilled to return as headline sponsors for the Manifest 2024 conference," said Sally Miller, Chief Information Officer, DHL Supply Chain. "Building on the 2023 conference, we are excited to continue to share our insights on how innovation can play a critical role in helping businesses to improve their efficiency, agility, and visibility, which can lead to better customer experiences and increased profitability."
"I'm very excited to join such a prestigious group of leaders on the Plenary stage at Manifest Vegas," said Amiee Bayer-Thomas, Chief Supply Chain Officer, Ulta Beauty. "To be among fellow passionate individuals helping shape the future of supply chain is an honour and I look forward to shining a light on the various ways our dynamic industry is evolving."
A full list of Manifest Vegas speakers can be viewed on the website where more information for all-access passes can also be found. Tickets are currently available at a discount until the end of October!
Manifest is the largest and only event for Industry Leaders, Innovators and Investors attracting Start-ups, 3PLs, Forwarders, Retailers, CPGs, Distributors, Manufacturers, Ports and Rails to uncover the newest technologies, innovations and partnerships that are transforming the way goods move globally. Our next event is scheduled for February 5 – 7, 2024, at Caesars Forum, Las Vegas.
Manifest is powered by Connectiv, the premiere events studio that produces Blueprint and Medicarians.