GXO graduate swaps Kent for Kampala
5th September 2022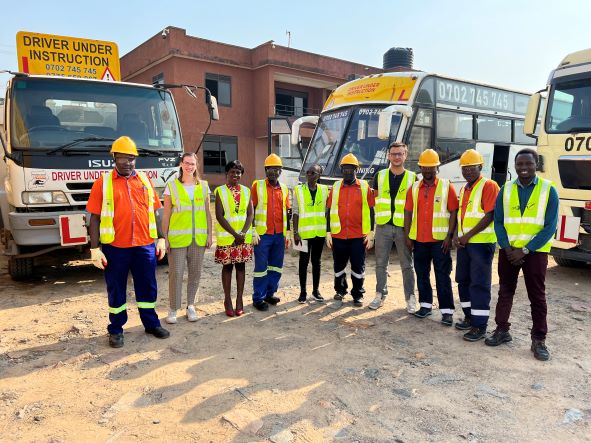 Tessa Wilson, a Graduate Management Trainee at GXO UK and Ireland, has commenced a six-month secondment as a Project Officer for the second phase of Transaid's Professional Driver Training Uganda project, helping the country to respond to the huge rise in demand for HGV and PSV drivers.
The appointment sees Tessa swap her previous placement at a GXO facility in Kent for Kampala's tropical climate, working closely with Transaid's non-governmental organisation (NGO) partner, the Safe Way Right Way Driver Training Centre, as well as local truck and bus fleet operators.
Tessa explains: "This is one of the biggest challenges I've taken on and I'm really enjoying the opportunity to work in such a different environment. I'm only a few weeks in, but I've already learnt new skills and it is wonderful to be contributing to such a hugely important project."
During the secondment Tessa will split her time between the training centre and meetings with local businesses running commercial vehicle fleets, to reinforce the importance of professional driver training and the opportunities and benefits of hiring female drivers.
Neil Rettie, Transaid's Road Safety Project Manager, says: "Thanks to the continued support from GXO we can deliver a level of resource at a local level which otherwise wouldn't have been possible full-time.
"The value Tessa is bringing cannot be underestimated; plus, we know from experience that these placements can go a long way to helping secondees develop their skills and confidence in an environment you just can't replicate at a UK level."
Transaid and Safe Way Right Way have been tasked with training 750 drivers in Uganda between April 2021 and April 2023, of which at least 25 should be female – a goal which has already been exceeded, with more than 40 female drivers having completed the training to-date.
This project is an initiative of the GIZ Employment and Skills for Development in Africa (E4D) programme, which is funded by the German and Norwegian governments. It is being implemented jointly by Transaid and local NGO Safe Way Right Way on behalf of GIZ E4D.
The Professional Driver Training Uganda project is one of Transaid's largest driver training programmes, currently running alongside similar initiatives in Ghana, Mozambique, Tanzania and Zambia.
Tessa picks up the baton from colleague Abbie Rennison, who had previously been on secondment from GXO on the project. The opportunity to participate in secondment programmes is one of the many benefits open to Transaid corporate members.