Fagan & Whalley acquires Welsh logistics company
1st March 2022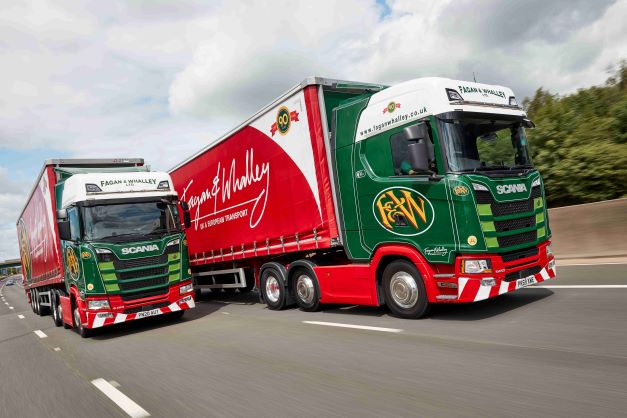 Long-established UK logistics company Fagan & Whalley Ltd., headquartered in Lancashire, has expanded its operations with the acquisition of Newport, South Wales-based logistics company, Alan R Jones & Sons Ltd.
With a fleet of 170 vehicles and five operational sites across the UK, including a 200,000 sq ft warehousing and distribution depot recently launched in Blackburn, Fagan & Whalley's already substantial offering is boosted by the additional 39 commercial vehicles, 40,000 sq ft of warehousing space, and strategically located distribution depot gained in the acquisition of Alan R Jones & Sons.
Fagan & Whalley is a people-first operation, and valuing the team comes as a core element of the company's philosophy. With no initial plans to make any changes to services currently being offered by both companies, the priority in the earliest stages is being placed on ensuring teams across both organisations continue to receive the support they need to continue working effectively.
"Following a period of continued growth and development, we saw this as a valuable opportunity to strengthen our geographical position and embark on the next step in our plans for expansion," says Fagan & Whalley Business Strategy Director, Sam Fagan.
"We're extremely proud to be welcoming the Alan R Jones team on board and to be acquiring the brand as part of the Fagan & Whalley family. It's a match that's not only strategic, but one that makes sense. Alan R Jones & Sons is a business that, having been built up from an initially small operation just like ours was, holds similar core values and celebrates an excellent reputation in Wales and across the South West.
"It will be beneficial to have additional strategic locations functioning in our network, and we're looking forward to working with the impressive, stable, and diverse customer base that the Alan R Jones team has worked hard to develop over their 50 years in business.
"This move to develop our network and operations comes as a vital part of our wider business plans to orchestrate continual growth and expand into new locations, particularly in the South. It has provided an opportunity for us to increase our customer base and streamline our operations to ultimately become more efficient in our work. There's substantial potential for further scale and growth, and we're really looking forward to what promises to be a bright future for Fagan & Whalley and Alan R Jones & Sons Ltd."
Ray Clegg, former Managing Director of Alan R Jones & Sons, commented: "It had become an obvious strategic move for the business to look at new opportunities, and when we had a discussion with the team at Fagan & Whalley, it was immediately clear that they put their people at the core of what they do, with a reputation that's second to none, and I am truly delighted that Alan R Jones & Sons will now move forward into the future with new leadership and new opportunities to cement its status as a service-driven, people-led, award-winning organisation."