DKV Eco Performance Awards Handed Out in Munich
20th June 2019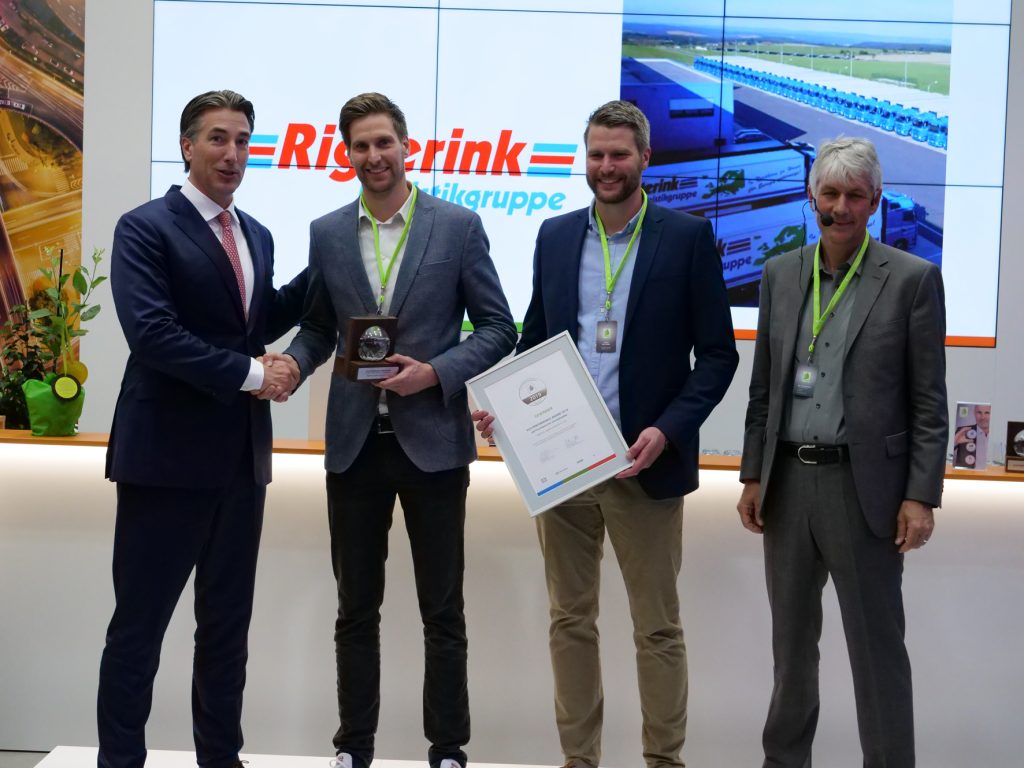 Eco Performance Award Jury Chairman Prof. Dr. Wolfgang Stölzle (University of St.Gallen) and DKV CEO Marco van Kalleveen honoured this year's winners of the Eco Performance Awards at transport logistic in Munich last week. Among the established companies, Rigterink Logistik GmbH & Co. KG (category "medium-sized companies") and the Coop Cooperative (category "large companies") were the big winners. The prize in the "Startups" category was given to RYTLE GmbH. The company Holland Container Innovation Nederland B.V. is awarded the "Innovation Prize" which is awarded for the first time. In addition, the finalists – i.e. LKW WALTER Internationale Transportorganisation AG, swissconnect AG and notime AG – were also awarded a seal of quality for reaching the final round of the competition.
Category "Medium-sized companies" – Rigterink convinces with conclusive overall concept
Rigterink (above) from Nordhorn convinced the expert jury with numerous measures regarding sustainability. These include the conversion to Euro 6, the use of e-trucks, hybrid trucks, long trucks, the introduction of a bonus system, the decentralisation of dispatching, the use of drones in the warehouse, the operation of photovoltaic systems and intelligent LED lighting in the warehouse.
Category "Large companies" – Coop relies on driving trucks in a closed water cycle
The concept highlight of the Coop Cooperative based in Basel was a world first: Trucks run in a closed water cycle. The company acts as a "hydrogen enabler" for Switzerland and is committed to the development and utilisation of the corresponding (hydrogen) filling station infrastructure. It is also pursuing the vision of being CO-neutral by 2023.
Category "Startups" – RYTLE convinces with standardized picking for freight bicycles
The Bremen-based company RYTLE convinced with a holistic, innovative logistics solution for the last mile. The company is already active in 15 countries and offers freight bicycles for city logistics including standardized picking.
Category "Innovation Award" – collapsible shipping containers from Holland Container Innovation
Delft-based (Netherlands) Holland Container Innovation was awarded a special prize for the development of the world's first ISO and CSC-certified collapsible shipping container. The containers bring efficiency in the repositioning of empty containers and save costs and emissions.
The application phase for the Eco Performance Award 2020 begins with the presentation of the Eco Performance Award 2019. As of now, applicants can submit their short application.