Diesel HGV ban poses EV transition challenges
15th July 2021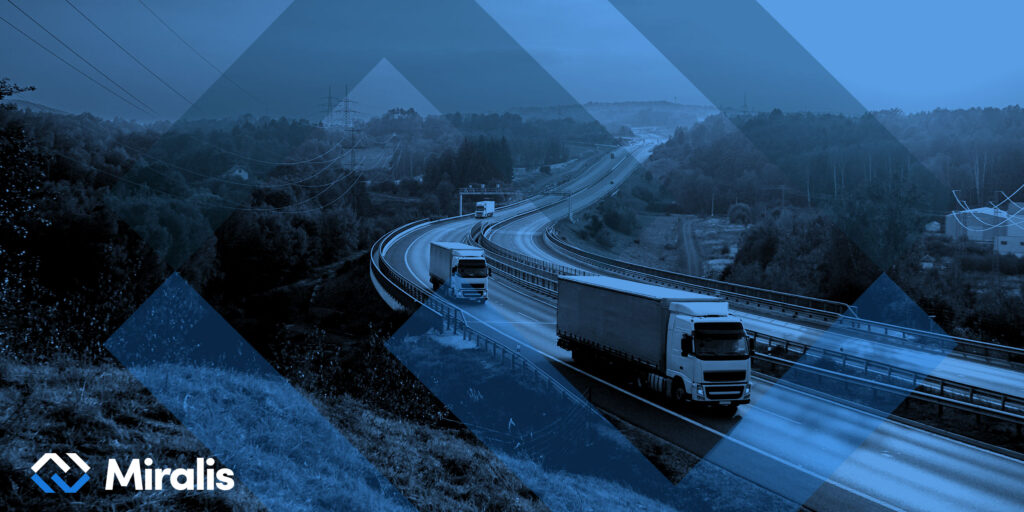 The UK Transport Secretary has announced a ban on all new diesel and petrol lorries in Britain by 2040, accelerating EV transition across logistics, transportation and supply chain.
As the single largest contributor to carbon emissions in Europe, it's been no secret that Transport needs a sharp shake up to become a more sustainable industry; and the government's decarbonising transport plan, complete with timelines, is the ignition we need to move toward a greener future.
Will Maden, Research Director at Miralis, a company focused on fleet electrification and optimisation agrees the timeline is good for transition: "Having a definitive deadline forces the electrification to happen, and puts pressure on manufacturers to build suitable vehicles ahead of when they may have planned to do so."
But as with the electrification of smaller vehicles, the call for electrifying lorries and HGVs brings with it amplified challenges.  The energy needed to power a typical HGV to be able to fulfil its purpose is far greater than smaller EVs, due to the capacity, size and distance they typically cover.
Range requirements
There is a consistent view that to get further with electric, you need a bigger battery.  But the relationship is not so linear.  The weight of the battery can start to diminish what can be achieved, meaning that there will come a point when the battery becomes too large to be effective. The power given by the battery is not sufficient enough to support its own weight.
As a result, the range required of an HGV is not yet viable, so we need to find ways to charge on the go – to keep HGVs going the distance.
Researchers are exploring different ways that this can be achieved, through methods such as pantograph charging, currently utilised for the eBus market.  This method would see lorries charging on an electric infrastructure similar to tram systems – allowing them to charge on the move.  Trials are already underway in both Japan and Sweden to test feasibility.
If successful, this would allow HGVs to take smaller batteries whilst maintaining range requirements.
Cost of larger EVs
Electric lorries are yet to enter the market, but when they do they will likely enter at an elevated cost; as we saw with the introduction of electric 3.5 tonne vans, which were comparatively expensive when they first debuted.  This could see early adoption of electrification out of reach for smaller logistics firms.
Over time as manufacturers catch up with demand, the vehicles should become more affordable – but in the meantime how can organisations begin their EV journey?
The answer is an operational shift.  We can change the way logistics operates, utilising last mile delivery hubs.  Operations can run outside of city centres – with larger HGVs delivering to smaller EVs, which are readily available and affordable, to cover the final stretch.
Depot energy management
Even with on-the-go charging, logistics firms will need on-site charging solutions – and not just for their HGV fleet.  As EV roll-out gathers pace across all mobility, charging infrastructure will need to cater for multiple vehicles, with different requirements.
Staff and visitors for example may need their personal EVs charging, as well as the more complex charge needed for your main logistics vehicles.
Operations and site managers will need to consider the energy supply to their sites.  Charging multiple vehicles at the same site will put a strain on the power supply, and if not managed effectively, exceed supply limits and incur penalties. Firms will need to utilise smart charging technology to manage the load and optimise the charging of their entire fleet with intelligent energy management.
As well as ensuring the power supply is well optimised, multi vehicle charging for logistics organisations poses a further challenge: ensuring the right vehicles are optimally charged at the right time. Load balancing is a good start, but firms will need a solution to ensure their vehicles will be ready to leave the depot on time, and have enough charge to get them to their next charging facility, whether that be another depot, or a pantograph, on-the-go charging system.
Despite the challenges the industry faces with this acceleration to EV transition, the announcement from government poses great opportunity.
Michael Gibson, Managing Director at Miralis, said: "For hauliers and logistics companies there are undoubtedly substantial challenges to electrifying fleets and meeting the government's 2040 decarbonisation target, particularly around charging and infrastructure. However, there are also substantial opportunities. In particular, the fall in operating costs will give those companies who fully embrace electrification a significant advantage over their competition."
Whilst we wait for appropriate vehicles and charging infrastructure to be realised, logistics and supply chain firms can begin their journey to EV transition; with operational changes, such as the adoption of electric last mile vehicles, and starting to bring charging infrastructure on site for the smaller vehicles that are already coming into the depot.
Research is already incredibly active in this area, and the government's decarbonising transport plan is only set to spark further projects. The opportunity is rife for firms to get involved in this research, and help to shape how EV transition is achieved throughout the industry, reaping both financial and holistic rewards.