Digital Rail Platform Set for Regular Ops After Intensive Testing
1st September 2020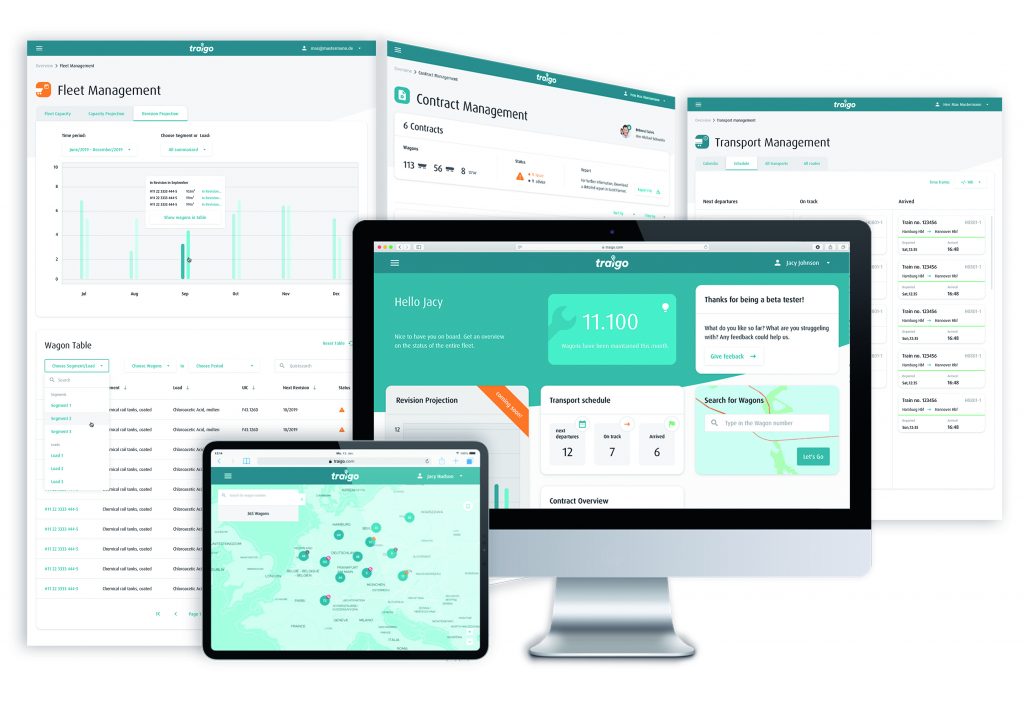 Rail is of crucial importance for the flow of goods. No other mode of transport carries such huge volumes of goods across such vast distances with so few personnel and resources. That said, new paths must be charted – in collaboration with the entire industry – if rail freight is to compete with other means of transport in the long term. Only then can the political goal of sustainably increasing rail's share of the overall modal split be achieved. Which is precisely where traigo comes in, according to its makers. Developed from scratch by VTG, the digital platform has completed an intensive test phase and is now going into regular operation. "We are convinced that only digitalized rail services will retain their place in the global trade flows of the future," says Dr. Heiko Fischer, Chief Executive Officer of VTG AG. "Rail freight has suffered a chronic lack of the digital innovations that have long been standard issue for other modes of transport. But thanks to traigo, our industry can now provide services much more transparently and efficiently. That will make it more attractive to existing customers, as well as capturing the enthusiasm of new companies in the forwarding industry. There really is no other way to reach the political goal of raising rail's share of the modal split to at least 25 percent."
Industry-wide collaboration
The traigo platform serves as the interface to modern fleet management, making a broad spectrum of digital applications available to drive smart rail freight transportation. Since testing began at the start of the year, the functional scope has grown continuously. Existing tools have been expanded and new applications developed, with tremendous attention paid to feedback from front-line traigo users: In close collaboration with customers, the specific needs of rail freight practitioners were implemented and further ideas for the platform were mapped out in the course of the six-month test period. "We are very grateful for the successful test phase and all the feedback provided," says Dr. Niko Davids, Chief Digital Officer at VTG AG. "What we need to do now is ramp up the digital service portfolio and model other wagon owners' fleets on the platform, too. For this reason, we are inviting every partner in the industry – forwarding agents, operators, railway companies, other wagon owners, whoever – to also link their systems to traigo and, by developing digital applications, to play a part in making rail freight more attractive. One thing is for sure: We must work together if we want to genuinely transform a system as complex as rail freight."
A versatile array of digital services
The new traigo tools include mileage predictions based on deployment patterns, plus a function that flags wagons which have been standing idle for long periods. Together, these two services will enable platform users to manage their fleets even more efficiently. Transparency about rolling stock availability is provided by displaying the time currently (and historically) spent in repair shops. At the same time, traigo lets users access daily updates to information on whether wagons have already been converted to quieter composite brake shoes. Alongside these new services, however, proven offerings naturally also remain available. VTG customers have constant access to contractual documents, for example, and can view in real time any and all information about the wagons they have hired.
Looking Ahead
Concrete plans are already in place to enrich traigo with more and more digital tools. One example is a feature that displays the maintenance status for certain wagon components. The data needed for this purpose will be collected from a variety of on-wagon and on-track sensors and fed into the system. Other services – such as customer-driven digital maintenance management – are likewise in the pipeline. Besides read access to all kinds of contractual data, it should in future also be possible to conclude wagon hire contracts online on traigo. Going forward, a digital corollary to the existing portfolio of analogue services will thus take shape – an instrumental step in making rail freight more potent and competitive.