CargoBeamer opens Calais terminal
12th July 2021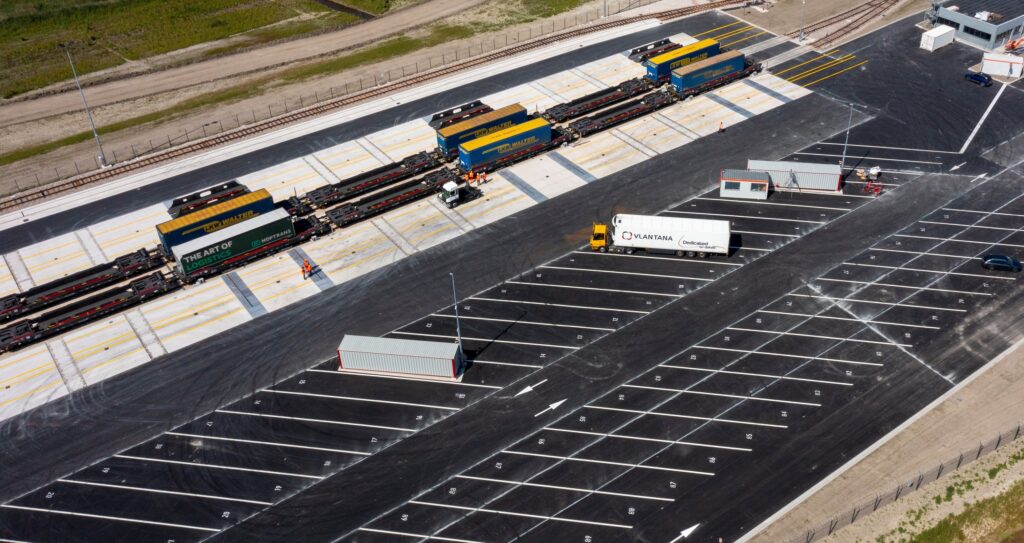 Leipzig-based logistics service provider CargoBeamer has put its first full terminal into operation. With the opening, the company puts its patented and horizontal shifting technology for semi-trailers towards rail into service at the regular market for the first time. Four round-trips will be operated on the lane between Calais and Perpignan in southern France, with at least one more destination to join before the end of 2021.
With its location close to the port of Calais and the important Channel Tunnel towards the British Isles, the transhipment facility in intended to serve as an important cornerstone in the company's international route network. A first domestic French lane to Perpignan close to the Spanish-French border CargoBeamer enables intermodal transport towards the Mediterranean Sea and Iberian Peninsula.
After a one-week starting phase with two weekly round-trips, the route will be operated with four round-trips per week permanently. Euro Cargo Rail (ECR), a French subsidiary of DB Cargo, serves as cooperation partner. Each train offers a total of 36 seats for trailers, which consist of 24 special CargoBeamer railcars and six usual double-pocket wagons. Besides serving the French corridor, the Calais terminal also aims to provide intermodal transport streams towards Central and Eastern Europe. For this reason, a new route between Calais and Domodossola in Northern Italy will be launched by the end of this year.
The terminal site in Calais allows CargoBeamer to handle six train pairs daily, which means six incoming and six departing trains per day. This results in a total of 432 semi-trailers for every day. A second expansion stage is scheduled for 2023 and will double the terminal's capacity to a total of 12 daily train pairs.
The shifting process of an entire freight train with simultaneous loading and unloading takes about 20 minutes. During the 11-month construction period CargoBeamer was joined by French construction company Eiffage. Additionally, the project was backed financially by the EU with the Connecting Europe Facility, the France Republic and the region of Hauts-de-France.
"The opening of our first terminal is an important milestone and a real quantum leap for the development of our company," explains Hans-Jürgen Weidemann, CEO and founder of CargoBeamer. "Here in Calais, we are going to put our technology into regular market use for the first time and will continue to strengthen the modal shift of transports towards sustainable solutions such as rail. We therefore want to thank all our partners, sponsors and investors for their trust put in us and the good cooperation.
"We view our Calais site as the starting point and an important cornerstone of a Europe-spanning network of terminals and routes, forming an increasing number of connections towards Southern, Central and Eastern Europe by rail. Meanwhile the location of Calais promises a lot of potential with its maritime connections and the Channel Tunnel towards Britain. We are going to expand CargoBeamer's route network continuously in the upcoming years and thus shift more semi-trailers from congested roads onto environmentally-friendly rail."